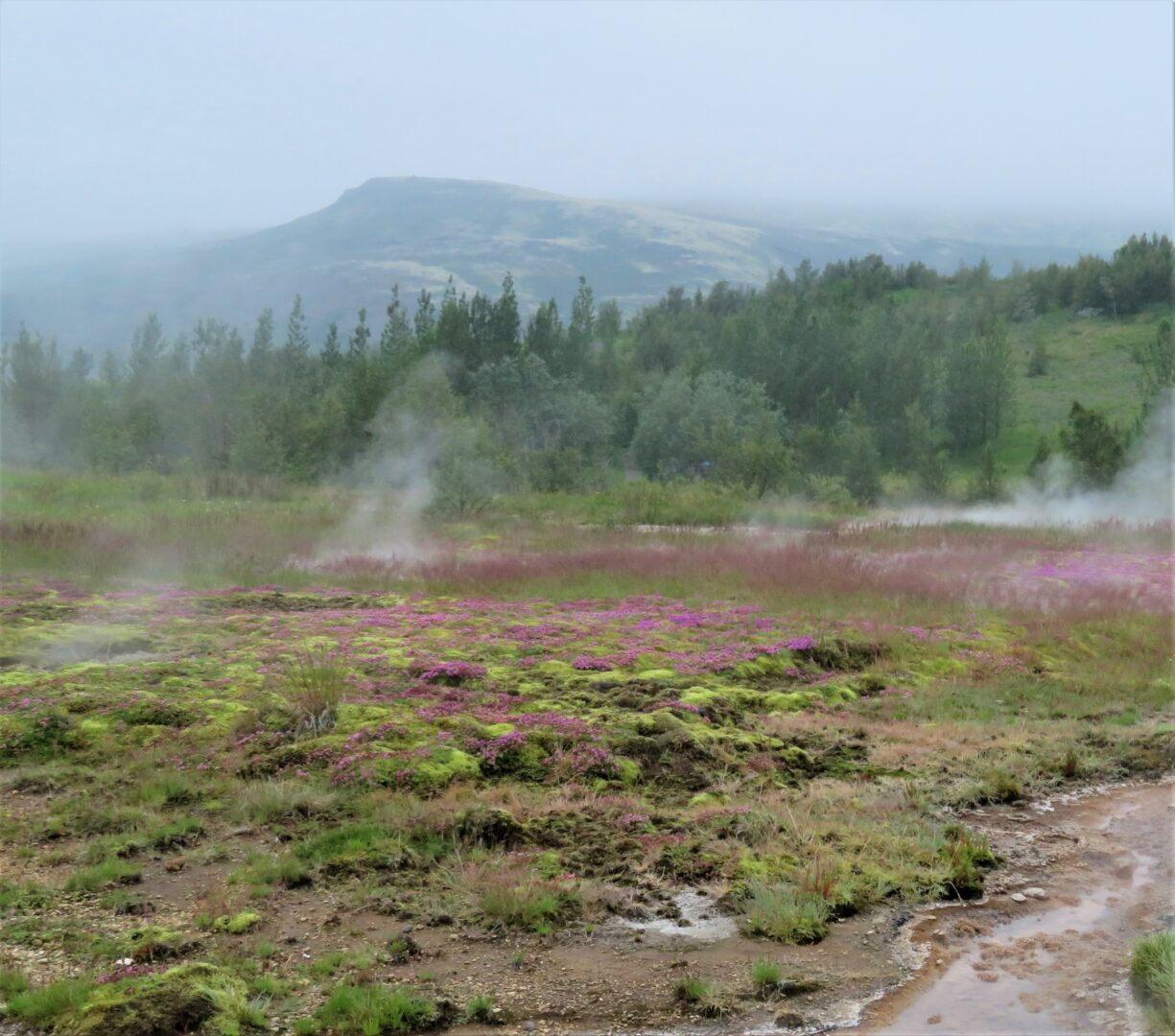 ©Joy Dunlap  https://joydunlap.com
Speaking Joyfully turns five this month due to the goodness and guidance of God. Without His Word and all the Wonder He's put in our world, it would not be possible for me to talk or write about experiencing a life that's full.
A life that's joy-full and purpose-full and wonder-full.  And, available to each of us.
The world at times can seem dark and difficult, but because of God we have hope.
Have you ever seen a plant push through a crack in a sidewalk, bricks or rocks? Years ago, when walking across a lava field in Hawaii I marveled at a plant that bloomed despite the blackened, volcanic rock bed.  Sprigs of green, of life, of hope grew in an area where hot, flowing magma had caused destruction.
After the worst of the pandemic, while on a trip to Iceland, I delighted in seeing pretty, pink flowers growing despite the geothermal area they nestled in.
Growth can happen in places where it seems improbable and impossible.
Because of God. 
Negativity tries to flood our lives through social media, news, and even our own minds.
And, yet…
Even in the most ordinary or mundane of the days, we can discover the Wonder. If we look for it.
Even in the most contentious of times with battling voices, inside and out, we can discover the Wonder. If we listen for it.
Even in the most lonely, sorrowful and painful days, we can discover the Wonder. If we lean into the Lord.
Are you listening?  Looking?  Leaning into the Lord?
So much exists for which to be thank-full.
Because of God.
Mile markers, birthdays and anniversaries alike offer us the opportunity to celebrate and to contemplate.
As part of reflecting on Speaking Joyfully since its 2017 debut, I've chosen to pull out these 17 quotes shared in posts during the past five years.  I pray God speaks to your heart and mind as you think on these.
Love is the answer that changes the focus from me to we; and I to the "I AM." – Love is the Answer
Joy is not found in circumstances but is embraced through Christ's stance. – Joy in the Brokenness
God's hands are never too full – for those who grasp them. – What Happens to Broken, Battered, Barnacled Shells?
The opportunity to grow isn't only in our talents; it's in our trust. – Move Beyond the Walls
When we understand and experience a love deeper than we can imagine, a forgiveness greater than we deserve, a hope higher than a mountaintop, we find true joy. – Where's Your Happy Place?
My life "score" with its many misses, missteps, stumbles, falls, and even gutter rolls doesn't negate my opportunity to fully receive God's unconditional love and forgiveness. Neither does yours. – Does the Score Really Matter?
Rest becomes possible when we trust God that through His power we can be secure not fearful, protected not neglected, forgiven not forsaken. – Six Ways to Extend Refreshment Beyond Summer
It's possible to relegate God to a closed off shelf in our soul so that like our boxed-up treasures, we forget the beauty and joy He can bring daily. – Reintegrate Tucked Away Treasure
As we trust in God's faithfulness, listen to God's guidance, and embrace discovery and joy where we are, the fog fades away and we experience more and more of the Light. – When Fog Blocks the Way
The God who designed the elements of the universe we rely on has the character we can count on. – Trusting God's Faithfulness
How we use what God gives us reflects not only how much we value the gifts but also how much we cherish the Giver. – Love Seen in 25 Flower Bouquets
When we hold tight to God, we will not fall beyond where He can lift us; we will not drop beyond where He can catch us; we will not stumble beyond where He can steady us. – When the World Seems Wobbly
When we PRAY, we battle against being PREY. – Prey or Pray?
The more we focus on gratitude, the more positive we build our attitude. – What Scars Show Us
True peace comes when we are redeemed by God, restored by God, reconciled to God, and when we rely on God. – 5 Ways to Hold On to Peace in Challenging Times
Feasting on God's goodness with grateful hearts and following the guidance He's given us allows us to live life abundantly and even dance in the darkness. – Is a Child (and Adult) Delight Diminishing?
Control the chaos and clutter you can while trusting God to handle that which you can't. – Mom – Memories, Lessons and Legacy
May these words of my mouth and this meditation of my heart be pleasing in your sight, Lord, my Rock and my Redeemer. Psalm 19:14 NIV
What positive event, accomplishment, activity or change in the past five years of your life most stands out to you?
Which one of these statements most connects with you at this time in your life?
What one word in each one of these pops out at you?
If you picked one word to associate with God, what comes to mind right now?
Many, Lord my God, are the wonders you have done, the things you planned for us.
None can compare with you; were I to speak and tell of your deeds, they would be too many to declare. Psalm 40:5 NIV
Remember…
Life is Better When It's Full – Joy-full, Thank-full, Purpose-full and Friend-full! ™