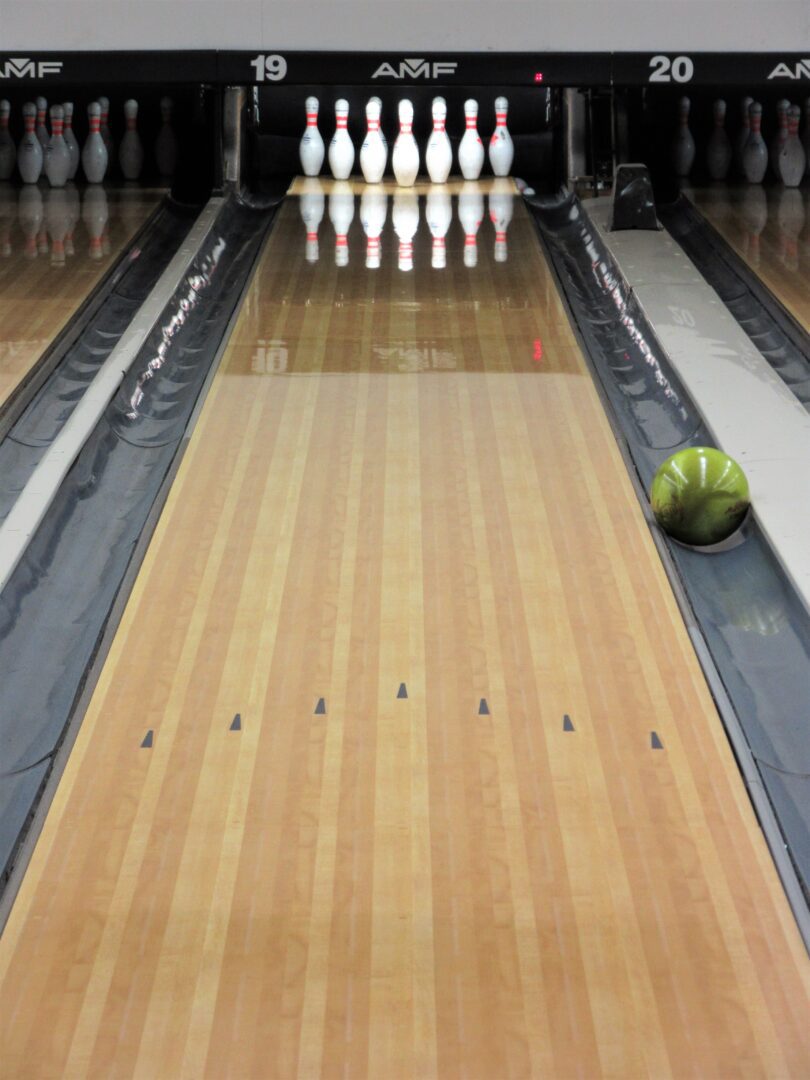 ©Joy Dunlap https://joydunlap.com
Thankfully my sense of worth isn't based on my bowling score.
When you're bowling with a bunch of women called "Almost" bowlers in a social group, it takes a lot to be the lowest scorer… a lot of laughter, a lot of talking and… a lot of gutter balls.
Last Monday, I "won" the "Croaked" award which carries the distinction of being the worst bowler (technically, the lowest scorer) in the group at that outing. I'm not sure why anyone would recognize this "failed" status, but, hey, I did receive a nifty garden wind chime shaped like a smiling frog.
Plus, I enjoyed being with some fun women, and I counted the two games as exercise (think about all those arm motions with a weighted ball!)
Not to say there weren't highlights in my games. Once, I actually knocked down all the pins scoring the coveted "strike" which bowlers (even "almost" bowlers) know is a really good accomplishment. Celebrating with arms pumping above my head, I cried out, "Yes!" as I did a little jumping dance that I'm thankful no one captured on video.
Throughout the game, the automatic scorer system kept track of how well we did during the ten frames of each game – how many pins we knocked down and how many times our attempts ended up in the gutter and missed the mark entirely.
In the end, the large scoreboard above our heads recorded way more gutter balls and misses under my name. The other people played much better that me – and their overall score reflected their feats.
Although I didn't score the highest or win the "Best Bowler" trophy, I was invited to take my place in the "Winners" group and accept a prize.
Thankfully, that's also how God's love and mercy works.
My life "score" with its many misses, missteps, stumbles, falls, and even gutter dives doesn't negate my opportunity to fully receive God's unconditional love and forgiveness. Neither do yours.
When we put our faith and trust in Christ, the prize of eternal life is ours – no matter what the scoreboard says.
We also reap the rewards of our relationship with Him as we experience the peace, comfort and guidance He provides for us to navigate life's ups and downs here on earth.
That's a victory worth celebrating!
What activity do you feel you've failed in doing, or one in which you think others do significantly better than you?   
What ways have you found to handle your losses with a positive outlook?
Have you ever received a prize or gift that you felt you didn't deserve? Did you accept it?
But thanks be to God! He gives us the victory through our Lord Jesus Christ. 1 Corinthians 15: 57 NIV
Let them praise his name with dancing and make music to him with timbrel and harp. For the LORD takes delight in his people; he crowns the humble with victory. Psalm 149:3-4 NIV
For it is by grace you have been saved, through faith—and this is not from yourselves, it is the gift of God – not by works, so that no one can boast. Ephesians 2:8-10 NIV
Remember…
Life is Better When It's Full – Joy-full, Thank-full, Purpose-full and Friend-full! ™
https://joydunlap.com