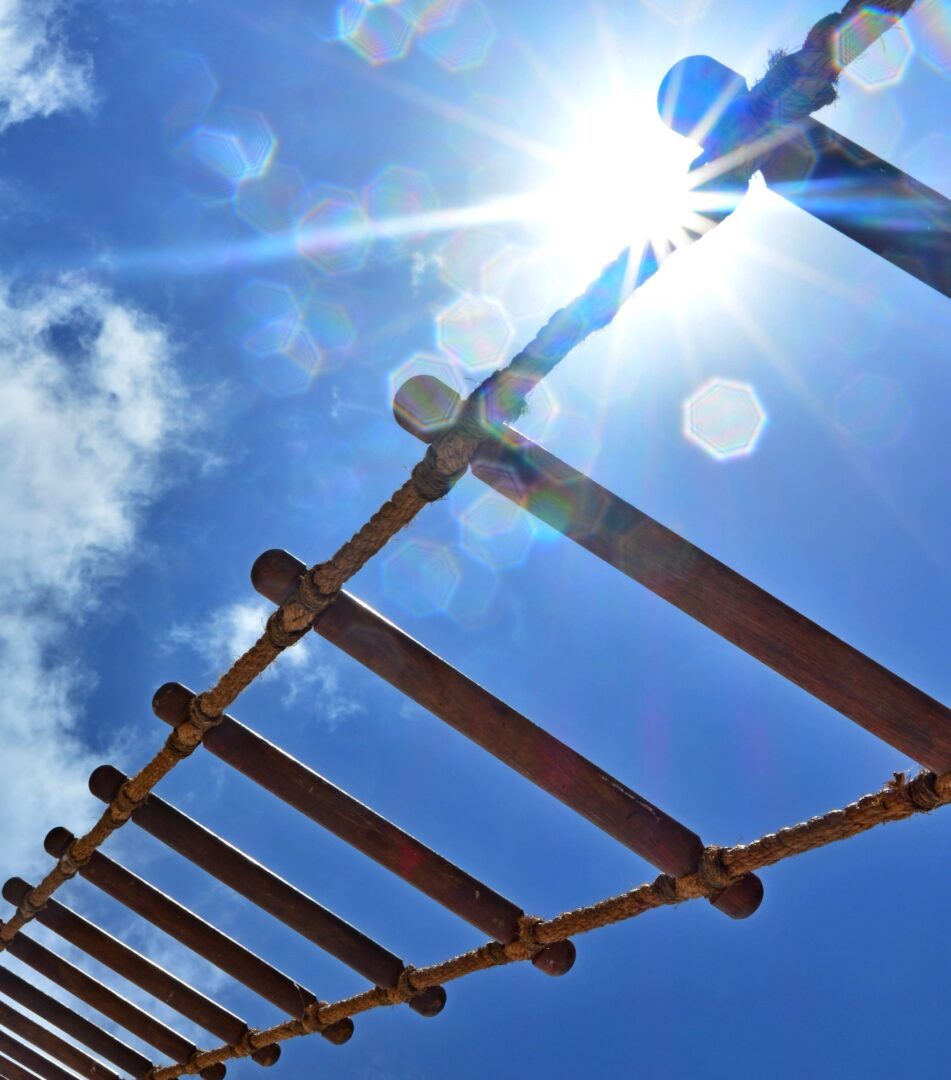 ©Joy Dunlap  https://joydunlap.com
I tilted to the left and then to the right, unsteady as the wobbly rope ladder bridge beneath me shifted.  My arm stretched forward and upward for the next rung as I tried to stay balanced. 
The wood and rope ladder my dad created for our backyard shook and swayed as we climbed on hands and feet across it. But because my dad built it, and I trusted his abilities, I was confident it would hold me.
Strung between two massive oak trees, the connecting bridge ascended at the end making the final part of the crossover more challenging but even more satisfying when we reached that tree. Traversing the yard on the rope ladder was fun, especially on beautiful days, but it did require both mental and physical stability along with discipline. Only by keeping our body centered and balanced could we make it successfully.  
Today our world may seem wobbly causing feelings of unsteadiness and uncertainty.
Weather and war challenges. Pandemics and people conflict. Personal challenges, loss and fear.
What happens when we feel wobbly?  Unsteady?  Unsure?
We tend to move unsteadily – shifting from side to side.  Our steps can be weaker and our stance less firm. We are more likely to collapse and fall.
To keep from staggering and falling in this wobbly world, it's essential to stay centered in God so we can move forward with confidence.
When someone tried to showoff and rush across our rope ladder bridge, their foot could miss a wooden "step" and plunge their leg between the rungs into empty space, flipping them upside down. If they moved too slowly, fear could paralyze them in place. Either of those attempts, misplaced hand or foot pressure, or getting off center could flip the climber over and cause a fall. 
But, as long as we held on tightly – even if the rope ladder flipped – we kept from dropping and hitting the ground. 
The key to not falling was whether we held on tightly. 
We may flip upside down but we would not fall.
The strength of the rope ladder bridge supported us.  
Many this day are feeling discouraged.  Weakened by the world and circumstances.  Burdened by busyness.  Distraught over difficulties.
In the offices of counselors, on posts on social media, and in the lonely quietness of one's home, tears are falling, anger is escalating, and fears are paralyzing.
Our psyches are being pummeled with horror and burdened with sorrow.
But fear not.
When we hold tight to God,
we will not fall beyond where He can lift us;
we will not drop beyond where He can catch us;
we will not stumble beyond where He can steady us. 
When I said, "My foot is slipping," your unfailing love, Lord, supported me. When anxiety was great within me, your consolation brought me joy. Psalm 94: 18-19 NIV
The more we stay centered in God and His Word, the steadier we are. He has the strength to support us.  
So do not fear, for I am with you; do not be dismayed, for I am your God. I will strengthen you and help you; I will uphold you with my righteous right hand. Isaiah 41:10 NIV
Just as we have beauty and blessings in this world, we also have trouble and struggles, but God is with us.
Have I not commanded you? Be strong and courageous. Do not be afraid; do not be discouraged, for the Lord your God will be with you wherever you go." Joshua 1:9 NIV
Have you ever climbed a rope ladder (perhaps at a state fair or a carnival?)  (View demonstration video at 1:28-4:00)  Note: ours was much longer and higher with both ends suspended and no cushy air mattress beneath! But my dad stood ready to catch me just as our heavenly Father does!
When was the last time you felt unsteady emotionally or spiritually?  What caused it? Were prayer and Bible reading part of your stress and anxiety battle plan?
Identify a time in our world/nation's history when strife reined, solutions seemed far away, and families and friends separated over philosophies (and, yes, this happened before now). Think of something good that ultimately came out of that.
Which verse shared here (or another that you know) gives you encouragement?  Write it today on cards (or in your phone) and put it where you can see it repeatedly.
Praise the Lord, all you nations. Praise him, all you people of the earth. For his unfailing love for us is powerful; the Lord's faithfulness endures forever. Psalm 117:1-2 NIV
Remember…Life Is Better When It's Full – Joy-full, Thank-full, Purpose-full and Friend-full! ™