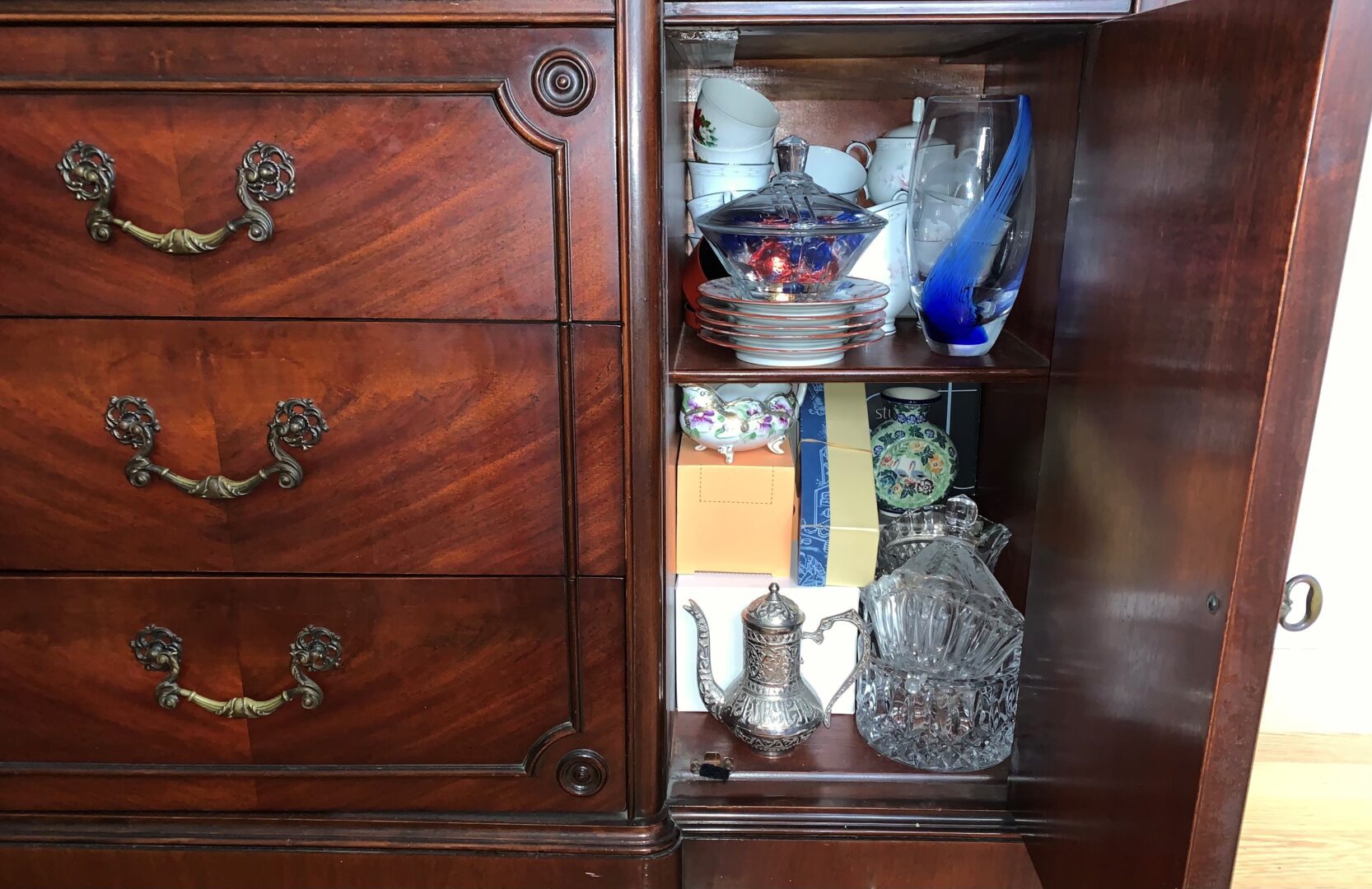 ©Joy Dunlap  https://joydunlap.com
While searching for a heart-shaped dish to use for Valentine's Day, I discovered another lovely, glass candy dish filled with chocolate truffles and candies tucked away from who knows how long ago.  I'm thinking maybe six months…or a year, but …?
Last year, while sorting through papers, a sweet note someone sent me years ago made me smile as it brought back good memories.
Do you have any treasures tucked away?  Ones that are really liked but rarely used or seen.
Some hold deep sentiment because of who gave them to us; others stir heartwarming memories from places or experiences. Then there are those that look good … or make us look good.
Tucked away treasures may not be collectible, or if we're truthful, cherished at all, but we don't want to release them, nor do we want to embrace them.  We like knowing they are there even if we're not seeing them or incorporating them into our homes and lives.
Over the past two years, I've pulled out many tangible items from closets, cabinets, and the garage (and there's more I want to do.) Unless delegated to donate to those in need, they usually fall into restore, recycle, or reintegrate categories.
Restore
Clothes missing buttons get mended. Broken items glued.  Necklaces untangled.  Fixed to be able to use again.  But, restoring also means attention given to the jumbled-up messes (think closets and cabinets) to get them straightened out (or at least some of them!)
Recycle
Two small glass containers I purchased a few years ago at a church bazaar were originally filled with candy that quickly disappeared. They've now been recycled into useful and pretty toothbrush holders for my husband and me.  Candy holders to toothbrush holders – isn't that apropos?
A friend who recycled some of her own beautiful artwork gifted me with a few pieces that now brighten two rooms in my house.
Reintegrate
More time at home gave me the opportunity to look through items not currently on display. Shells collected from beach trips subsequently found homes in glass containers. A hand painted vase from a trip to Poland stuck in a closed cabinet with the price tag still on it is now displayed. Here's a confession: some "treasures" I'd actually forgotten!   What a treat to rediscover and appreciate them by incorporating them into our home!
We may even put God away until we think we really need Him.  It's possible to relegate Him to a closed off shelf in our soul for so long that like some of our boxed-up treasures, we forget the beauty and joy He can bring daily. 
It's worth searching our heart as we ask, "Is there anything in my relationship with the Lord right now that could benefit from being restored, recycled or reintegrated?"
Restore
Cracks or breaks in our connection and communication with God can be repaired. God is available and willing to restore us to Him. He has the power to heal our damaged lives and broken hearts.
Accept instruction from his mouth and lay up his words in your heart. If you return to the Almighty, you will be restored; if you remove wickedness far from your tent. Job 22:22-23 NIV
Recycle
If we're not delighting in God's presence or communicating with Him as much as we once did, why not add a freshness to our Christian walk?
Listen to a faith-focused podcast that's not a go-to one.
Dive into a Bible study on a topic that refreshes – or challenges.
Journal thoughts on specific Scriptures.
Visit a different church or tune in to another sermon series.
Send a Scripture with a note to someone each week.
Try out a new devotional.
Memorize a passage.
Connect with a friend once a week to talk about spiritual truths.
Share God's love with someone.
You were taught, with regard to your former way of life, to put off your old self, which is being corrupted by its deceitful desires; to be made new in the attitude of your minds; and to put on the new self, created to be like God in true righteousness and holiness.  Ephesians 4:22-24 NIV
Reintegrate
Perhaps God just hasn't been a major part of our lives recently. Those around us may not even realize He's valuable to us.
We're glad we know God, but we're not putting Him into our everyday lives and truly experiencing Him. Is it possible He's become like a meaningful and precious family heirloom that's tucked away in a cabinet where no one sees it?
Are we hoarding the happiness we have in Jesus, or do we let others know about the joyful life we have in Him?
Neither do people light a lamp and put it under a bowl. Instead they put it on its stand, and it gives light to everyone in the house. In the same way, let your light shine before others, that they may see your good deeds and glorify your Father in heaven.  Matthew 5:15-16 NIV
Let's put God prominently in our lives and experience the treasure we have in Him daily. After all, we know He brings joy!
What is something special or unexpected you've found when going through the closets, garage or cabinets?
Have you ever hidden something away and then had trouble finding it?  What was it?
What items have you reintegrated in your home since COVID?  Which spiritual practices?
How can you welcome God's presence more in your daily life this year?  Is there something that needs restored, recycled or reintegrated to strengthen your communication and connection to God?
"then that person can pray to God and find favor with him, they will see God's face and shout for joy; he will restore them to full well-being.
And they will go to others and say, 'I have sinned, I have perverted what is right, but I did not get what I deserved. God has delivered me from going down to the pit, and I shall live to enjoy the light of life.'" Job 33:26-28 NIV
Remember…
Life is Better When It's Full – Joy-full, Thank-full, Purpose-full and Friend-full! ™