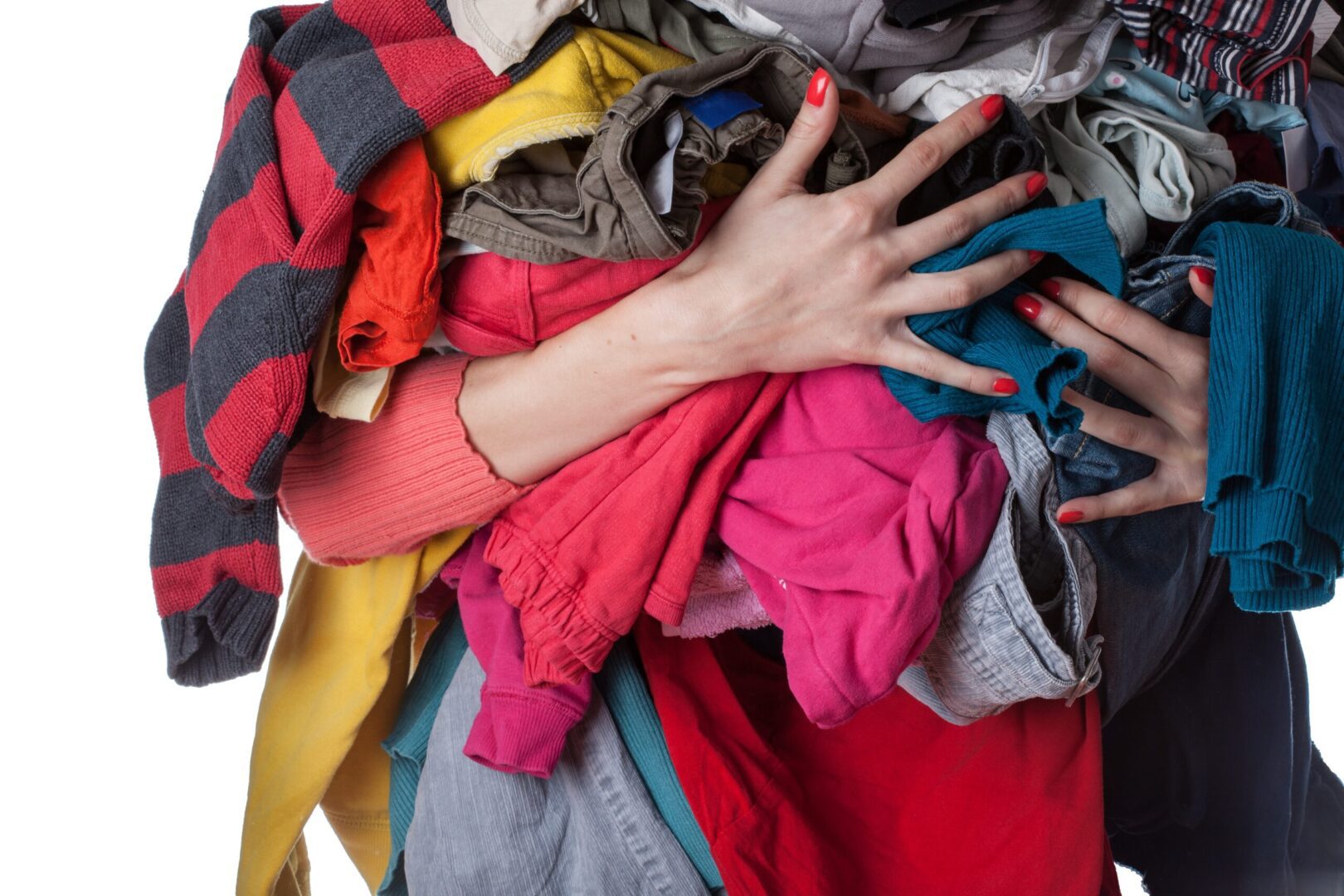 ©Joy Dunlap  https://joydunlap.com
The pile of emotional and mental items we carry with us over the years weakens our wellness.
Think of hauling a giant tub of dirty laundry around day after day.  30 lbs. of laundry can look like this….6 pairs of jeans, 4 button-down shirts, 4 pairs of shorts, 10 t-shirts, 18 pairs of underwear, 4 towels and 14 pairs of socks.
Doing that much laundry every day is exhausting to think about, much less haul around every hour of every day.
Even if we aren't carrying extra weight physically, the dirty laundry and emotional baggage we're lugging around weighs us down, weakens our resilience and impacts our spiritual wellness.
Guilt we grip.
Regrets we harbor.
Anger we clench.
Our pile may even be higher.
Envy we embrace.
Greed we clutch.
Unforgiveness we hold.
Dirty laundry piled up day after day, month after month, year after year, can smell or mildew, ruining the clothes and causing damage to the others nearby.
When we drop the emotional weight we're carrying and free ourselves from the dirty laundry we're clinging to, our load lightens. We're free to dance in delight. 
Our minds, hearts and hands can be filled with peace, joy and goodness!  A freshness of spirit returns. 
In Four-Step Focus on Fitness, I recently examined some parallels between improving physical and spiritual health. Last year during a physical health tune-up, I began to think more about the choices we make about certain foods as opposed to other ones. These two distinct efforts incorporated in my physical fitness plan can also be used for spiritual wellness.
REDUCE NEGATIVES
Removing tempting treats from easy access helps, but ultimately, we have to learn to be around them and choose not to use them. In an effort to improve my diet, I stopped taking enticing snacks upstairs to the TV room with me at night.  If I wanted one, I had to go downstairs and get it. Limited portion snacks became a staple in our house replacing family-size chip and cookie selections, and I switched to less sugary and lower caloric options.
As I broadened my knowledge about the benefits or detriments of various foods, I made better selections.
We can fill up on unhealthy choices so much as to not leave room for healthier ones.
The same is true in spiritual wellness.
Taking inventory of what we're carrying around with us, how it got there and why we added that baggage helps us more clearly understand how we got to where we are.  In order to get to where we want to be, we need to shed old habits and choices, and release the soiled and stained stuff that's weighing us down.
The elimination or reduction of our exposure to themes antithetical to Christian values in books and movies, as well as negative personal behavior choices, allows "more space" to fill our hearts and minds with positive, healthy messages and actions.  Websites or posts that stir up strife and controversy can distract us from the love, peace, kindness and mercy given by God and intended to be reflected in us.
As we learn more from God's Word about His plan, purpose and love for us, we'll desire lifestyle choices that strengthen and energize us spiritually.
You used to walk in these ways, in the life you once lived. But now you must also rid yourselves of all such things as these: anger, rage, malice, slander, and filthy language from your lips. Do not lie to each other, since you have taken off your old self with its practices and have put on the new self, which is being renewed in knowledge in the image of its Creator.  Colossians 3:7-10 NIV
ENHANCE POSITIVES
One small but significant change I made to improve my diet last year was to make healthier food choices visible and easier to access.  Apples and grapes in pretty pottery bowls.  Blueberries in a rarely-used, lovely berry bowl.  Low-carb, low-calorie, savory snacks in an easy-to-see beverage tub.
The same can be done with spiritual wellness.
A prayer book by our bedside, the Bible in a reading nook, or devotional books in different places can catch our attention. Subscribing to daily devotions, Scripture readings or inspirational blogs or podcasts pops them into our email and puts them into our mind. Reading positive books with Christian values strengthens us.
Engaging in discussions with friends who are also pursuing a spiritually healthy lifestyle can provide encouragement and support as we examine God's truths, His plans and our pursuits.
Therefore, as God's chosen people, holy and dearly loved, clothe yourselves with compassion, kindness, humility, gentleness and patience. Bear with each other and forgive one another if any of you has a grievance against someone. Forgive as the Lord forgave you. And over all these virtues put on love, which binds them all together in perfect unity.  Colossians 3:12-15 NIV 
Which "item" of "dirty laundry" weighs you down the most?
What can you choose less of this year to benefit your spiritual wellness?   More?
How can you start on a path to a stronger, more vibrant sense of spiritual wellness today?  Write down a specific step; share it with someone who will support you; and ask God to help.
You were taught, with regard to your former way of life, to put off your old self, which is being corrupted by its deceitful desires; to be made new in the attitude of your minds; and to put on the new self, created to be like God in true righteousness and holiness.  Ephesians 4:22-24 NIV
Remember…
Life is Better When It's Full – Joy-full, Thank-full, Purpose-full and Friend-full! ™