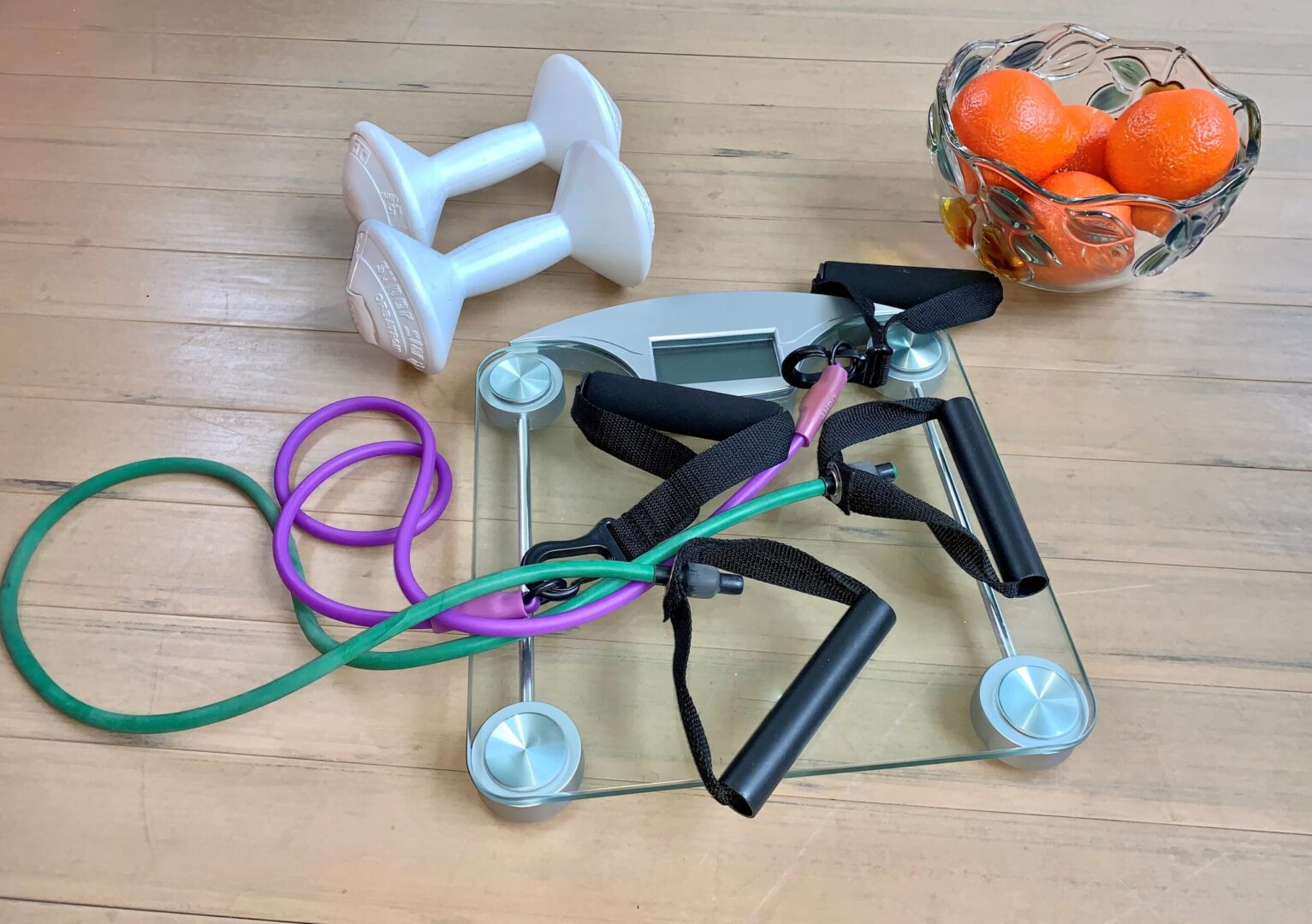 ©Joy Dunlap  https://joydunlap.com
I left part of myself behind in 2020. Literally. 35 pounds of me.
Turns out that hauling around 30 extra pounds is like carrying 40 boxes of butter or 9 bags of sugar, or … one Islandic sheepdog.
What I really wonder is how many fast food cheeseburgers, milkshakes and chocolate candy bars it took to add those extra 30+ lbs in me!
No body shaming from here. True beauty always comes from within through kindness, compassion and love extended outwards. 
For me, the change was about getting healthier, stronger and feeling better in myself and about myself.
As we start a new year, many of us make a commitment to get fit physically. What about spiritual fitness?
When we think about it, steps to improve physical health share some parallels with strengthening spiritual wellness.
Personal Choice
The pursuit of physical and spiritual wellness both involve personal choice.  No one else can make the decision to follow a path for us.  Not our family.  Not our community nor our culture.  In the case of physical health, genetics obviously plays a part, but even then, lifestyle adaptations can often help.
I needed help. Admitting it was difficult. Choosing to commit was even more challenging. But I knew I was heading in the wrong direction. Okay, I was already there.
Physical fitness was a must in order to best position myself to ward off threatening illnesses in the future and to combat issues I was already battling. I had to swallow my pride and count myself among those who wanted a change. Stepping onto the scales and walking into the WW meeting with others seeking wellness required humbling myself.
Spiritually, the choice to follow God and His path is a personal one of faith; and it requires acknowledging our need, desiring a difference and committing to change as we trust in Christ. Action and lifestyle adaptation follow, not because we're forced, but because we desire to grow stronger, draw closer and enjoy life in a new way.
Then he said to them all: "Whoever wants to be my disciple must deny themselves and take up their cross daily and follow me."  Luke 9:23 NIV
Expert Resources
To achieve my body fitness goals, my primary resource was WW.  Water aerobics outdoors led by a fitness instructor, as well as trail walks, rounded out my regime. Later, I added a trusted personal trainer to work on strength and core.
In spiritual development, the go-to is God's Word, but we benefit greatly from a Bible-based pastor's sermons, Christian publications and podcasts from trained and trustworthy leaders, and one-on-one accountability and encouragement from friends grounded in the Word.
All Scripture is God-breathed and is useful for teaching, rebuking, correcting and training in righteousness, so that the servant of God may be thoroughly equipped for every good work.  2 Timothy 3: 16-17 NIV
Community Connection
WW in-person and Zoom meetings connected me with others pursuing a healthier way of life who encouraged me with their stories, challenges and victories.
On our spiritual walk, friends who are strong prayer partners, a small Bible study/discipleship group, a church community, and the works of Christian speakers and authors can strengthen us in positive ways. Through our struggles, the sharing and support of others helps us stay focused and grow. 
And let us consider how we may spur one another on toward love and good deeds, not giving up meeting together, as some are in the habit of doing, but encouraging one another—and all the more as you see the Day approaching.  Hebrews 10:24-25 NIV
Daily Monitoring
Daily tracking of food intake and exercise on the WW app served as a consistent reminder of the choices I made – some healthy, some not so much.
The process of logging in my food choices gave me a clearer picture of what I was putting into my body and when. My phone's health tracking monitor showed how many steps I walked.
Likewise, evaluating how much time we're spending with God can be revealing, especially when compared with other ways we spend our time. Are we reading the Bible daily?  Do we pray each day?  Or do we fence our faith into Sunday?
Are the choices we're making contributing to our spiritual fitness or distracting from it? 
Blessed are those who listen to me, watching daily at my doors, waiting at my doorway. For those who find me find life and receive favor from the Lord. Proverbs 8:34-35 NIV
In what ways do your friends help you stay on the path to spiritual strengthening?
How do you choose daily to follow Christ?
What fitness regime are you following to grow stronger spiritually?
Are you closer to God today than you were a year ago?  Why or why not?
Dear friend, I pray that you may enjoy good health and that all may go well with you, even as your soul is getting along well. 3 John 1: 2 NIV
Remember…
Life is Better When It's Full – Joy-full, Thank-full, Purpose-full and Friend-full! ™