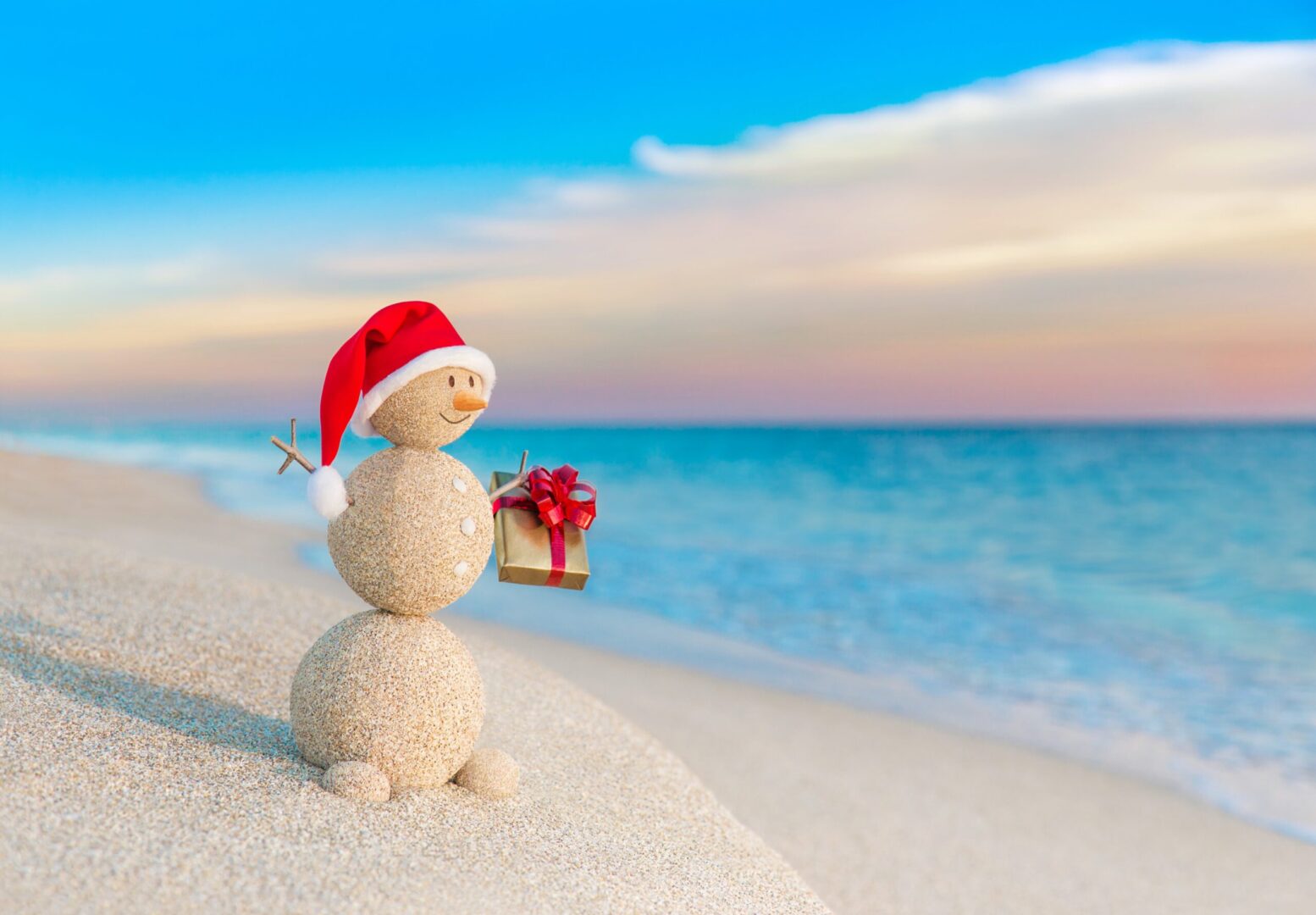 ©Joy Dunlap  https://joydunlap.com
The spirit of Christmas, the truth of Christmas, and the joy of Christmas can be experienced every day.
Last year, the post I wrote called 12 Ways to Celebrate Christmas in July caught the attention of many and still continues to draw new readers. This follow-up post offers even more ways to celebrate this July!
So, treat yourself to some cookies and milk. Or make Rice Krispies® snowmen (and women!).
Then choose from these favorites to enjoy – or do them all!
Help someone adopt an animal at the local Humane Society by paying the fees. Gift an animal to a needy population overseas. 
While no animals are mentioned at Jesus' birth in Scripture, nativity depictions often include a donkey and sheep. Mary likely rode a donkey on her journey. Shepherds traveled to find the Christ child after an angel's visit. In the gospel of John, Jesus calls himself the "good shepherd," and says, "My sheep listen to my voice; I know them and they follow me."
View religious art virtually from museums and churches around the world.  
Thanks to technology, we can examine well-known works up close on our computer screens. Popular religious paintings allow us to see how artists used color and technique to depict Christ's life and experiences.
Light some holiday scented candles at home.
Smells of frasier fir, gingerbread and apple cider can transform our homes into a scent-sational Christmas in July.
Take a virtual tour of sites of Christian relevance.
Even if travel plans to Rome or Israel aren't in sight right now, exploration of the Holy Land, Nativity Church of Bethlehem and the Vatican including the Sistine Chapel are possible virtually as well as many other spiritually significant sites.
Use social media to celebrate Christmas in July. 
Post a Christ-centered photo, meme, quote or Bible verse on your social media several days this month. Add a hashtag:  #CelebrateChristmasinJuly or #CelebrateChristmasEveryDay
Catch the latest Hallmark "Christmas in July" selections.
Find sneak peeks here!  Count on happy endings. Sure, some may be formulaic, but they deliver cozy comfort and act as relaxing de-stressors. What's not to love about that?
Send a surprise card or gift to a friend. 
Everyone enjoys a treat and who wouldn't be amazed by a Christmas gift or card in July?  Add a Scripture verse as an added blessing.
Look for daily wonders.   
Expect to find delight in your day. A firefly in the air. A flower in a sidewalk crack. A cardinal on a tree branch.  A kind word from a stranger.  A cloud character in the sky. Note something of wonder every day in July. With our eyes and hearts open, we'll discover joy in the ordinary.
Put up Christmas lights.
Go ahead. Brighten someone's night!  And, yours too!
Declutter and donate excess Christmas decorations. 
Rarely do we use all the holiday décor we've accumulated over the years. But Christmas time is often too hectic to go through what we have. Pick a box or two of decorations to sort through now.
Purchase new toys for a local charity.
A doll, train set, book, puzzle or game can brighten a child's life and bless a mom or dad struggling to make ends meet. Bring kids and grandkids in on Christmas in July fun by encouraging them to donate gently loved toys..
Post or share travel photos that display church or nativity scenes. 
Why not share some of the beautiful images we've taken while visiting churches or cathedrals while traveling? God can use visuals as well as words to speak to people. Who knows how the Holy Spirit might move when someone sees those photos?
Tell someone – tell several – personally about Jesus.
Talk about His life. His love. His mercy.
The Good News is still here but are we sharing it?
Reach out to encourage a young mom or contribute to your local Crisis Pregnancy Center.
Single moms struggle with the decision to carry a surprise child.  Even first-time moms with a spouse battle expectations and demands of parenting. Helping hands and listening ears can be a lifeline.
Gather family members or friends together via Zoom for a Christmas in July celebration.
Get everyone to share a favorite memory from a past Christmas.  How about asking for a favorite spiritual memory as well as a fun one?
With much chaos and confusion in the world today, now is an opportune time to celebrate the Christ of Christmas.
Like the wise men and the shepherds, let us turn our attention toward Christ, walking towards Him with purpose and desire.
As you select ways to celebrate from last year's list and this one, I pray that the hope, love and joy born in Bethlehem more than 2000 years ago will be refreshed in your heart today.
Which of these most appeal to you about celebrating Christmas in July?
What is your favorite Christmas cookie or sweet?  Your favorite holiday movie? 
What gift will you bring to Christ this month?  Which will you share with others? 
How can you most refresh your connection with Christ this July? 
The Word became flesh and made his dwelling among us. We have seen his glory, the glory of the one and only Son, who came from the Father, full of grace and truth. John 1:14 NIV
Remember…
Life is Better When It's Full – Joy-full, Thank-full, Purpose-full and Friend-full! ™