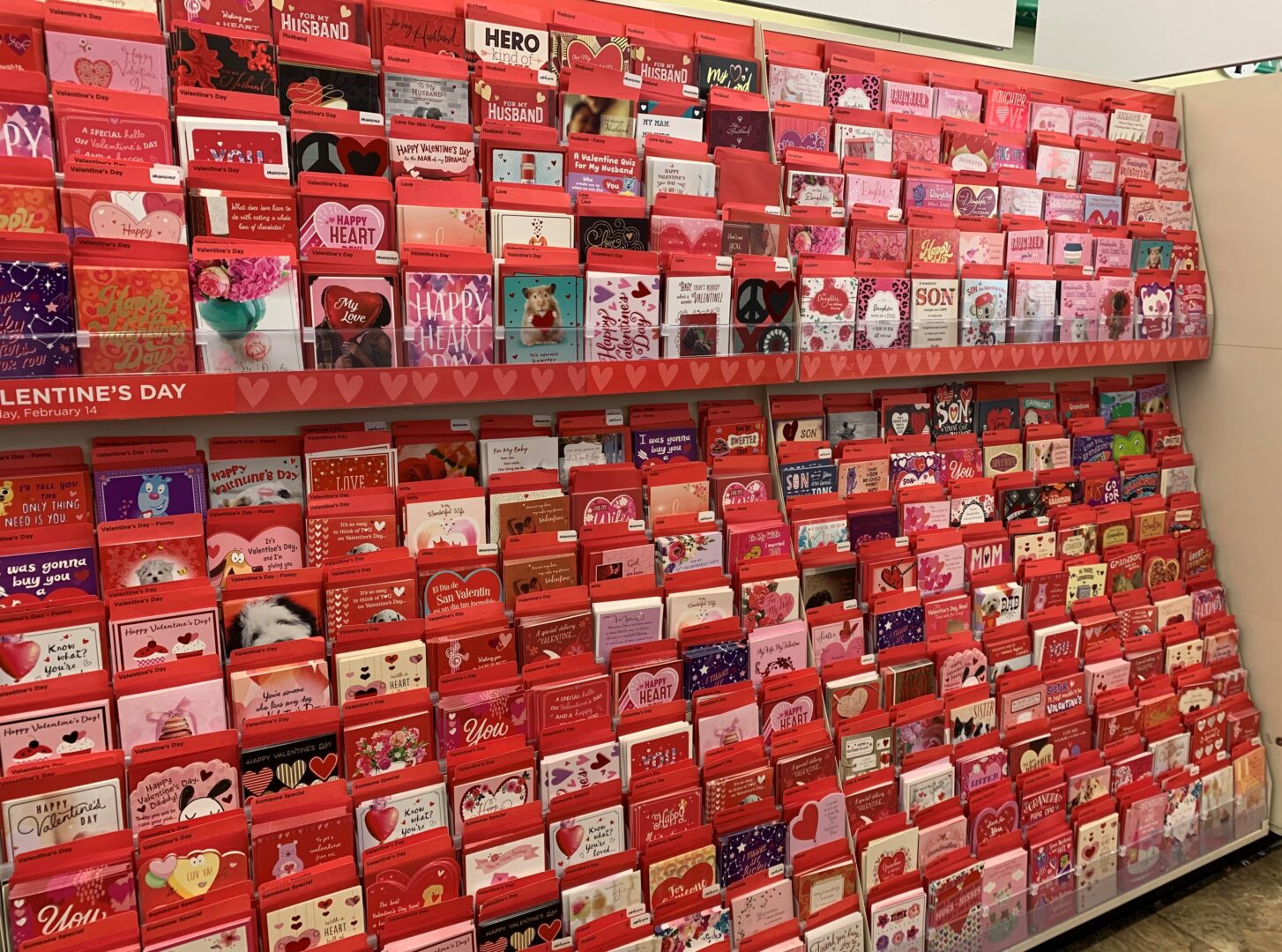 ©Joy Dunlap  https://joydunlap.com
Words of love and friendship in card art soar for Valentine's Day!  Greeting cards are the second most popular item given, accounting for about 40% of the gifts for the heart-hugging holiday.  Candy leads the way at 57%, with flowers in third at 37%! Almost 26 billion US dollars are expected to be spent for Valentine's Day this year!
With cards being such an important part of Valentine's, I loved learning about one woman who made a huge impact on the future of the Valentine's Day card industry back in the 1800s.
Esther Howland may not be a household name, but her ingenuity, artistic design, and business savvy in the 19th century paved the way for the thriving Valentine's Day card industry today.
Her father owned a stationary company, and when his daughter graduated from then Mount Holyoke Female Seminary she set out to create more affordable Valentines than those imported from Europe. In the mid-1800s she succeeded with three-dimensional cards that evoked emotion and drew sales.
Credited as the "Mother of the American Valentine," Howland hired women to craft the cards (in her family home!) using lace and ribbons, and printed cupids and flowers.
These days, some 145 million cards are purchased industry-wide for Valentine's Day, according to Hallmark!  It was 110 years ago when Hallmark first offered Valentine's Day cards but the company didn't begin producing them until three years later in 1916.
The value of words of love inside the cards didn't go unnoticed by Howland.
The greeting card entrepreneur took the process even further when she issued a book with Valentine's verses in the 1870s so people could cut them out and personalize their cards.
But long before the creation of Valentine's Day or Howland's publication of verses, wonderful words of love appeared in another book. The truths and sentiments found in it are designed for you, and me, and all of us.
In the Bible, we find 686 mentions of the word love (or its derivative); 425 in Old Testament, 261 in the New Testament.  Psalms has 151. John has 39, and 1 John, 2 John and 3 John have 34 collectively.
Love messages for all time. 
In these timeless truths we hear about love; we learn about love.
Love lavished on us.  Love freely given to us.  Love available to be ours forever.
As I share some of these words of love with you, I pray they hug your heart in enriching and wonderful ways.
See what great love the Father has lavished on us, that we should be called children of God! And that is what we are! The reason the world does not know us is that it did not know him. 1 John 3:1
You, Lord, are forgiving and good, abounding in love to all who call to you. Psalm 86:5
Because your love is better than life, my lips will glorify you. Psalm 63:3
Surely your goodness and love will follow me all the days of my life, and I will dwell in the house of the Lord forever. Psalm 2:6
How priceless is your unfailing love, O God! People take refuge in the shadow of your wings. Psalm 36:7
Many are the woes of the wicked, but the Lord's unfailing love surrounds the one who trusts in him. Psalm 32:10
But I trust in your unfailing love; my heart rejoices in your salvation. Psalm 13:5
When I said, "My foot is slipping," your unfailing love, Lord, supported me. Psalm 94:18
But you, Lord, are a compassionate and gracious God, slow to anger, abounding in love and faithfulness. Psalm 86:15
May your unfailing love be my comfort, according to your promise to your servant. Psalm 119:76
Give thanks to the Lord, for he is good; his love endures forever. Psalm 107:1
For the Lord is good and his love endures forever; his faithfulness continues through all generations. Psalm 100:5
For God so loved the world that he gave his one and only Son, that whoever believes in him shall not perish but have eternal life. John 3:16
This is how God showed his love among us: He sent his one and only Son into the world that we might live through him. This is love: not that we loved God, but that he loved us and sent his Son as an atoning sacrifice for our sins. 1 John 4:9-10
Our hearts and lives desire lasting, giving, and forgiving love. 
We find it for forever in the One who knows and gives it best.
God's love is:  Giving. Forgiving. Unfailing. Gracious. Faithful. Compassionate. Comforting. Sacrificial. Enduring.
Trustworthy.
Every day.  Not just one. 
Which Valentine's gift do you most like to receive?
What is a favorite item or experience you have of Valentine's?
Have you held on to any card you've received?  Why?
Which one of these verses hugs your heart most today?
Who shall separate us from the love of Christ? Shall trouble or hardship or persecution or famine or nakedness or danger or sword? As it is written:
"For your sake we face death all day long; we are considered as sheep to be slaughtered."
No, in all these things we are more than conquerors through him who loved us. For I am convinced that neither death nor life, neither angels nor demons, neither the present nor the future, nor any powers, neither height nor depth, nor anything else in all creation, will be able to separate us from the love of God that is in Christ Jesus our Lord.  Romans 8:35-38
Remember…
Life is Better When It's Full – Joy-full, Thank-full, Purpose-full and Friend-full! ™
*Scripture references from New International Version (NIV)