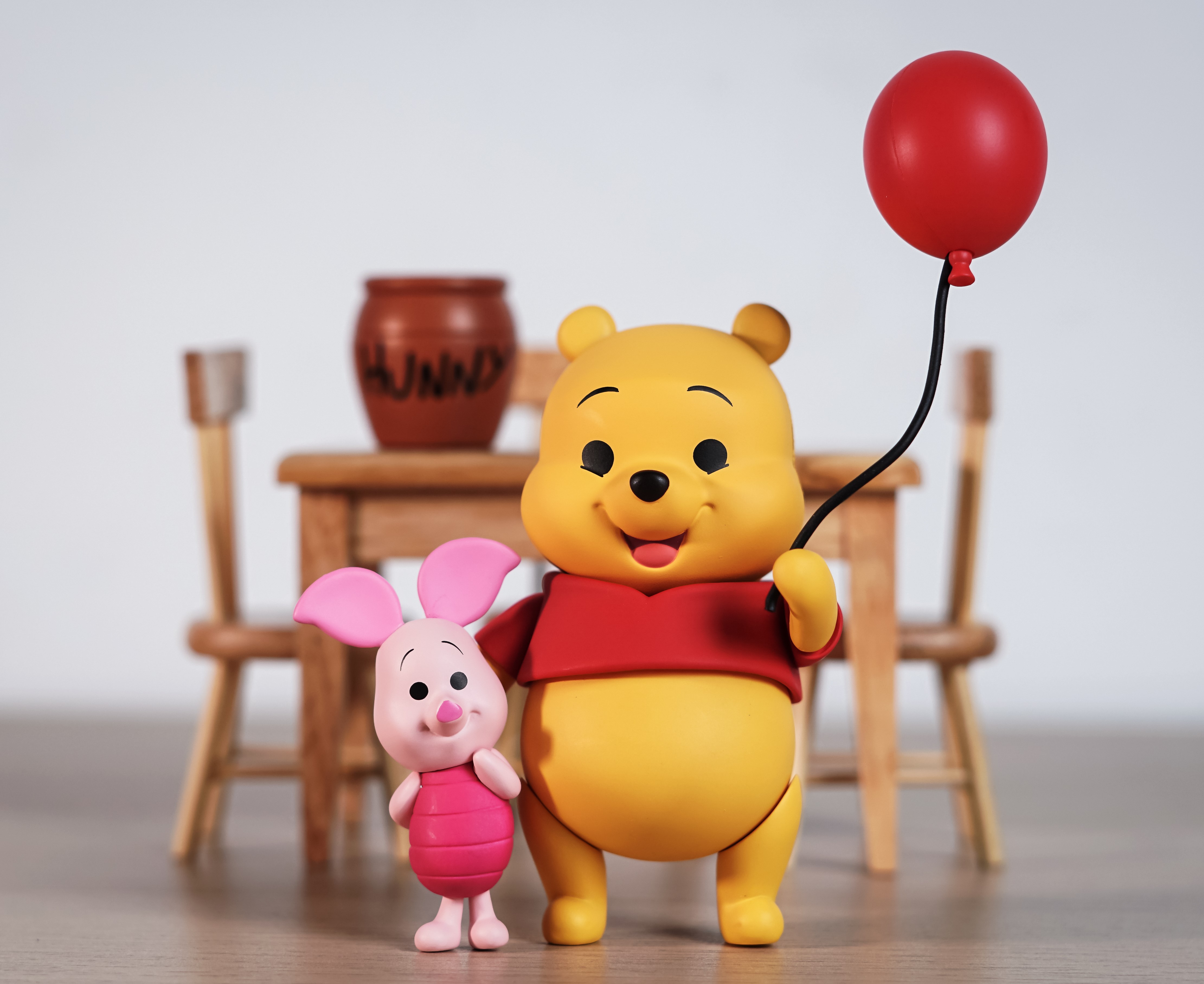 ©Joy Dunlap  https://joydunlap.com
What pops in your mind when you think of Winnie the Pooh?  A childhood book? An animated film? A Disney ride?
For almost a century, Winnie the Pooh has been climbing into the hearts and minds of children (and adults) spreading happiness and kindness through his words and actions.
Winnie the Pooh Day is celebrated today – on the January 18th birthdate of author A.A. Milne whose book featuring the now beloved bear debuted in 1926.
Long before Winnie the Pooh became a Disney staple, the lovable character led readers into a world where friendship and happiness flourished.
Winnie the Pooh kept his paws on the pages but swung to the screen with the short features of Winnie the Pooh and the Honey Tree in 1966; Winnie the Pooh and the Blustery Day in 1968, and Winnie the Pooh and Tigger Too in 1974.  And, in 1977, Disney's The Many Adventures of Winnie the Pooh combined the elements of those shorts into a popular full-length film.  The New Adventures of Winnie the Pooh and Christopher Robin hit the screens later keeping the Pooh profile visible.
If you immediately thought of the Disney ride in response to my initial question about Pooh, you may have ridden The Many Adventures of Winnie the Pooh ride in Fantasyland at Walt Disney World which opened in 1999, replacing Mr. Toad's Wild Ride.
Years ago, my brother and I were at Disney World celebrating his birthday when we struck up a conversation at a shuttle stop with a woman. To my knowledge, she's still the only Guinness World Record holder I've ever met.
Although she'd made numerous trips to the theme park, this time she'd come to get a special release of a Winnie the Pooh plush character. As it happens, she was (and still is) the Guinness World Record holder for the largest Winnie the Pooh memorabilia collection with more than 20,000 unique items, some of which took her years to find.
Fascinated, I asked lots of questions and Deb Hoffmann answered exuberantly about how she finds the collectibles, how she displays them and how her love for Winnie the Pooh began. Her father gave her the first Winnie the Pooh she even owned but her fervent collecting of them didn't start until she was an adult.
Her passion was evident, and it made me want to know more. Soon others on the shuttle bus began to listen in.  The enthusiasm Deb had for Winnie the Pooh and collecting enticed me to later seek out more information – to watch her being interviewed and to read more about her collection.
That's the thing.  When we're passionate about something, others know it. 
So, what does Winnie the Pooh have to do with living life?
The words Milne gave Winnie the Pooh have gone on to touch the lives of the young and old with their simple messages of goodness.
Let's take a look at some of Pooh's memorable quotes over the years, and also look at Biblical phrases that have impacted lives for generations.
Friendship – and Delight
A day without a friend is like a pot without a single drop of honey left inside. A.A. Milne
Perfume and incense bring joy to the heart, and the pleasantness of a friend springs from their heartfelt advice. Proverbs 27:9 NIV
Love – and Sacrifice
Love is taking a few steps backward, maybe even more, to give way to the happiness of the person you love.  A.A. Milne
This is how God showed his love among us: He sent his one and only Son into the world that we might live through him. This is love: not that we loved God, but that he loved us and sent his Son as an atoning sacrifice for our sins. Dear friends, since God so loved us, we also ought to love one another.   1 John 4:9-11 NIV
Compassion – and Care
Weeds are flowers, too, once you get to know them. A.A.Milne
"You have heard that it was said, 'Love your neighbor and hate your enemy." But I tell you, love your enemies and pray for those who persecute you, that you may be children of your Father in heaven. He causes his sun to rise on the evil and the good, and sends rain on the righteous and the unrighteous. Matthew 5:43-45
Kindness – and Understanding
Just because an animal is large, it doesn't mean he doesn't want kindness; however big Tigger seems to be, remember that he wants as much kindness as Roo. A.A.Milne
Be kind and compassionate to one another, forgiving each other, just as in Christ God forgave you.  Ephesians 4:31 NIV
Moving Forward – and Leaving Behind
I always get to where I'm going by walking away from where I have been. A. A. Milne
Therefore, since we are surrounded by such a great cloud of witnesses, let us throw off everything that hinders and the sin that so easily entangles. And let us run with perseverance the race marked out for us, fixing our eyes on Jesus, the pioneer and perfecter of faith. Hebrews 12:1-2a NIV
Presence – and Strength
The most important thing is, even when we're apart … I'll always be with you. A. A. Milne
Be strong and courageous. Do not be afraid or terrified because of them, for the Lord your God goes with you; he will never leave you nor forsake you. Deuteronomy 31:6 NIV
Celebration – and Cheer
It isn't much good having anything exciting, if you can't share it with somebody. A.A. Milne
Or suppose a woman has ten silver coins and loses one. Doesn't she light a lamp, sweep the house and search carefully until she finds it? And when she finds it, she calls her friends and neighbors together and says, 'Rejoice with me; I have found my lost coin.'  In the same way, I tell you, there is rejoicing in the presence of the angels of God over one sinner who repents. Luke 15:8-10
As a lover of books and movies, I know how fun it is to visit fictional worlds through reading and watching shows!  Winnie the Pooh reminds us of the value of childlike wonder and days filled with friendship and happiness!
And, much discovery and delight is available in our world today!  
So grab the hand of Jesus and keep walking close, and remember…
"Any day spent with you is my favorite day. So today is my new favorite day. "*
What comes to mind for you with Winnie the Pooh?
Is there anything you collect (now or previously)?  Why?
What message in the Winnie the Pooh quotes pings your heart today?
Which Bible verse above especially speaks to you right now?
What do those around you think you're passionate about?
Follow God's example, therefore, as dearly loved children and walk in the way of love, just as Christ loved us and gave himself up for us as a fragrant offering and sacrifice to God.  Ephesians 5:1-2 NIV
*A.A. Milne
Remember…
Life is Better When It's Full – Joy-full, Thank-full, Purpose-full and Friend-full! ™