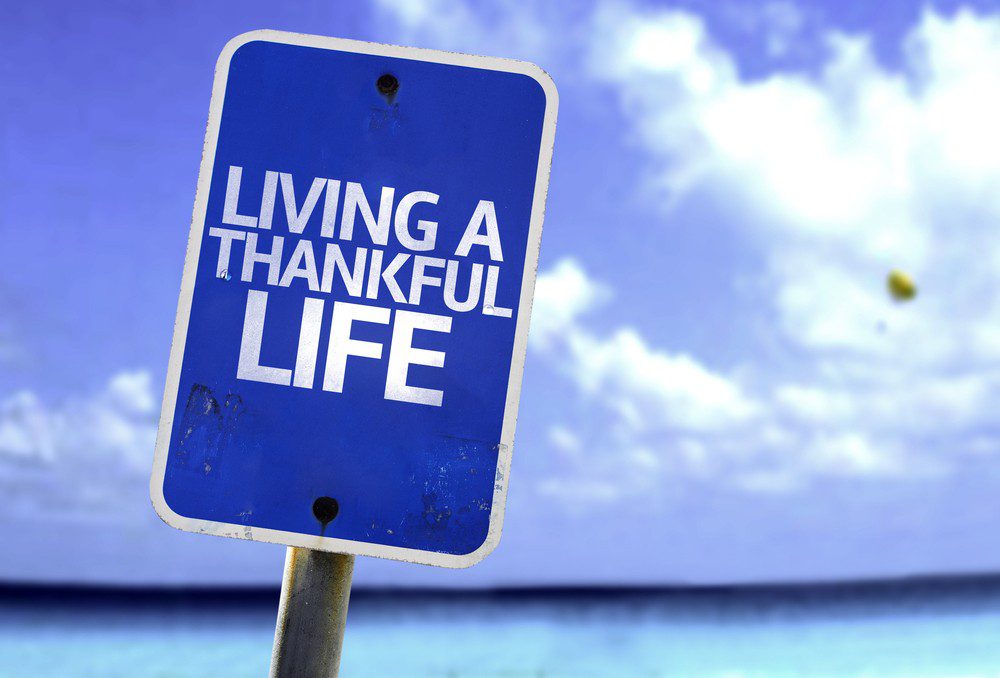 ©Joy Dunlap  https://joydunlap.com
Is it that we don't say "Thank You" enough or has "Thanks" become so routine that it sometimes lacks sincerity?
As we encounter people during the day, odds are we say "Thanks" numerous times – when we get food, when we check out at a store, when we grab one of those specialty coffees, when we pick up laundry or when we send an email.
They say "Thanks."  We say "Thanks."  That's that.
The "Thank You" is one of the few civil interactions we have left so I'm all for keeping it – even when it may be routine.  At least it's a start.
Our "Thank Yous" to God can unfortunately be perfunctory too.  "Thank you, Lord, for this food."  "Thank you, Jesus, for our home and our jobs."  "Thank you, Heavenly Father, for our family."  Even a robot or voice-activated assistants can be programmed to respond automatically with specific words.
So, I've been thinking about what it means to really be thankful to God instead of just saying it.
The analysis starts with asking "What specifically am I truly grateful to God to have?"  Then, "What would happen if I lived as if I am genuinely grateful to Him?"
Let's explore this for a minute or two…
What would gratitude look like on the outside if we felt it deeply on the inside?  What would others see reflected through me and in my life?
When We're Grateful to God
When we're grateful for our home, wouldn't we share it with others – no matter its size, décor or if it's in Pinterest-perfect condition?
When we're grateful for a friend, wouldn't we carve out time to spend with them – in person if geographically close, or by staying in touch long-distance?
When we're grateful for our possessions, wouldn't we donate some of them?  We'd choose to share not just tattered things, but ones in good shape that people could use with pride.
When we're grateful for our freedom, wouldn't we thank a veteran?  Wouldn't we vote and do it responsibly – after we research?
When we're grateful for our health, wouldn't we pursue healthy lifestyles including appropriate food and exercise choices?  As a safeguard, surely, we'd avoid harmful choices and kick risky habits.
When we're grateful for our education, wouldn't we invest in others who seek to learn and grow?
When we're grateful for the forgiveness we have through Christ, wouldn't we extend mercy to others?
When we're grateful for our happiness, wouldn't we share smiles, uplifting conversation and laughter?
When we're grateful for those who mentored us, wouldn't we take the time to support, advise and encourage others?
When we're grateful for opportunities we've been given, wouldn't we seek ways to help others?
When we're grateful for our families, wouldn't we occasionally include others in celebrations and activities who don't have that?
When we're grateful for our finances, wouldn't we support worthy organizations that effectively provide assistance to those who need it?
When we're grateful for the Word of God, wouldn't we read it and use it to guide our lives?  Wouldn't we want others to know about it?
A thankful heart is so much more than a brisk uttering whether that's to someone we pass on the street, or in a prayer we lift up.
It's an attitude of gratitude that resonates deep inside and overflows into action.
When we are grateful, we are givers.
You will be enriched in every way so that you can be generous on every occasion, and through us your generosity will result in thanksgiving to God.
This service that you perform is not only supplying the needs of the Lord's people but is also overflowing in many expressions of thanks to God.
Because of the service by which you have proved yourselves, others will praise God for the obedience that accompanies your confession of the gospel of Christ, and for your generosity in sharing with them and with everyone else.  2 Corinthians 9:11-13 NIV 
What are five things you are genuinely grateful to God for this year other than family and friends? 
What is one way you live out your thankfulness to God in everyday life?
What gratitude area listed above is the one you'd like to address in the next month in order to better reflect your thankfulness? 
Remember…Life Is Better When It's Full – Joy-full, Thank-full, Purpose-full and Friend-full! ™