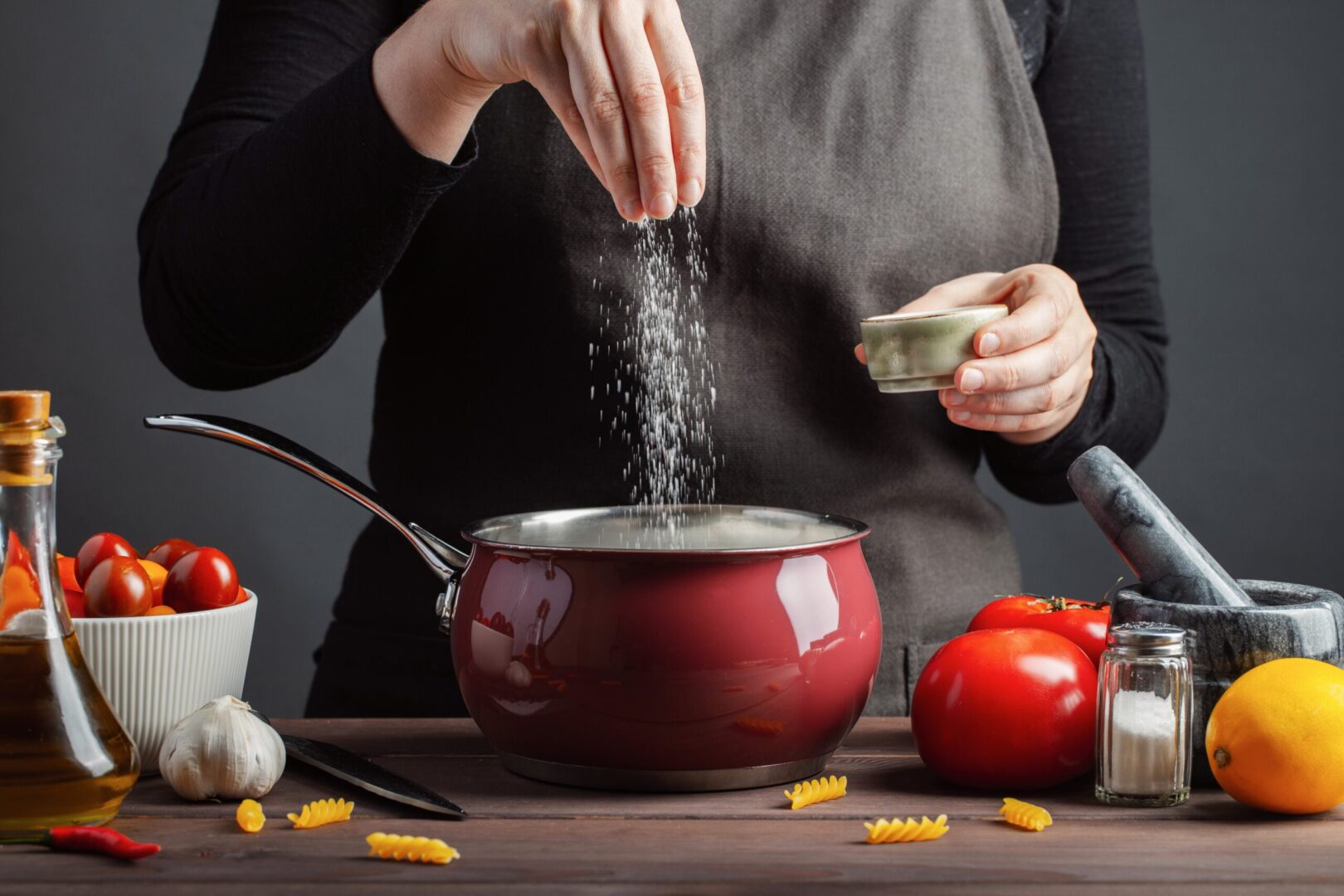 ©Joy Dunlap https://joydunlap.com
In case you missed it, this past week was World Salt Awareness Week.  When we think of salt, flavor and preservative usually come to mind. Yet thousands of practical uses exist for salt in our daily lives, and sodium is vital to our well-being.  Even the Bible talks about the value and importance of salt in spiritual context.
Salt Impacts our Heart and Health
Think about this.  We can't produce sodium ourselves yet it's vital to our health.
This electrolyte helps regulate bodily functions, maintain fluid balance and enable nerve impulse transmissions.  Salt impacts both our hearts and brains.  Experts say sodium ions are crucial for contractions in our muscles, including our hearts.  Even our senses can be dulled when we don't have the right level of sodium needed to function well.  When our body's sodium levels dip too low, we can become lethargic, have muscle twitches, or worse.  Excess sodium has been linked to high blood pressure and other issues. Balance is best, even in salt.
In our own power, we are incapable of producing a far more valuable and necessary element to maximize the quality of life. Only as Christ lives in us and works through us, can our minds and hearts operate at their most life-enhancing levels. Christ flushes out sin and shame, and allows us to fully experience peace, love and joy.   
Salt Preserves and Binds
Used in meat products, salt hinders the growth of pathogens that can cause spoilage.  Additionally, it is used to restructure proteins in formed or processed meats so as to serve as a binder to hold products together and reduce losses.
By reflecting the love of Christ and demonstrating the value of walking with Him, we serve to block spoilage and decay in society.
As we encourage one another with our words and deeds, and hold tight to the truth of the gospel, the unity we will experience as we bind together will not only strengthen those in the faith but will allow others to more clearly see the value. 
But if we battle, we can become bitter.  Binders or dividers?  Sometimes it's as simple as using "salt " in a way that unites and strengthens.  
"Salt is good, but if it loses its saltiness, how can you make it salty again?
Have salt among yourselves, and be at peace with each other."  Mark 9: 50 NIV
Salt Enhances Flavor 
When growing up, if we got a cantaloupe or watermelon that wasn't as tasty as normal, we'd add a touch of salt to it and it would awaken the flavor. The salt decreases the sharp and bitter and increases the sweetness by drawing water to the surface.  Yet, adding too much salt to a fruit or recipe can ruin it.
When we season our discussions with non-believers with genuine interest and compassion, we let the Living Water in us rise to the surface allowing us to speak God's truth in love and sweetness. 
Be wise in the way you act toward outsiders; make the most of every opportunity. Let your conversation be always full of grace, seasoned with salt, so that you may know how to answer everyone. Colossians 4:5-6
Salt as Payment
In ancient Rome, soldiers were sometimes paid with the valuable commodity of salt, or given a means to obtain it.  In essence, salt was their "salary" as that term later evolved.
The old colloquialism "not worth his salt" refers to someone not qualified for the payment they've received or what's been given to them. 
Sounds like us. 
On our own, we can never be good enough to earn or deserve the forgiveness and mercy God provided to us through Christ's sacrifice on the cross. 
But because of his great love for us, God, who is rich in mercy, made us alive with Christ even when we were dead in transgressions—it is by grace you have been saved. And God raised us up with Christ and seated us with him in the heavenly realms in Christ Jesus, in order that in the coming ages he might show the incomparable riches of his grace, expressed in his kindness to us in Christ Jesus. For it is by grace you have been saved, through faith—and this is not from yourselves, it is the gift of God— not by works, so that no one can boast. Ephesians 2: 4-9 NIV
 Salt Creates Thirst
When we eat lots of chips or salty foods without fluids or go for long periods of time without hydrating, we start to crave liquid refreshment. Commercials entice us to drink the latest beverage for what we can enjoy through it.
In essence we are walking advertisements for the beauty and benefits of life in Christ. The way we live can create a thirst among others to walk with Jesus – or not. 
"You are the salt of the earth. But if the salt loses its saltiness, how can it be made salty again? It is no longer good for anything, except to be thrown out and trampled underfoot.
"You are the light of the world. A town built on a hill cannot be hidden. Neither do people light a lamp and put it under a bowl. Instead they put it on its stand, and it gives light to everyone in the house.  In the same way, let your light shine before others, that they may see your good deeds and glorify your Father in heaven. Matthew 5:13-16 NIV
Interestingly this "salt and light" passage follows Jesus' Sermon on the Mount including the Beatitudes which identifies character values.  
During this secular "Salt Awareness" focus, how good it is to take time to contemplate how God's love protects, preserves, enhances, binds, and serves as payment for our sins!  
What is your favorite salty treat?
Think of 3 ways you've used salt other than in food?
What is one way you can specifically "salt" and season your home or community with the love of God this week?
How does your relationship with God enhance the flavor of your life? 
In what ways can you make others around you more aware of the enhanced benefits of a life infused with His Word, flavored by His love and preserved for eternity?
"Salt is good, but if it loses its saltiness, how can it be made salty again? It is fit neither for the soil nor for the manure pile; it is thrown out. Whoever has ears to hear, let them hear."  Luke 14:34–35 NIV
Remember…
Life Is Better When It's Full – Joy-full, Thank-full, Purpose-full and Friend-full! ™
https://joydunlap.com