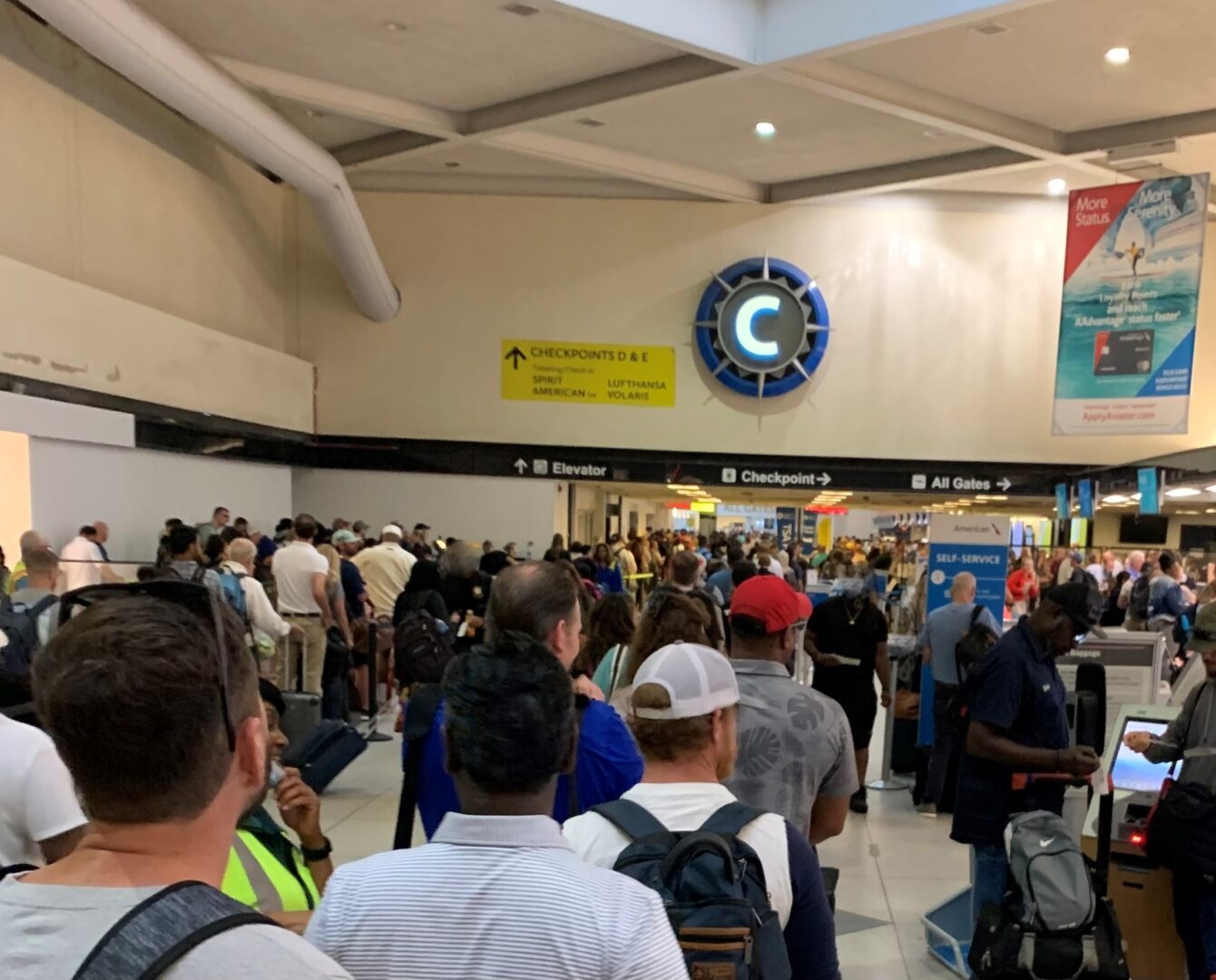 ©Joy Dunlap  https://joydunlap.com
I was soaring on a spiritual high after hearing the inspiring words of Christian speakers and writers, spending time in community prayer, and enjoying good times and connection at an incredible conference.
Then…
Stuck on the runway.
A packed flight. Weather delay. Connecting city closed to air traffic.
The airline attendant made the best of it and treated us to snacks and served up patience and kindness. All seemed to be handling the delays in stride – initially.
As we commiserated, my heart went out to the young professional flautist next to me who shared what a tough time she'd had flying recently.  On her inbound flight, she'd lost her purse with all her credit cards, IDs and money.  They still hadn't located it.
Someone always has it worse.
Updates kept coming our way, and the forecast for our flight takeoff didn't look good.
Tension began to rise.  Questions increased.  Would flights be rescheduled?  Would people make connections?  What if they didn't?
It's weather. We can't do anything about it.  We just have to go with the flow and stay flexible. 
By this time, I'd already eaten an entire share-sized bag of white cheddar popcorn I'd brought on board, and most of the large bag of Cheddar Chex Mix.  No sharing.  Unless you count me, myself, and I.  My 20-ounce (maybe it was 16.9, but who's counting?) Diet Mt. Dew gave me a boost of extra energy.  And, I still had those airline cookies left to devour, and a few other snacks in my bag.
People got antsy.  The pilot announced we may get informed of an opening within 30 minutes.
"We're going to refuel out of an abundance of caution," said the pilot. "So we're going to be opening the plane's door."
One young woman across from me told the attendant she wanted to get off the plane.  Then another man said he did too.
Seriously?  Did I mention we weren't at the gate?
The attendant said she would check and went back up front.
Ding ding.  The woman rang the call bell.  "I'd like to get off.  I don't know anyone there and my connecting flight has already been cancelled."
"The pilot's checking and should let us know soon."
Then from the cockpit…
"We've been notified we have about a 10-minute window to take off.  But we have two passengers who want to get off the plane, and we've been advised that we need to let them off, so we'll need to go back to the terminal, and we may miss the window."
Groans and grumbling echoed throughout the plane.  Including mine.
My top-of-the-world feeling started to seep away.
But then…it worked out.  Until it didn't.
In the connecting city, I raced to D terminal for my delayed (thankfully!) flight only to learn the time was changed again and it would leave from B terminal. Walking fast in the cute black sandals I'd worn to the conference awards luncheon – the ones not meant for traversing airports from end to end – I could tell my feet were being rubbed wrong.
The straps started causing friction and creating blisters.
That was happening in my mind and emotions too.
People were everywhere, shoulder to shoulder, rushing and bumping toward gates.  Weary travelers crowded together waiting.  Lines at airline customer service counters stretched a hundred-plus persons long.  Nearby, an extensive line at Bojangles gave serious competition.
After snagging a hard-to-find seat and settling in B terminal, my flight's time and terminal changed again – this time to A terminal.
On a positive note, look at all the steps I was getting racing from terminal to terminal.
Call me optimistic, but I was still hopeful I would get home that night.
While looking at the larger departures board and talking to my husband about when I'd arrive, the flight flipped to cancelled.
From hope to no hope in just a second.
I was still heading for my destination – just delayed and disappointed again.
"Yes, we can get your luggage.  But it'll be about four to five hours."
Never mind.  I wanted out of that airport.  So, I headed to a local hotel.
Flying is rarely relaxing, and it's usually stressful.  I'll admit I got frustrated by people who broke in lines, and, yes, by the people who wanted off the plane even though it might inconvenience everyone and make others miss their connecting flights. But it didn't. And, we didn't catch them anyway. But not because of those people.
The next morning a woman delayed our hotel shuttle bus departure not once but twice.  (Even her husband was getting exasperated!) When we arrived, the TSA pre-check line was hundreds and hundreds of people long. I even walked to near the front of the line to make sure it was the right one.  As I was walking back, I admit I was tempted to merge into the line up closer.  You hear that, right?  Merge into? Let's call it what it was.  Cut. Cheat. Circumvent.
All those temptations have been around for a long time in many different forms.
And, since Adam and Eve, temptation has embraced and fueled excuses.
Surely my flight was leaving sooner than the others.  If only that woman hadn't held up our shuttle bus departure. One person won't matter.  
I scanned the line for a place to slide in unnoticed.
Temptation called. I wanted to answer.
Tempted to choose something for my convenience instead of considering others.
To act like the people whose selfish actions on this trip aggravated me.  What???
I'd already come face to face with my need for forgiveness for how frustrated I was at them internally, and I didn't even know their story, their situation. And, now I was being tempted to act only for me and not for others in fairness.
Thankfully my heart check kicked in.
God's goodness, His Word and His work, and our worship at the conference had filled me. Those are much better tools to battle stress and fight frustration than mindless shoveling of snack foods, or a break in line to get ahead.
I thought about people who'd blessed me on this journey – the kind hotel agent who booked me a cool, comfortable room and provided me with a guest bag of goodies; the two engaging shop clerks who gave me an unexpected discount on my snacks; and the airline and airport workers who kept their calm and kindness in the clamor and chaos.
I paused to reflect.
God's Word that's planted strengthens.
I headed back to the end of the line which by now was even longer.
We will all get to where we'll end up someday. 
But will we like who we are on the journey? 
"Watch and pray so that you will not fall into temptation. The spirit is willing, but the flesh is weak." Mark 14:38
What did you most/least enjoy about your last trip?
What most aggravates you about others when traveling?
When have you gotten frustrated or angry with the actions of someone else then realized you've acted similarly?
What has someone done that encouraged you to walk well with God this week?  What have you done to encourage another?
"His master replied, 'Well done, good and faithful servant! You have been faithful with a few things; I will put you in charge of many things. Come and share your master's happiness!'" Matthew 25:21
 Remember…
Life is Better When It's Full – Joy-full, Thank-full, Purpose-full and Friend-full! ™
*Scripture references are from New International Version (NIV)