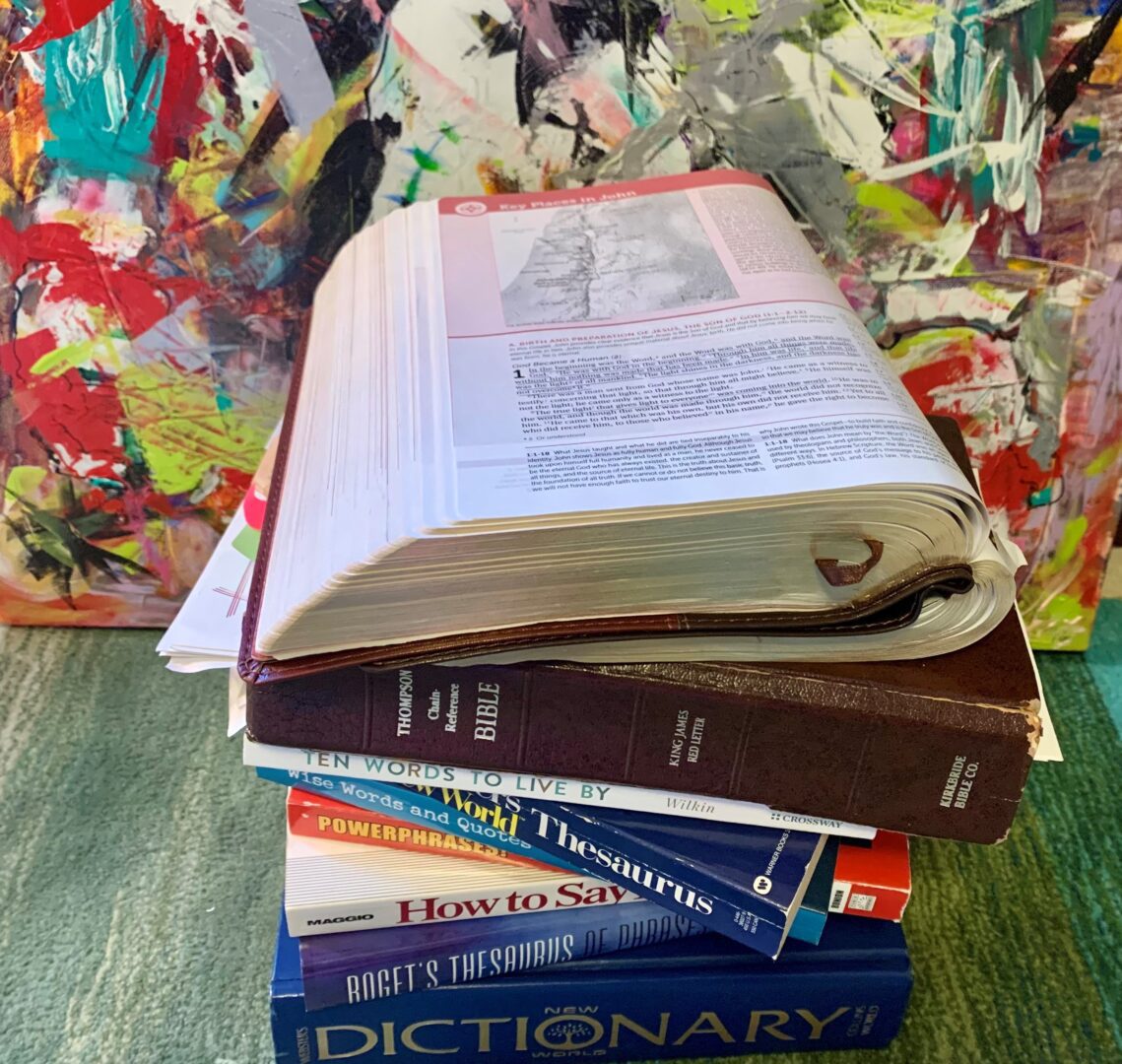 ©Joy Dunlap  https://joydunlap.com
The new year stirs the desire to set goals, to release things from the past, and to declare intentions.
One activity that has become more widespread in place of those rarely completed resolutions is picking an overarching word for the year.  I've done that some years and I may do it again this year.
But with all the words in the world, identifying one word for the year can be challenging.
What word would it be? Does it have to be limited to one word?  If you pick one word, can you switch it?
Should it be a word that engenders change, or one of reflection, or all-out motivation?
What if God doesn't seem to be guiding you to a specific word or you have yet to discover it?
The good news is, well…the good news is The Word.
Jesus is the Word, and the Word is available to us.  So even if you haven't picked a motivational word for 2023 or you don't intend to, be encouraged.
You have the word.
In the beginning was the Word, and the Word was with God, and the Word was God.  John 1:1
Sure, it's OK to pick a word for the year to help remind us where we want our lives to go in 2023.  I've heard some amazing stories about how people felt guided by God to a specific word, and how that word served as a reminder throughout the year.  Over the years, people have embraced lots of motivational words such as thrive, focus, flourish, lead, and believe.  Anchor, balance, explore, connect, and breathe signal a shift in priorities.  Other words express character traits to expand and strengthen – courage, confidence, compassion, discipline, resilience, generosity. The list of word for the year possibilities goes on and on.
Then there's Jesus.  Jesus is the word we most need to place upfront in our hearts and minds.
And, in the timeless truths of Scripture, we will find what we need to guide our lives, help us grow, lead us as we walk, steady us when we stumble, comfort us when we grieve, and challenge us when we need a push.
If you've already picked a word, I encourage you to also select a scripture for the year. And if you haven't picked a word yet, but want to, consider starting with a scripture first. Or search the Scriptures and pray for a word and passage that God places on your heart.
So, if the idea of resolutions or motivational words or inspiring phrases makes you cringe or creates anxiety, fear not. Countless words in the Bible are available year-round for contemplation and inspiration – and you don't have to settle for just one!
The Bible offers us a blueprint for the year that's better than any organizational or motivational book.  For 2023, let's take a look at these 23 call-to-action words and passages (but so many more incredible words of wisdom can also be found in the word of God):
TRUST in the Lord and do good; dwell in the land and enjoy safe pasture. Psalm 37:4
COMMIT your way to the Lord; trust in him, and he will act. He will bring forth your righteousness as the light, and your justice as the noonday. Psalm 37:4 ESV
DEVOTE yourselves to prayer being watchful and thankful.  Colossians 4:2
WORSHIP the Lord with gladness; come before him with joyful songs. Psalm 100:2
DELIGHT yourself in the Lord and he will give you the desires of your heart.  Psalm 37:4 ESV
BE joyful in hope, patient in affliction, faithful in prayer.  Romans 12:12
But SEEK first his kingdom and his righteousness, and all these things will be given to you as well. Matthew 6:33
REJOICE in the Lord always.  Again, I say rejoice.  Philippians 4:4
WATCH and pray so that you will not fall into temptation. The spirit is willing, but the flesh is weak. Matthew 26:41
But you, keep your head in all situations, ENDURE hardship, do the work of an evangelist, discharge all the duties of your ministry. 2 Timothy 4:5
Whatever you do, WORK at it with all your heart, as working for the Lord, not for human masters, since you know that you will receive an inheritance from the Lord as a reward. It is the Lord Christ you are serving.  Colossians 3:23-24
HUMBLE yourselves, therefore, under God's mighty hand, that he may lift you up in due time.  1 Peter 5:6
SHARE with the Lord's people who are in need. Practice hospitality. Romans 12:13
STRIVE for full restoration, encourage one another, be of one mind, live in peace. And the God of love and peace will be with you. 2 Corinthians 13:11 b
FOLLOW God's example, therefore, as dearly loved children and walk in the way of love, just as Christ loved us and gave himself up for us as a fragrant offering and sacrifice to God. Ephesians 5:1-2
PURSUE righteousness, godliness, faith, love, endurance and gentleness. 1 Timothy 6:11b
But I say, WALK by the Spirit, and you will not gratify the desires of the flesh. Galatians 5:16
ABIDE in me, and I in you. As the branch cannot bear fruit by itself, unless it abides in the vine, neither can you, unless you abide in me. John 15:4 ESV
GROW in the grace and knowledge of our Lord and Savior Jesus Christ. 2 Peter 3:18
STAND firm then, with the belt of truth buckled around your waist, with the breastplate of righteousness in place, and with your feet fitted with the readiness that comes from the gospel of peace. Ephesians 6:14-15
And, PRAY in the Spirit on all occasions with all kinds of prayers and requests. With this in mind, be alert and always keep on praying for all the Lord's people. Ephesians 6:18
But ENCOURAGE one another daily, as long as it is called "Today," so that none of you may be hardened by sin's deceitfulness. Hebrews 3:13
A new command I give you: LOVE one another. As I have loved you, so you must love one another. John 13:34
The Word of God is moving – and has the power to move us.
For the word of God is alive and active. Sharper than any double-edged sword, it penetrates even to dividing soul and spirit, joints and marrow; it judges the thoughts and attitudes of the heart.  Hebrews 4:12
As we march boldly, step gently, or get pushed into the New Year, may our goals and our actions and our words be centered on Who we do it for and why.
The Word became flesh and made his dwelling among us. We have seen his glory, the glory of the one and only Son, who came from the Father, full of grace and truth. John 1:14
What resolution or word selection have you fulfilled in the past that impacted your life?
Is there a Scripture (perhaps one of these) that resonates with what you'd like to see happen in your life this year?
Which five actions listed anywhere in this post reflect attributes you'd like to cultivate or behaviors you'd like to be better at this year?
Have you prayed about what God would have you do for Him this year?
He replied, "Blessed rather are those who hear the word of God and obey it." Luke 11:28
Remember…
Life is Better When It's Full – Joy-full, Thank-full, Purpose-full and Friend-full! ™
All verses from New International Version (NIV) unless otherwise attributed.
Artwork by Terri Lange/photography by Joy Dunlap