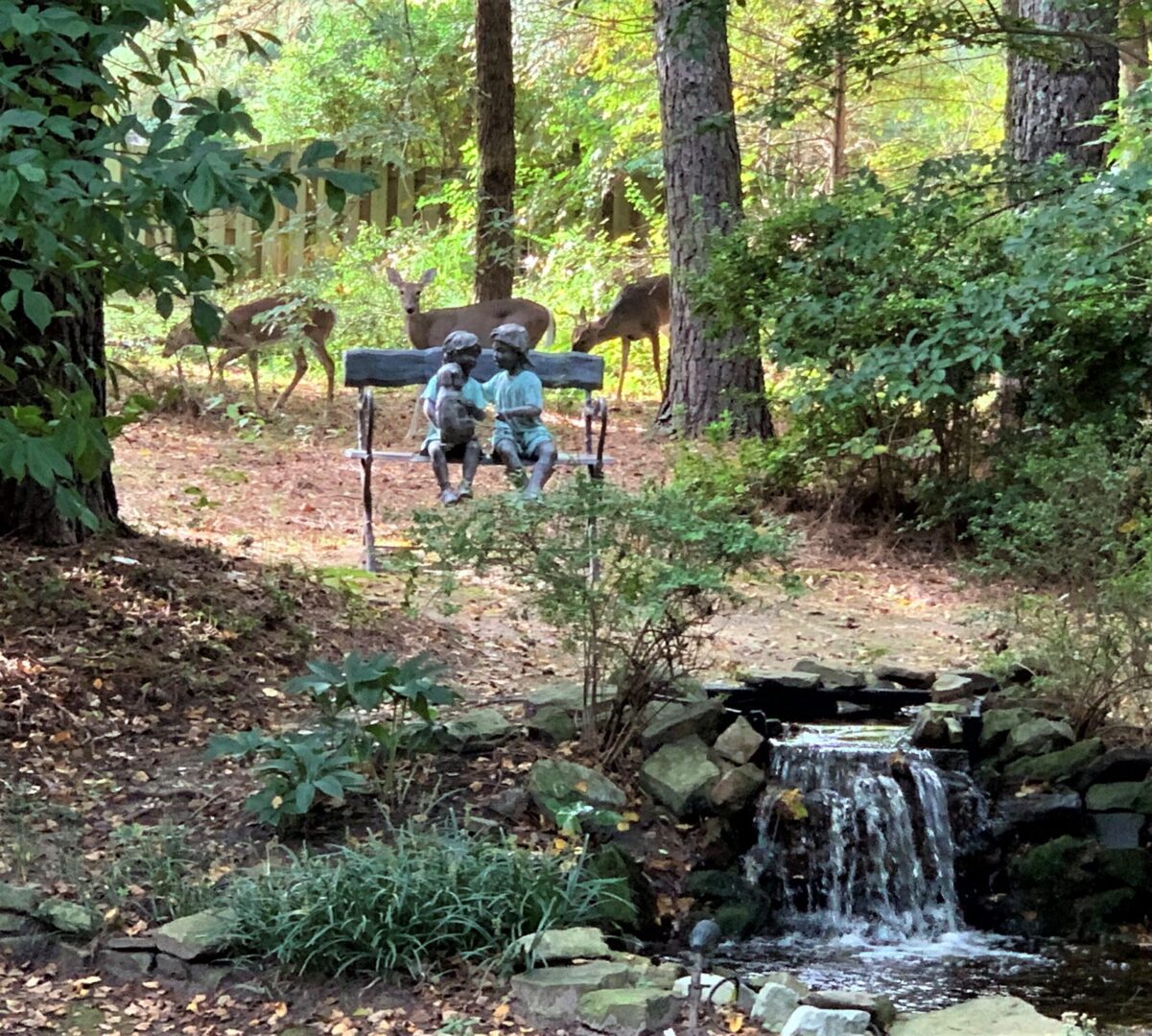 ©Joy Dunlap  https://joydunlap.com
The family of four who arrived for dinner first came into my vision at a distance. Two were relative newborns, wobbly legs and trusting faces. Mom and dad were wary – more cautious and hardened by the realities of the world.
I let them wander the wooded area behind our house and eat to their heart's content, delighting in them as they explored, yet watchful and concerned about their protection.
Soon, those beautiful deer began to trust more and come closer, even venturing near the sunporch. Again and again, they returned to taste the leaves on the branches, tugging at them to pull them closer. Sometimes, they grazed on the ground. Occasionally, they found the delicacies of the beautiful blooms I had planted. At times, they gazed directly at me as if they trusted me and connected with me.
Time after time, the four came back to the safe place.  After arriving, they spread out to find what delights waited for each of them. Once the mom came alone and lay down for a while by the flowing waterfall and pond – perhaps to gain refreshment and a peaceful time of quiet and calm.
The adults brought the young ones to sample the bountiful goodness awaiting them, to experience the security and benefits. Sticking close to each other, they could warn, help and defend each other if things get challenging on their way.
In a time when tensions are tight, anger is raging, and emotions are on high alert in our world, it's wonderful that we too can count on a safe place when we return to rest in God's love, mercy and faithfulness.    
For in the day of trouble he will keep me safe in his dwelling; he will hide me in the shelter of his sacred tent and set me high upon a rock.  Psalm 27:4-6 NIV
Sampling isn't enough for security. When we truly trust God and are confident that in His presence is where lasting peace is found, we find an assurance that displaces anxiety from taking up residence.
In peace I will lie down and sleep, for you alone, Lord, make me dwell in safety.  Psalm 4:7-8 NIV
The fawns' delightful camouflage spots aided in protecting them from predators. As they grew, they played with each other, romping about the wooded area, exploring and delighting in the freedom found in the safe place.
How abundant are the good things that you have stored up for those who fear you, that you bestow in the sight of all, on those who take refuge in you.  In the shelter of your presence you hide them from all human intrigues; you keep them safe in your dwelling from accusing tongues.  Psalm 31:19-20 NIV
On the first visit, the mother nursed the babies with what they needed to begin their lives. Each time they returned over the four months, the fawns seemed to eat more and more of the foliage available to them in God's creation.  Fawns are usually fully weaned around 12-16 weeks, but often begin to supplement their diet at 3 weeks. They began to trust the safe place for nourishment.
Taste and see that the Lord is good; blessed is the one who takes refuge in him. Psalm 34:7-9 NIV
Oh, the blessing it is to watch this deer family discover peace and safety, and to keep coming back for the nourishment they've found.
Sure, they've been destructive at times – ingesting some things not intended for them. And, there have been times I've had to clap my hands or open a door to divert them from certain off-limit areas.  But, they know the safe place and what it offers.  What joy it gives me when they return to graze peacefully among the trees, bushes and plants, enjoying one another, finding nourishment, and gazing at me with trust.
The safe place is here whenever they seek it. 
What do you notice most about deer when you see them?  What comes to mind when you think of them?
What correlations do you see in this deer family's behavior and your own?  Have you ever left the security of God's garden and returned?
In what ways have you weaned yourself off "newborn" nourishment, and sought to reach further into God's provisions and Word for sustenance?
How confident are you in the security and peace that God provides – in His presence, the abundant life He offers here, and the promise of eternal life?  Is your "safe place" with Him?
How priceless is your unfailing love, O God! People take refuge in the shadow of your wings. They feast on the abundance of your house; you give them drink from your river of delights. Psalm 36:7-8 NIV
Remember…
Life is Better When It's Full – Joy-full, Thank-full, Purpose-full and Friend-full! ™