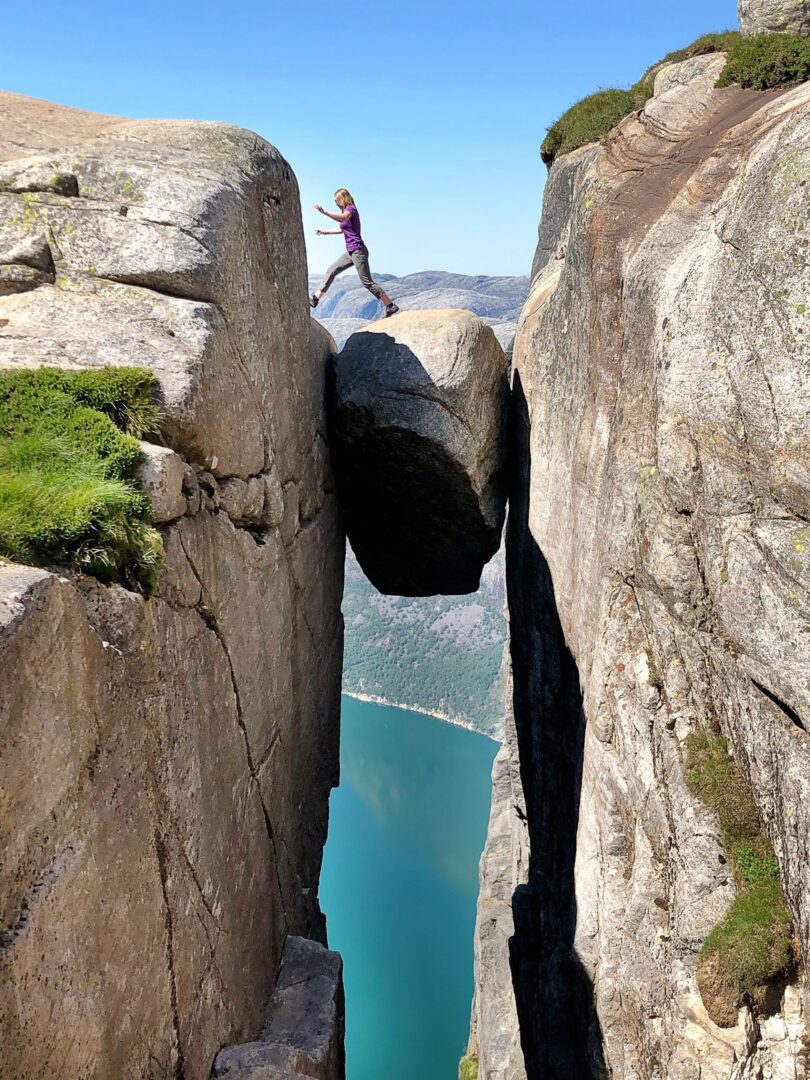 ©Joy Dunlap  https://joydunlap.com
Stuck in between? Sounds like a mammogram, right?  Uncomfortable.  Painful.  Worrisome.
Rarely are "in-betweens" in life satisfying.  In fact, they're often emotional minefields we can't wait to escape.
Right now, some of us are in-between relationships, jobs, dreams and aspirations. Others are imminently in between life and death themselves or with a loved one.
Whether waiting for coronavirus restrictions to lift and to find out about future accommodations in work and leisure, or transitioning from working to retirement; job to job, or moving to a new location or responsibility, "in-between" generates feelings of uncertainty and fear of the unknown.
"In between" usually entails change or waiting.  Neither of which are easy.
Even if we know what's on the other side of "in between," it's difficult not knowing the details.  Anxiety, anger and aggravation start to fight for space in our minds as we struggle with the lack of answers.
No question, "in between" is a tough place to be.  None of the excitement of a new beginning or the satisfaction of seeing something completed.
Not knowing what the future holds or when it may unfold messes with our desire for control.  We want to know not only what's on the other side of this "in-between," but also what it will look like and what place we will have in it.
Wait and see is not our favorite human stance.  But wait and see doesn't mean wait in stupor. 
We mustn't let the middle – those wait times – become muddy, mushy or dried up. 
The opportunity to grow and deepen our walk with the Lord is never on pause – unless we put it there.  Likewise, despite our circumstances, we can continue to develop our abilities, strengthen our skills and enhance our relationships although we might have to find new ways to do that or use creativity to accomplish it.
In the long view, life is actually the in-between.  On the other side is heaven. Or hell.
"In between" is most comfortable when we view it as a bridge.
Waiting well can help us handle the "in-between."  Let's look at five ways God's Word helps us wait well:
Wait Expectantly
In the morning, Lord, you hear my voice; in the morning I lay my requests before you and wait expectantly. Psalm 5:3 NIV
Wait Confidently
I remain confident of this: I will see the goodness of the Lord in the land of the living. Psalm 27:13 NIV
Wait Courageously
Wait for the Lord; be strong and take heart and wait for the Lord.  Psalm 27: 14 NIV
Wait Patiently 
Be still before the Lord and wait patiently for him; do not fret when people succeed in their ways, when they carry out their wicked schemes.  Psalm 37:7-8 NIV
Wait Trustingly
I wait for the Lord, my whole being waits, and in his word I put my hope.  Psalm 130:5 NIV
Right now, a lot of things are on hold.  We're in an "in between" stage.
Many teachers don't know if they'll be teaching, what they'll be teaching and how they'll be teaching.  Students don't know if they'll be in school, online, or a combination.  Athletes don't know if they'll be playing or if fans will be in the stands.
Workers don't know if they'll have jobs or paychecks.  Moms and dads don't know if they'll have daycare or even money to pay the mortgage.  Adult children don't know when they'll be able to visit aging parents in care facilities or retirement communities.
We're in a waiting place.  And, most of us don't like it. 
Yet…
Because of the Lord's great love we are not consumed, for his compassions never fail. They are new every morning; great is your faithfulness. I say to myself, "The Lord is my portion; therefore I will wait for him."
The Lord is good to those whose hope is in him, to the one who seeks him. Lamentations 3:21-25 NIV
Waiting isn't an excuse to wallow or waste our time. 
In Isaiah 26:8, we are reminded that even as we wait, we should keep walking in His Word, and watch that our hearts keep Him as the focus.  As we wait, our tendency may tend to become more I-focused as we struggle with what we want and that we want it now.  If we refocus and reset our emotions to His purpose, even if we have to do it over and over again, we are more likely to find contentment where we are.
Yes, Lord, walking in the way of your laws, we wait for you; your name and renown are the desire of our hearts.
The "in-between" also gives us time to grow spiritually – if we take advantage of the opportunity.
Build our faith. Pray. Remain in God's love. Show mercy.  Those actions put forth in Jude 1:20-22 for us to do while waiting for eternal life apply just as well to the side waiting rooms we encounter during our earthly journey.
But you, dear friends, by building yourselves up in your most holy faith and praying in the Holy Spirit, keep yourselves in God's love as you wait for the mercy of our Lord Jesus Christ to bring you to eternal life. Be merciful to those who doubt.
If "in between" is where you are, don't let it squeeze the fun and focus out of life for you! Use it to diagnose where you are and to take action towards where you want to be! 
What are you waiting for right now? 
In what ways are you maximizing the "in-between" in your life? 
Are you experiencing anxiety, anger or aggravation today?  What positive growth actions can you use to replace those? 
How are you continuing to build your faith, your skills, and your relationships in this time? 
We wait in hope for the Lord; he is our help and our shield.  Psalm 33:20 NIV
Remember…Life Is Better When It's Full – Joy-full, Thank-full, Purpose-full and Friend-full! ™