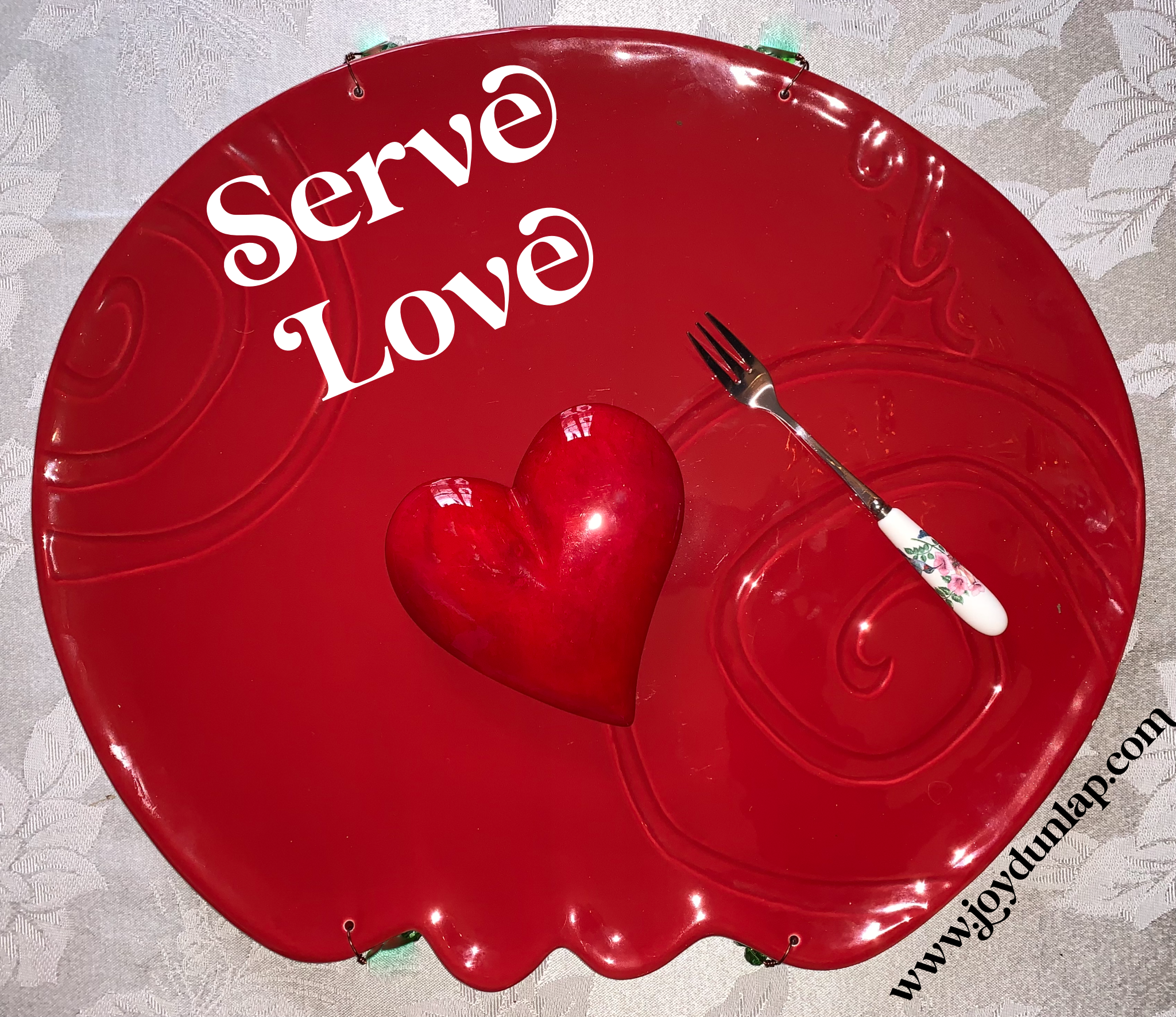 ©Joy Dunlap  https://joydunlap.com
No matter what our Valentine's Day looks like, we can serve love every day through our words.
On Valentine's Day and the days around it, many will serve a scrumptious meal for their soulmate, share a Galentine's event with friends, or go out to dinner to celebrate. Others will give specialty cards to their spouse or someone special, or send ones to gal pals!
More cards are given on Valentine's Day than any holiday other than Christmas, according to Hallmark. 145 million of them!  And, that doesn't include all those school packs! Do you remember when we gave cards to everyone in our grade school classrooms?  
The month of word hugs offers an excellent opportunity to be intentional not only in recognizing those around us but also to speak encouragement into them.
So, let's look at several ways to serve love with our words this month:
Start with a smile and a cheerful greeting. Give those away to everyone you see.
Ask questions. Show a genuine interest in those around you.
Listen to others. Talk less; listen more.
Seek to discover something new about someone you've known a long time.
Tell those who provide services to you something specific you appreciate about how they do their jobs.
Give a thank you note or a card with a handwritten sentiment inside.
Call someone you haven't talked to in a while and tell them why they are important to you.
Send an animated email card. Ones I've received by Jacquie Lawson have been lovely but there are several companies who do those.
Write a card or an email to someone letting them know why you value their friendship.
Remind a neighbor you are available if they ever need you.
Tell a neighbor how much you enjoy their yard, shrubbery, flowers, etc.
Let a cashier or worker know you appreciate them.
Reach out to repair a fractured friendship.
Write a prayer of thanksgiving to God.
Tell a parent doing a good job with their children that you notice.
Send a thank you note to a teacher, counselor, group or church leader who impacted your life.
Sign and take a batch of cards to an assisted living, care facility, VA, or women's shelter and let the staff distribute them to those without visitors.
Congratulate a parent on how well their adult children turned out.
Pass on words that wow you – share a quote or Bible verse directly with friends or on social media!
Share a favorite devotional, lifestyle or fiction book with a friend. Enclose a notecard telling why you enjoyed it or why it reminded you of them.
Write a personal prayer for someone using Scripture.
Consider a specific character trait you admire or respect in someone and jot a note telling them that and why.
Use FaceTime or Zoom or WhatsApp to chat "face to face" with a friend you haven't seen in years.
Offer words of praise and adoration in worship to God.
React and respond when you learn of someone grieving, struggling, or hurting. Your words let them know they are seen, heard and valued.
Follow up on a matter someone asked you to pray about and remind them you are praying.
Speak encouragement into a friend who is dealing with difficulties or feeling down and discouraged.
Choose to use words for growth, not gossip.
Tell someone about the love of God experienced through Christ and the story of how He has impacted your life.
Recognize birthdays and accomplishments with a card, email, message or a call!
Share a blogpost or article whose words or message touch your heart.
Thank God for what you are grateful for right now, as well as a specific blessing you received in the past.
Remind a friend how much you are enjoying a gift they gave you. Send a picture with a line or two.
Think of something specific you admire about those in your life and let them know.
Share a Scripture verse with others that is particularly meaningful to you and tell them why.
Speak sincerely with love from a grateful and humble heart.
If I speak in the tongues of men or of angels, but do not have love, I am only a resounding gong or a clanging cymbal. 1 Corinthians 13:1 NIV
What words have someone shared with you that encouraged or strengthened you?
If someone asked you your favorite quote or Scripture, what would your answer be?
Who will you specifically encourage with words to serve love this month?
Gracious words are a honeycomb, sweet to the soul and healing to the bones. Psalm 16:24 NIV
Remember…
Life is Better When It's Full – Joy-full, Thank-full, Purpose-full and Friend-full! ™