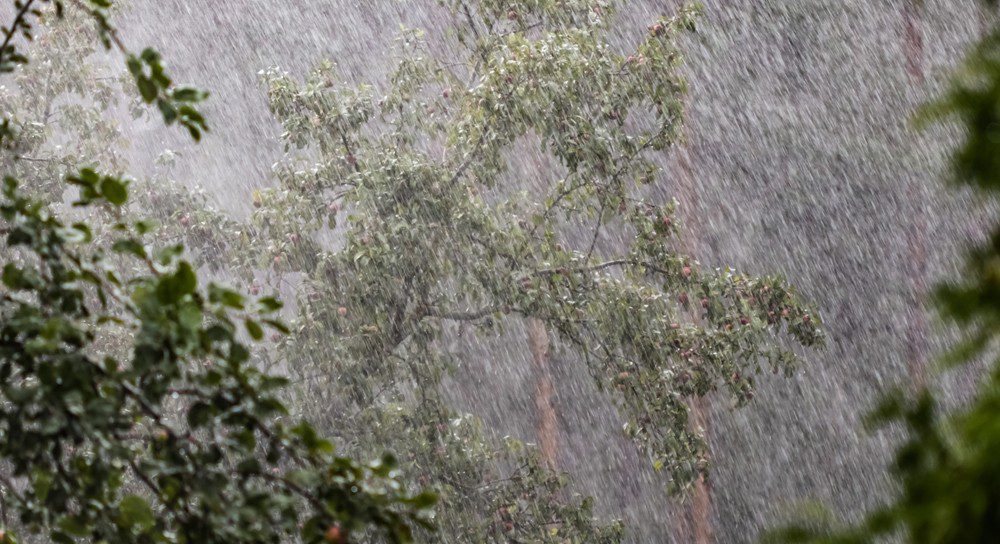 ©Joy Dunlap  https://joydunlap.com
The rainstorm caught us by surprise.  My friend and I were strolling along in the expansive tourist gardens enjoying our visit together when the rain started with sprinkles and rapidly moved into a downpour. We seemed to be at the farthest point we could be from the check in center.
Without umbrellas or raincoats or buildings to protect us, exposure to the elements was inevitable.  Our feeble attempt to avoid the downpour by standing in a small dry spot underneath a tree failed as the wind and the rain soon invaded our space.  
"Do you know where we can find shelter?" my friend called to a couple of people racing past.
Uncertain of how long the storm would last, we kept moving forward on the path not knowing how long it would take us to arrive, or even if we were going in the right direction.
Only minutes before, we'd been delighting in the beauty of God's creation seen in the moss-covered trees, marshy water, and colorful azaleas.  We were happy, content, at peace.  Grateful.
Pummeled by the wind and rainstorm, we felt frustrated, uncomfortable, and yucky. We did manage some laughs along the way, took some misguided paths, and accepted our fate, but we knew we'd be better off in the shelter.
Sopping wet, we finally made it back to the arrival center where we had received our tickets.
Shortly after we arrived, the rain stopped… about the time I retrieved our two umbrellas from the car trunk.
Storms often hit when we're most unaware or unprepared.
If only we'd had our umbrellas or raincoats with us; if only we'd double-checked the weather right before we got on the walking path; if only we'd kept moving toward the sturdy shelter instead of trying to wait it out huddled in a small spot under leafy branches.  As two former college TV "weather girls" you'd think we would know better; there's a touch of irony in that. Then again, none of us always do what we should, carry what we need, or follow the best route in life, do we?
But, had we been equipped with protection, sought shelter when the first raindrops began to fall, or run in the direction of shelter right away, we would have been less affected by the storm.  A tourist brochure stained my friend's brand new white top. The rain took its toll on our hair first flattening it, and afterwards adding volume like watered chia pets. We had to return to the hotel to change clothes since we were drenched. I was wet all the way through my clothes!  How did that storm seep in?
My friend's question to the passersby lodged in my mind.
"Do you know where we can find shelter?"
The storms of life will come – ones we get a hint of, and those that take us by surprise.
What's important is that we remember where the shelter is – and that we run there.  And, it's good to have friends by our side on the journey!
Whoever dwells in the shelter of the Most High will rest in the shadow of the Almighty. I will say of the Lord, "He is my refuge and my fortress, my God, in whom I trust." Psalm 91:1-2 NIV
When is a time you've been caught unexpectedly in a rainstorm?
What storms in life are brewing on the horizon or hitting full force in your life right now?
How do you find shelter in the Lord?
When was a specific situation in which you experienced God as a refuge or a fortress?
What are three things you can do right now to prepare spiritually for the next storm in life?
For in the day of trouble he will keep me safe in his dwelling; he will hide me in the shelter of his sacred tent and set me high upon a rock.   Psalm 27:5 NIV
Remember…
Life is Better When It's Full – Joy-full, Thank-full, Purpose-full and Friend-full! ™