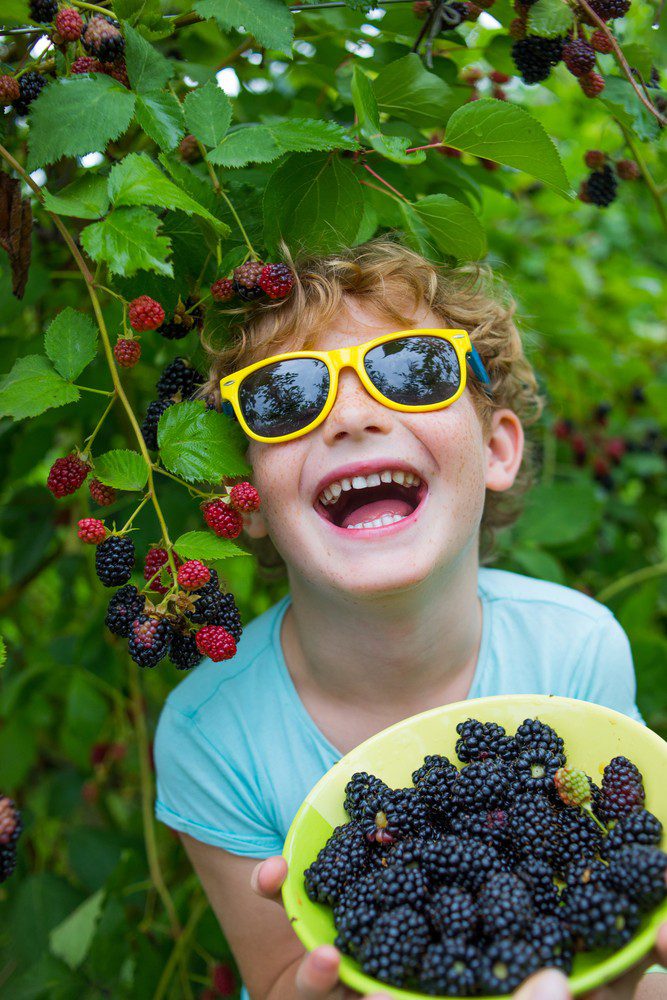 ©Joy Dunlap  https://joydunlap.com
The memory of picking blackberries with my mom and dad is as fresh and sweet in my mind as that plump, juicy fruit was in my mouth.  I grew up in a time when we actually carved faces into pumpkins and stuck a lit candle in them to signal children and their parents that candy was available at our house for "Trick or Treat."
Even today, some families go into pumpkin patches to pick out a preferred orange gem. Harvest is, of course, the season when ready crops are gathered, but it also has a broader meaning.  Dictionary.com identifies one definition of "harvest" as "the result or consequences of any act, process or event."  Merriam-Webster lists one meaning of "sow" as "to set something in motion."
"Those who sow with tears will reap with songs of joy," says Psalm 126:5 (NIV) followed by, "Those who go out weeping, carrying seed to sow, will return with songs of joy, carrying sheaves with them."
Our tears today may be for a personal tragedy that burdens us, for our country divided in so many ways, or for a loss of hope as circumstances threaten to paralyze us.
We need to keep sowing…
Spread the seeds of love and peace.
Spread the seeds of hope and happiness.
Spread the seeds of truth, of God's love and forgiveness.
Are we planting rows of brambles and thorns or bitter fruit?  Or are we scattering seeds for spiritual growth by listening, caring and building community?  Are we having conversations or are we having degradations?
Our motives matter.  Not all who plant are striving to produce joy and hope in the harvest.
"Whoever sows to please their flesh, from the flesh will reap destruction; whoever sows to please the Spirit, from the Spirit will reap eternal life. Let us not become weary in doing good, for at the proper time we will reap a harvest if we do not give up."   Galatians 6:8-9 NIV
Who is likely to reap a harvest of joy and goodness from seed-scattering? Scripture reminds us that we "reap what we sow."  Are we among those who plant with pure motives and without malice; those who scatter seeds with repentant hearts and without revenge, and those who seek to follow the will of God by spreading love without hate?
Sowing isn't just about planting – it's about planting with hearts full of love. It's about planting with purpose that others will find the true Hope.  We can ask ourselves, "Am I spreading seeds in my words and deeds that will nourish or poison?"
Tears have many origins:
Tears of pain and sorrow from physical illnesses or trauma. Through them, we can choose to scatter seeds of perseverance and understanding.
Tears of hopelessness and heartbreak from mounting fears, shattered dreams or deep grief. Through them, we can choose to spread seeds of encouragement, courage and fortitude.
Tears of compassion, sympathy and empathy. Through them, we can use our feelings, emotions and connection to help us plant seeds of nurturing and caring.
Tears of gratitude that despite our failings we have been forgiven through the unconditional love and sacrifice of Christ, allowing us to live confidently in His resurrection and our restoration. Through those tears, we can spread that love and forgiveness to others.
We have to keep moving, keep planting, keep caring.
And this is my prayer: that your love may abound more and more in knowledge and depth of insight, so that you may be able to discern what is best and may be pure and blameless for the day of Christ, filled with the fruit of righteousness that comes through Jesus Christ—to the glory and praise of God. Philippians 1:9-11 NIV
How are your words, social media posts and actions planting seeds of encouragement and love for others? 
What is the origin of the tears and heartache you have right now? 
What seeds are you scattering?   What is your hope for the harvest?
Remember…Life Is Better When It's Full – Joy-full, Thank-full, Purpose-full and Friend-full! ™