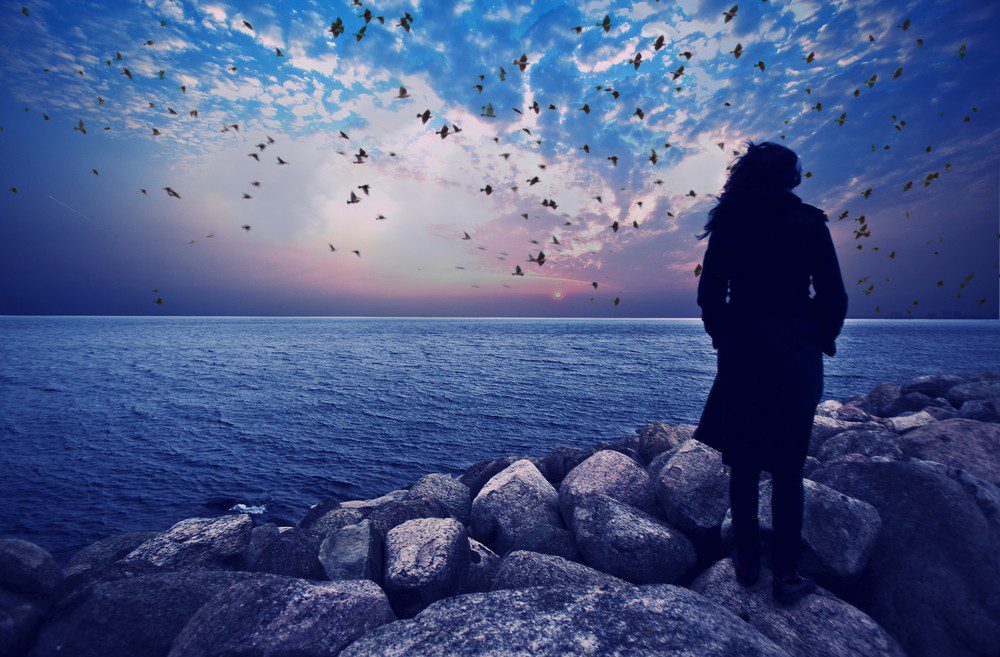 ©Joy Dunlap  https://joydunlap.com
When we're in the midst of discouragement, what helps us summon the courage within us?  In our minds and in the world, the clamor of chaos, worry and concern roar.
Headlines blare.  Conversations flare.
Terrorist threats.  Suicide bombers.  Mass killings.
Family illness. Relationship turmoil.  Failure.
Drive-by shootings.  Workplace Violence.  Drug addictions.
Financial insecurity.  Politics.  Cyber-crime and identity theft.
The list of fears for ourselves and loved ones can go on and on threatening to wrap us in anxiety, depression or immobility.  Worries weigh us down and rob us of the life God intends us to enjoy.
How do we fight against fear?
How do we find courage in the midst of discouragement?
TRUST GOD
If we zip line across a canyon, parachute from a plane (or even fly in one) we choose to trust.  When our child goes to school, our high schooler leaves on a mission trip, or our college student studies abroad, we choose to trust. Each time we ride in a car, swim in the ocean or share a secret with a friend, we choose to trust even though actually making that decision may not be in the forefront of our minds. Every day we make numerous decisions to count on the workmanship of others, to have confidence in our training and skills, and, as believers, to ultimately trust God.
When we choose to place our trust in the One who created the heavens and earth, the One who parted the Red Sea, the One who saved animals and the human race from destruction in the flood, and the One who sent His Son to cover our sins, we can rest in God's wisdom, love and mercy because we have records of His faithfulness and have experienced His grace.
God is with us where we are now and where we will be in the future.

Have I not commanded you? Be strong and courageous.  Do not be afraid; do not be discouraged, for the Lord your God will be with you wherever you go.  Joshua 1:9 NIV

God will never abandon us.

Be strong and courageous. Do not be afraid or terrified because of them, for the Lord your God goes with you, he will never leave you nor forsake you.  Deuteronomy 31:6 NIV

God loves us.

For God so loved the world that he gave his one and only Son, that whoever believes in him shall not perish but have eternal life. God did not send his Son into the world to condemn the world, but to save the world through him.  John 3:16-17 NIV
PLUG INTO THE ULTIMATE POWER
When we rely on our own power, fear finds a way to wrap its tentacles around our heart and our minds leading us to doubt and despair, and to discord and disruption. True power is in God alone.
God's power can fuel us.  

Finally, be strong in the Lord and in his mighty power. Ephesians 6:10 NIV

God offers us grace and mercy through His Son. Once we've accepted it, we find strength through it.

You, then, my son, be strong in the grace that is in Christ Jesus.  2 Timothy 2:1 NIV

God equips us to have courage.

For the Spirit God gave us does not make us timid, but gives us power, love and self-discipline. 2 Timothy 1: 7 NIV
When we believe we are loved, forgiven and empowered by God, faith defeats fear.
When we are confident that we are equipped, strengthened and fortified through God's power, faith squashes any force out of fear.
As we draw strength from God's faithfulness, His fruitfulness, and His forever-ness, fear shrinks in the face of His might.
Sure, fear will still jump into our minds, and discouragement will sneak into our ever-so-human hearts at times, with the potential to distract and debilitate us from living a life full of joy in Jesus.  However, the more we fill our minds with the truths and promises God gives us, the faster we push fear out.
Where our confidence stands, so too does our courage.
What, then, shall we say in response to these things? If God is for us, who can be against us?  He who did not spare his own Son, but gave him up for us all—how will he not also, along with him, graciously give us all things?  Romans 8:31-32 NIV
What fear are you holding on to today?  What is causing you to be discouraged?
Do you truly believe God is All-Powerful?  Worthy of your trust?
Can you find at least five (or more) reasons in the Scriptures above that support why you can trust in God and summon courage even in the midst of discouragement?
Remember…
Life is Better When It's Full – Joy-full, Thank-full, Purpose-full and Friend-full! ™