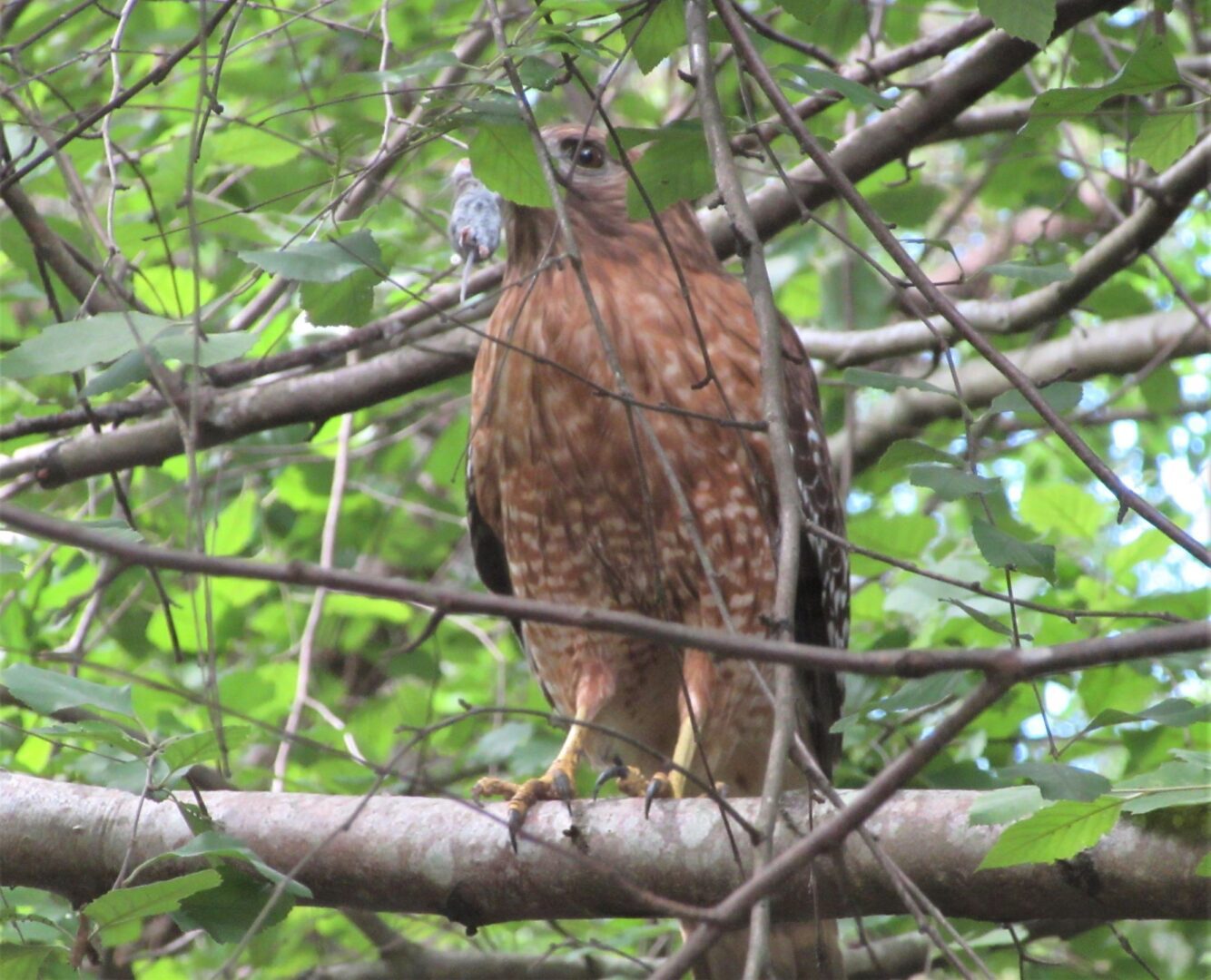 ©Joy Dunlap  https://joydunlap.com
The hawk perched on the tree branch waiting patiently for its prey. Fascinated by its presence, I watched to see what it might do.  My attention wandered, and in that moment of distraction, the predator swooped down and grabbed its victim.
It seems I wasn't the only one who stopped paying attention.  That yard mouse wasn't on the lookout either.
Most of us have watched an animal stalk its prey whether in person or on a wildlife television program. Right when the rabbit is most vulnerable, the fox attacks.  A lion pursues its victim, hunting for the injured or the one broken off from its group, separated from the others and wandering alone.
Are we falling prey to our own unhealthy desires or to outside predators, or do we pray and ask God to help us defeat them?
Do we allow others to prey on us and rip away at our faith and fortitude, or do we pray and trust God to bind back evil?
Merriam-Webster defines the noun prey as "one that is helpless or unable to resist attack."  Prey as a verb is "to have an injurious, destructive, or wasting effect."
We are not helpless when we believe in God's power to battle evil. 
At times in our lives, we may feel like prey as we sense or experience attackers who hunt for ways to hurt our witness or snatch us away from the path of peace.
Truth is nowhere to be found, and whoever shuns evil becomes a prey.  Isaiah 59:15 NIV
What helps protect us?
The horned lizard shoots blood out of its eyes to ward off canid and cat predators.
For us, the redemptive blood of Jesus offers salvation and the power to summon strength against evil.
Turtles and armadillos have shields of armor to help protect them against prey.
As believers, God is our help, our refuge and our shield.
Dwarf mongooses post guards to watch and warn others about birds of prey.  The lookout stands on its hindlimbs to increase its sightline and emits sounds to tell others about danger.
By being in a group of believers who help guard and warn against predatory practices, we are more likely to avoid falling prey.  If we stay alert to our sinful nature and to destructive outside influences, we put a warning system of our own in place to help us spot what might potentially take us from God's path.
"Watch and pray so that you will not fall into temptation. The spirit is willing, but the flesh is weak." – Jesus – Matthew 26:41 NIV
Temptation and other evils tend to pounce when we are weak in our spiritual walk. We do well to keep in mind that weakness isn't always connected to despair or discouragement; ironically, it can also be tied to pride. When we become overconfident and lax in studying God's Word or connecting with a strong community of faith, we may pull away from the "pack," and wander away from others walking the same path. In doing so, the support and protection that provide additional safety can be lost.
Predators don't always come from the outside.
Worry and fear prey upon our minds. Unforgiveness picks away at our hearts. Anger swoops in and snatches out the good.
When we PRAY, we battle against being PREY.
Let's look at some other specific ways Jesus instructs us to pray:
"And when you stand praying, if you hold anything against anyone, forgive them, so that your Father in heaven may forgive you your sins." – Jesus – Mark 11:25 NIV
"But to you who are listening I say: Love your enemies, do good to those who hate you, bless those who curse you, pray for those who mistreat you."  – Jesus – Luke 6:27-28 NIV
"And he said unto them, When ye pray, say, Our Father which art in heaven, Hallowed be thy name. Thy kingdom come. Thy will be done, as in heaven, so in earth. Give us day by day our daily bread. And forgive us our sins; for we also forgive every one that is indebted to us. And lead us not into temptation; but deliver us from evil. – Jesus – Luke 11:2-4 KJV
"Be careful, or your hearts will be weighed down with carousing, drunkenness and the anxieties of life, and that day will close on you suddenly like a trap. For it will come on all those who live on the face of the whole earth. Be always on the watch, and pray that you may be able to escape all that is about to happen, and that you may be able to stand before the Son of Man." – Jesus – Luke 21:34-36 NIV
When we pray and fortify ourselves with the word of God, we're more likely to stay strong spiritually, withstand wayward desires, and be aware of actors and activities that threaten to prey on our peace and faith.
Pray against becoming prey!  
Where have you seen one animal prey on another?
When was the last time you felt preyed upon (internally or externally)?
What example can you think of right now about evil desires or outside predators threatening to lay prey to your faith or your effectiveness as a Christian?
Is prayer a daily part of your life?  Do you pray thankful? Worshipful? Trustful?
In what ways can you start today to strengthen your prayer life?
For the eyes of the Lord are on the righteous and his ears are attentive to their prayer, but the face of the Lord is against those who do evil. 1 Peter 3:12 NIV
Remember…Life Is Better When It's Full – Joy-full, Thank-full, Purpose-full and Friend-full! ™