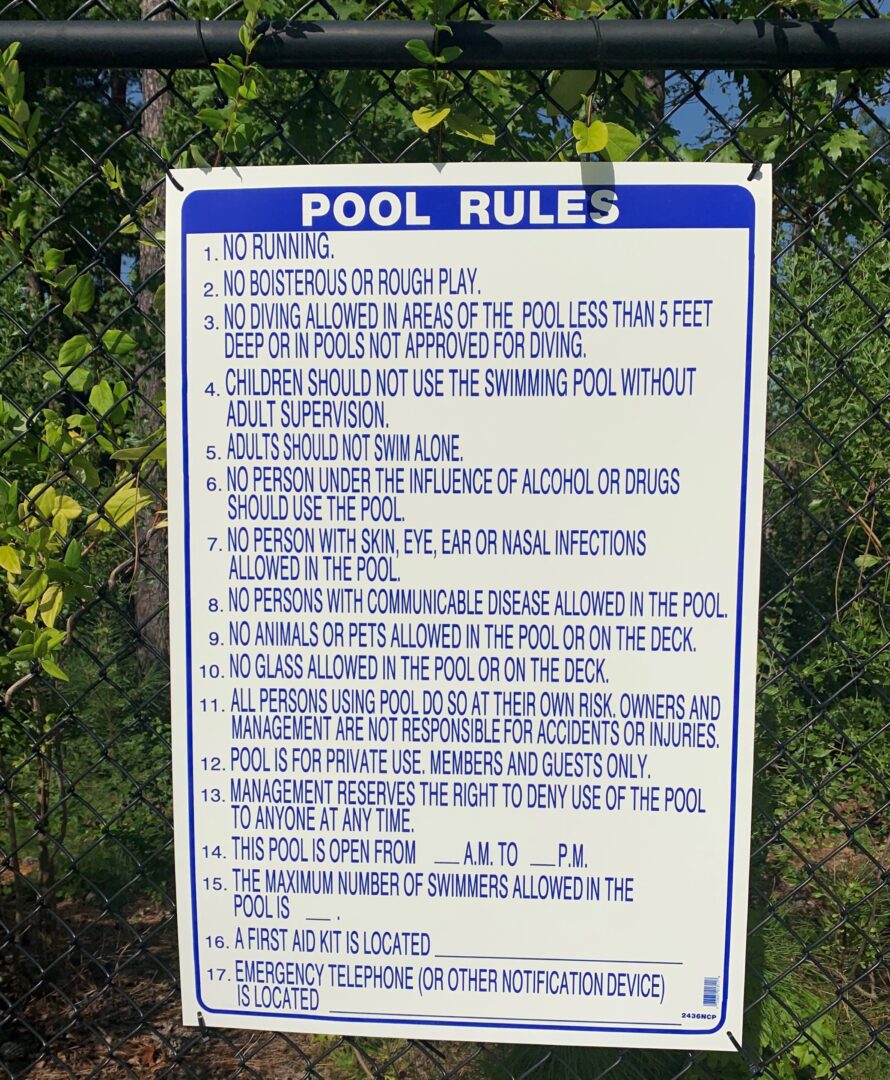 ©Joy Dunlap https://joydunlap.com
Doing lap after lap of monotony without getting anywhere? Treading water trying to stay afloat?  Drowning in despair?   Whatever our state in the pool of life, whether swimming strong or barely floating, we can benefit from some key guidance.
What if the pointers we need to know for the pool of life could be viewed through "Pool Rules"… with some adjustments?!
As I jogged, jumped, kicked and power-punched my way through water aerobics, my eyes fixed on the "Pool Rules" sign attached to the fence surrounding the perimeter of the pool.  With popular '80s lyrics going and our bodies moving, I read down the list.  Obviously I was trying to get my mind off the intense workout or maybe it was a particular song!
I began to add words to all the "Pool Rules" in light of living life to the fullest!  As it happens, God's Word has some input on these areas too.
Follow along with me as we explore how we can adapt these as "Pool (of Life) Rules" for an abundant life in the Lord.
Pool (of Life) Rules
No running…except when it's to live fully and boldly for the Lord, or into His arms at the appointed time, or to talk with Him here on earth.
Therefore, since we are surrounded by such a great cloud of witnesses, let us throw off everything that hinders and the sin that so easily entangles. And let us run with perseverance the race marked out for us, fixing our eyes on Jesus, the pioneer and perfecter of faith. For the joy set before him he endured the cross, scorning its shame, and sat down at the right hand of the throne of God. Consider him who endured such opposition from sinners, so that you will not grow weary and lose heart. Hebrews 12:1-3 NIV
No boisterous or rough play as kindness is the best way to deal with others.
Never let loyalty and kindness leave you! Tie them around your neck as a reminder. Write them deep within your heart. Proverbs 3:3 NLT
Your kindness will reward you, but your cruelty will destroy you. Proverbs 11:17 NLT
No diving allowed in areas of the pool less than 5 feet deep.  Shallowness is not where we want to stay.   Diving in and going deep with God offers the most satisfaction and revelation. The deeper the dive with God the less opportunity for injury to the heart and soul.  
They saw the works of the Lord, his wonderful deeds in the deep. Psalm 107:24 NIV
I pray that your partnership with us in the faith may be effective in deepening your understanding of every good thing we share for the sake of Christ. Philemon 1:6 NIV
No diving in pools not approved.  Some places just aren't safe to dive into.  While we may be tempted to wet our feet in those places we should avoid, God's wisdom and strength can keep us from going headfirst into danger zones.
Avoid godless chatter, because those who indulge in it will become more and more ungodly. 2 Timothy 2:16 NIV
But avoid foolish controversies and genealogies and arguments and quarrels about the law, because these are unprofitable and useless. Titus 3:9 NIV
It is God's will that you should be sanctified: that you should avoid sexual immorality; that each of you should learn to control your own body in a way that is holy and honorable.  1 Thessalonians 4:3 NIV
Other "pools" exist that Scripture makes clear we should avoid swimming in! But when we're spending time enjoying the pool of life with Jesus and His friends, we're less likely to venture off into any of those restricted areas.  
Children should not use the pool without adult supervision. Who we turn to for supervision and input matters. As children of God, we need our Heavenly Father's guidance as we swim for strength and endurance in life. 
Someone may say to you, "Let's ask the mediums and those who consult the spirits of the dead. With their whisperings and mutterings, they will tell us what to do." But shouldn't people ask God for guidance? Should the living seek guidance from the dead?  Look to God's instructions and teachings! People who contradict his word are completely in the dark.  Isaiah 8:19-20 NLT
Adults should not swim alone.  Not only is it more fun to swim through life with others who love God alongside us, it's also safer. 
And, let us consider how we may spur one another on toward love and good deeds, not giving up meeting together, as some are in the habit of doing, but encouraging one another and all the more as you see the Day approaching.  Hebrews 10: 24-25 NIV
The maximum number of swimmers allowed in the eternal pool is infinite. 
The Lord is not slow in keeping his promise, as some understand slowness. Instead he is patient with you, not wanting anyone to perish, but everyone to come to repentance.  2 Peter 3:9 NIV
For God so loved the world that he gave his one and only Son, that whoever believes in him shall not perish but have eternal life. For God did not send his Son into the world to condemn the world, but to save the world through him. John 3:16-17 NIV
A first aid kit is located in the Bible.
"He himself bore our sins" in his body on the cross, so that we might die to sins and live for righteousness; "by his wounds you have been healed." 1 Peter 2:24 NIV
"Therefore everyone who hears these words of mine and puts them into practice is like a wise man who built his house on the rock. The rain came down, the streams rose, and the winds blew and beat against that house; yet it did not fall, because it had its foundation on the rock." – Jesus – Matthew 7:24-25 NIV
Emergency notification device is prayer.
Do not be anxious about anything, but in every situation, by prayer and petition, with thanksgiving, present your requests to God. And the peace of God, which transcends all understanding, will guard your hearts and your minds in Christ Jesus. Philippians 4:6-7 NIV
The "Pool (of Life) Rules" keep us from slipping, sliding, and injuring ourselves while we're in and out of the water.  And, if we keep swimming daily with God and others who love Him, we'll maximize our enjoyment and stay spiritually healthier!
What do you most enjoy doing when you're in a pool? Floating? Swimming? Splashing? Exercising?
Has there ever been a time when you got frightened or worried while in a pool?
Which one of the above "pool" rules is the most difficult for you to follow in real life? The easiest?
In the pool of life, how would you describe what you're doing and what state you're in right now?
When is a time you've seen God rescue you or someone you love from drowning in difficulty or despair?
What is contributing to your happiness these days in the pool of life?
The precepts of the Lord are right, giving joy to the heart.
The commands of the Lord are radiant, giving light to the eyes. Psalm 19:8 NIV
Remember…
Life Is Better When It's Full – Joy-full, Thank-full, Purpose-full and Friend-full! ™
https://joydunlap.com