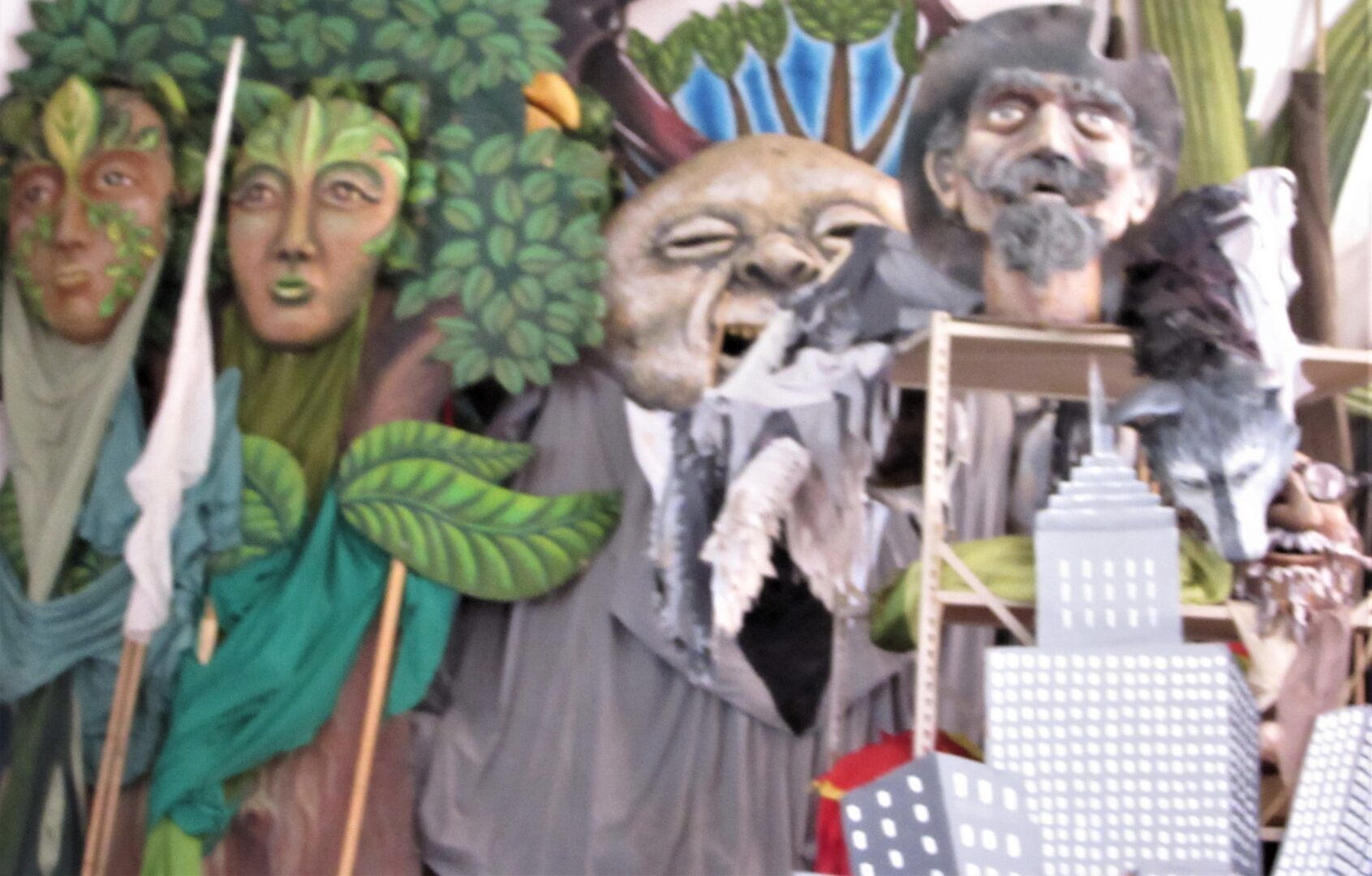 ©Joy Dunlap  https://joydunlap.com
Giant heads surrounded me.  The faces of a wide-eyed child, a bearded old man and a mocha-skinned woman wearing sunflowers tucked behind her ears, plus a lion, an owl, a rooster, a ram and more characters stared at me from the walls and shelves of the puppet warehouse.
Silent.  Still.
Papier-mâchéd or plastered, they remained propped on display destined to move only when picked up by an operator.
Puppets come to life when maneuvered by a puppeteer.  Most of us have watched puppet shows on TV, in the theatre or at an outdoor festival.  Finger, hand puppets, even marionettes allowed us to act out stories or pretend to be characters.
Thankfully, our God is not a puppet master.  Our Creator doesn't force us to act or respond.  The free will we have is a gift God gives us.
Not a Puppeteer
Sometimes we act as if God is a puppeteer – the one to blame when we make poor choices or when a traumatic event takes place.  (i.e. If He didn't want us to do it, surely He would have stopped us.  If God wanted us to work, He wouldn't have given us a mean-spirited boss.  If He wanted us to give more money to charity, He would give us an immediate raise or have us win the lottery.) "If God" statements can surface when we incorrectly identify God as a show operator who's pulling strings to prevent us from living well or when we avoid taking responsibility for our own actions.
True love and a desire to serve cannot be forced. God knows that. To be in a real relationship with Him, we must choose to accept the gift of salvation, love and forgiveness He offers and decide to walk daily with Him.  Not because He makes us but because we desire it and freely choose it.
For it is God's will that by doing good you should silence the ignorant talk of foolish people. Live as free people, but do not use your freedom as a cover-up for evil; live as God's slaves.  1 Peter 2:15-16 NIV
If we live for the Lord, we choose to become part of His story but we do so freely.
Who's Pulling the Strings?
Astonishingly, we, at times, try to be God's puppeteer. Ever attempted to manipulate God to deliver a desired outcome? (i.e. If you do this, God, I will do that.  Remember how much I've done. He deserves this.  She's such a good person.)
Our works warrant us nothing, but God's provision and His grace offer more than we could imagine.  "Every good and perfect gift is from above, coming down from the Father of the heavenly lights, who does not change like shifting shadows," says James 1:17 NIV
For a moment, let's examine our prayers and whether they center solely on what we want or do they have a greater good in mind.
What are the reasons behind our requests to God?  Is it so a person will grow in faith?  Is it so others will see the power of God?  Is it so God's mercy will be demonstrated?
When we pray for someone to be healed, a child to be born, a job to be secured, do we do so solely toward that end or with the desire of His kingdom and purposes?   If we really want to share His story, don't we want miracles, actions and reactions for His glory?
God is not our puppeteer and neither are we His.
We're not hands free though.  We're hands on and hearts full for Him when we choose to live boldly and purposefully for Him.
You, my brothers and sisters, were called to be free. But do not use your freedom to indulge the flesh; rather, serve one another humbly in love. Galatians 5:13 NIV
What puppet do you most remember from TV or theatre?  Why?
Have you ever been angry at God when your prayer was not answered how you wanted when you wanted?
How might you adapt your prayers to be less demanding and more demonstrative in your love for God? (See the following prayer as one example!)
I pray that out of his glorious riches he may strengthen you with power through his Spirit in your inner being, so that Christ may dwell in your hearts through faith. Ephesians 3:16-17a NIV (emphasis added)
Remember…Life Is Better When It's Full – Joy-full, Thank-full, Purpose-full and Friend-full! ™