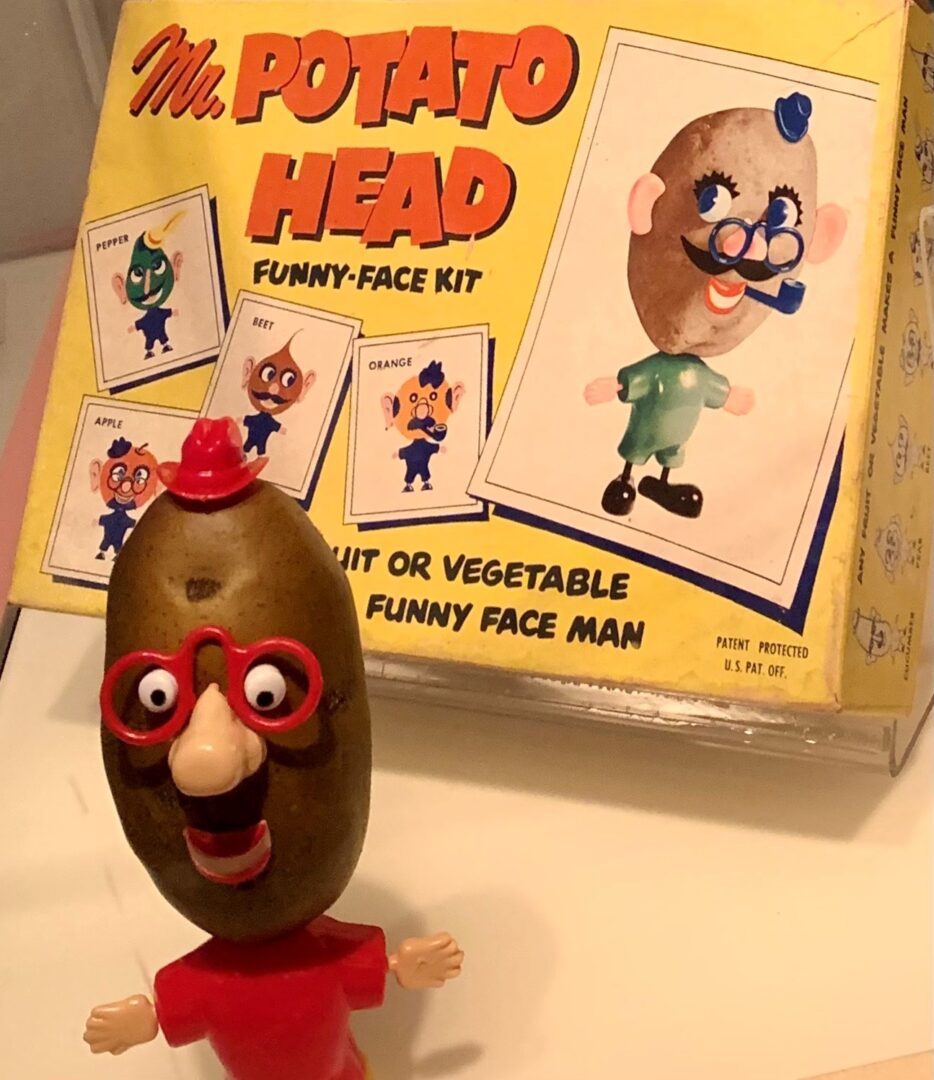 ©Joy Dunlap  https://joydunlap.com
Mr. Potato Head turns 70 this spring, and he's still looking good and staying strong. Over the years, he and other Potato Head family and friends took up residence in homes around the world to be a part of the playtimes of millions upon millions of children. 
May 1, 2022 marks the 70th birthday of the beloved toy. That's a long life for a toy that almost didn't debut at all. When George Lerner pitched the concept of facial pieces to create characters out of vegetables, toy companies turned up their noses, causing the inventor to sell it in 1949 as an insert freebie in cereal boxes.  But when the Hassenfeld brothers, who owned a school supply store and toy company, heard about the concept in 1951 they paid the cereal company to stop production, bought the rights, and began providing a 5% royalty per kit to Lerner. That visionary decision served as a steppingstone to the renowned Hasbro toy enterprise and to the long-lasting legacy of Mr. Potato Head. 
The first Mr. Potato Head toy kit debuted in 1952 with two mouths, two pairs of eyes, ears, hands, and feet.  That 98-cent toy included eight felt pieces for facial hair as well as eyeglasses and a pipe. Although children were to use the push-pin parts to create characters using potatoes and other vegetables, the kit included a Styrofoam head for children to practice creating funny faces. 
Our facial reactions and words tell a lot about us too!  And, what we do with our lips, eyes, hands and ears impacts who we are and demonstrates how we're living our lives.  
Let's take lips for instance.  Do ours praise God, encourage others, and speak truth?  Or do they push forth lies, gossip, and negativity? 
Our life instruction book gives plenty of guidance on how to wisely use our body parts, including these three directives that focus on our mouths:
Whoever of you loves life and desires to see many good days, keep your tongue from evil and your lips from telling lies. Psalm 34:12-13 NIV
Do not let any unwholesome talk come out of your mouths, but only what is helpful for building others up according to their needs, that it may benefit those who listen.  Ephesians 4:28-29 NIV 
Through Jesus, therefore, let us continually offer to God a sacrifice of praise—the fruit of lips that openly profess his name. Hebrews 13:15 NIV
When we express gratitude to God, share the good news, and encourage others, we use our mouths in ways that maximize their design.  
A redesign and addition for Mr. Potato Head came in 1964 with the arrival of a plastic body and altering of the parts.  Sharp vegetable-piercing pieces in the initial toy kit had ignited safety concerns and protective governmental regulations pushed the change.  Another reason for the necessity of a new host?  Rotting vegetables found under children's beds and tucked away in toy boxes! 
Is there anything rotten in our attitudes or our actions?  Any unforgiveness hidden away to grow and fester like mold?  Any anger eating away at our insides? 
The new creation allowed pieces to fit without waste and rottenness, while reducing hazards and enhancing safety.
Like most of us, many changes took place in Mr. Potato Head's life over the decades. The favorite tater for children and the young at heart gained a new bigger body and larger parts in 1975 as the government instilled further protections.  As the "Spokespud" for the Great American Smokeout in 1987, he finally surrendered his pipe and that habit he'd held on to since the public first got to know him. 
Mr. Potato Head was a trailblazer even in the beginning. On April 30,1952 the now beloved spud became the first toy advertised on television. Considered the first toy campaign targeted at children, the marketing strategy proved successful.  More than one million kits sold that initial year.  In the first six decades, that multiplied by one hundred to 100 million sales! 
With a prominent role in the popular Toy Story movies, its own balloon in Macy's Thanksgiving Day Parade; and an extensive number of facial features and characters, the Potato Head empire continues to embrace opportunities to grow.   
We too have chances to change and develop. 
How children use those toy mouths, eyes, hands and feet determines the makeup of the Potato Head characters.
How we use our mouths, ears, eyes, hands and feet builds our character. 
May the favor of the Lord our God rest on us; establish the work of our hands for us— yes, establish the work of our hands.  Psalm 90:17 NIV 
What memory comes to mind when you think of Mr. Potato Head? 
In what ways have you used your mouth to encourage others and glorify God this month?
How will you use your hands to help someone this week?  An encouraging note? A chore they need done?  A phone call? 
If you were designing a Potato Head character's hand, what item would you want it to be holding?
Which are you most likely to give in to:  listening, thinking, or speaking in sinful ways? Or is it acting in a sinful way or failing to do good when it's needed?  Meditate on one of the shared Scriptures this week. 
Instead, speaking the truth in love, we will grow to become in every respect the mature body of him who is the head, that is, Christ. From him the whole body, joined and held together by every supporting ligament, grows and builds itself up in love, as each part does its work.  Ephesians 4:15-16 NIV
Remember…
Life is Better When It's Full – Joy-full, Thank-full, Purpose-full and Friend-full! ™