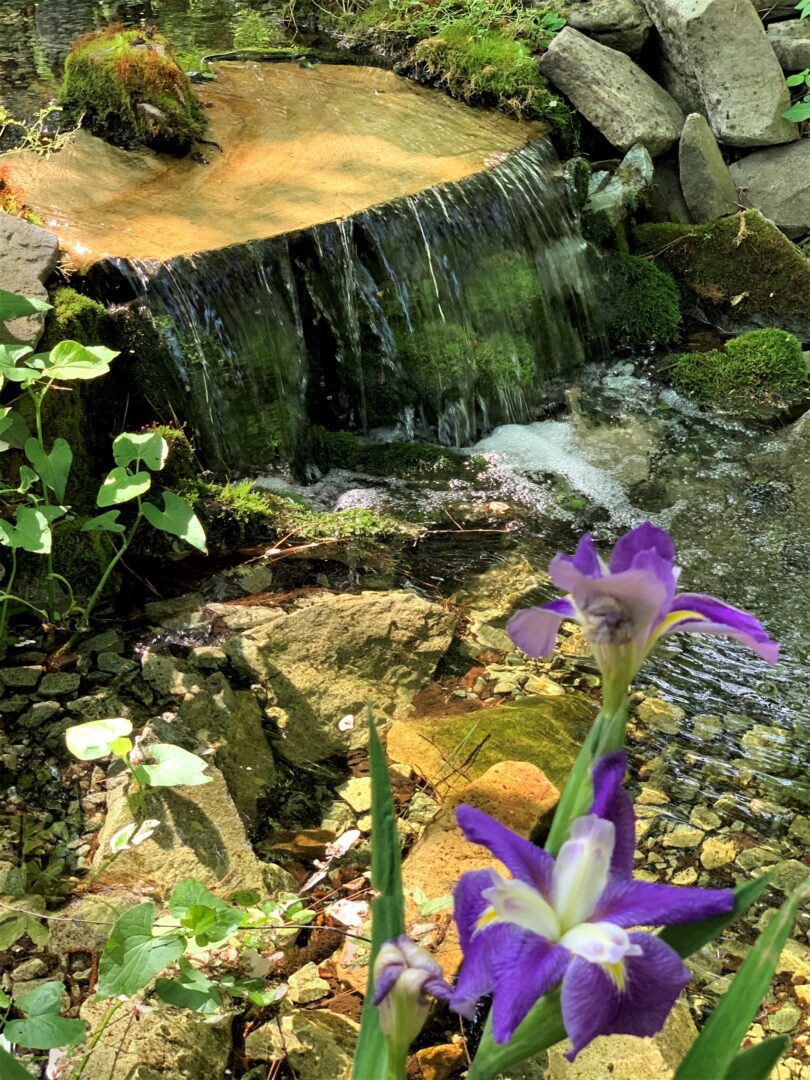 ©Joy Dunlap  https://joydunlap.com
May is a time bright with promise when flowers bloom, graduates cheer and couples marry.
According to a survey by The Knot®, May ties for third with September at 11 percent each of this year's planned weddings.  Interestingly, May 21 is slated to be the second most popular wedding date in 2022.  And, most college graduations occur this month.
Many writers have given a nod to May in their literary works.  Author and poet Lucy Larcom, who taught at Wheaton Female Seminary from 1854-1863 and at other times described it this way.
"When April steps aside for May, like diamonds all the rain-drops glisten; fresh violets open every day; to some new bird each hour we listen."
The catchy phrase "April showers bring May flowers' many of us learned is often credited to a similar line of poetry from the English poet and farmer Thomas Tusser (1524-1580).
Even William Shakespeare nodded to the month's delight in "As full of spirit as the month of May, and as gorgeous as the sun in Midsummer."
The Bible also has lots of memorable sentences that include "May," but they're not about the month!
These "May" blessings in the Bible are good year-round and for a lifetime of living well!
Enjoy these ahhh-MAY-zing boosters from the Bible to soak in and share:
May the God of hope fill you with all joy and peace as you trust in him, so that you may overflow with hope by the power of the Holy Spirit.  Romans 15:13 NIV
May the grace of the Lord Jesus Christ, and the love of God, and the fellowship of the Holy Spirit be with you all. 2 Corinthians 13:14 NIV
May the Lord make your love increase and overflow for each other and for everyone else, just as ours does for you. 1 Thessalonians 3:12 NIV
May the God who gives endurance and encouragement give you the same attitude of mind toward each other that Christ Jesus had.  Romans 15:5 NIV
May he (the Lord) strengthen your hearts so that you will be blameless and holy in the presence of our God and Father when our Lord Jesus comes with all his holy ones. 1 Thessalonians 3:13 NIV
May God himself, the God of peace, sanctify you through and through. May your whole spirit, soul and body be kept blameless at the coming of our Lord Jesus Christ. 1 Thessalonians 5:23 NIV
May the Lord direct your hearts into God's love and Christ's perseverance. 2 Thessalonians 3:5 NIV
May the LORD now show you kindness and faithfulness, and I too will show you the same favor because you have done this.  2 Samuel 2:6 NIV
May our Lord Jesus Christ himself and God our Father, who loved us and by his grace gave us eternal encouragement and good hope, encourage your hearts and strengthen you in every good deed and word. 2 Thessalonians 2:16-17 NIV
Here are some potential ways to use one or more of these this month (or in the future):
Pray them for your friends and family – and yourself.
Write them in cards you send to provide encouragement.
Read them aloud.
Memorize one or more to call to mind when needing a boost.
Use one as a closing line in emails.
Reread one each day until the month ends.
Meditate on the gifts and attributes of God identified in these.
Now may the Lord of peace himself give you peace at all times and in every way. The Lord be with all of you. 2 Thessalonians 3:16 NIV
What is a special May memory for you?  Why?
How do you normally sign off on emails, close out a phone conversation with someone dear, or bid farewell in person to a cherished family member or friend?
What is an encouraging or common phrase you say to others?
Which attributes of God or gifts given by God expressed in these verses most connect with you in the time you're in right now?
Who will you send one (or more) of these to this month and pray it for them?
Which one of these blessings would you most want someone to pray for you right now? (Share it with someone and/or email it to me to pray for you. And pray it for yourself too.)
Now may the God of peace, who through the blood of the eternal covenant brought back from the dead our Lord Jesus, that great Shepherd of the sheep, equip you with everything good for doing his will, and may he work in us what is pleasing to him, through Jesus Christ, to whom be glory for ever and ever. Amen. Hebrews 13:20-21 NIV
Remember…
Life is Better When It's Full – Joy-full, Thank-full, Purpose-full and Friend-full! ™