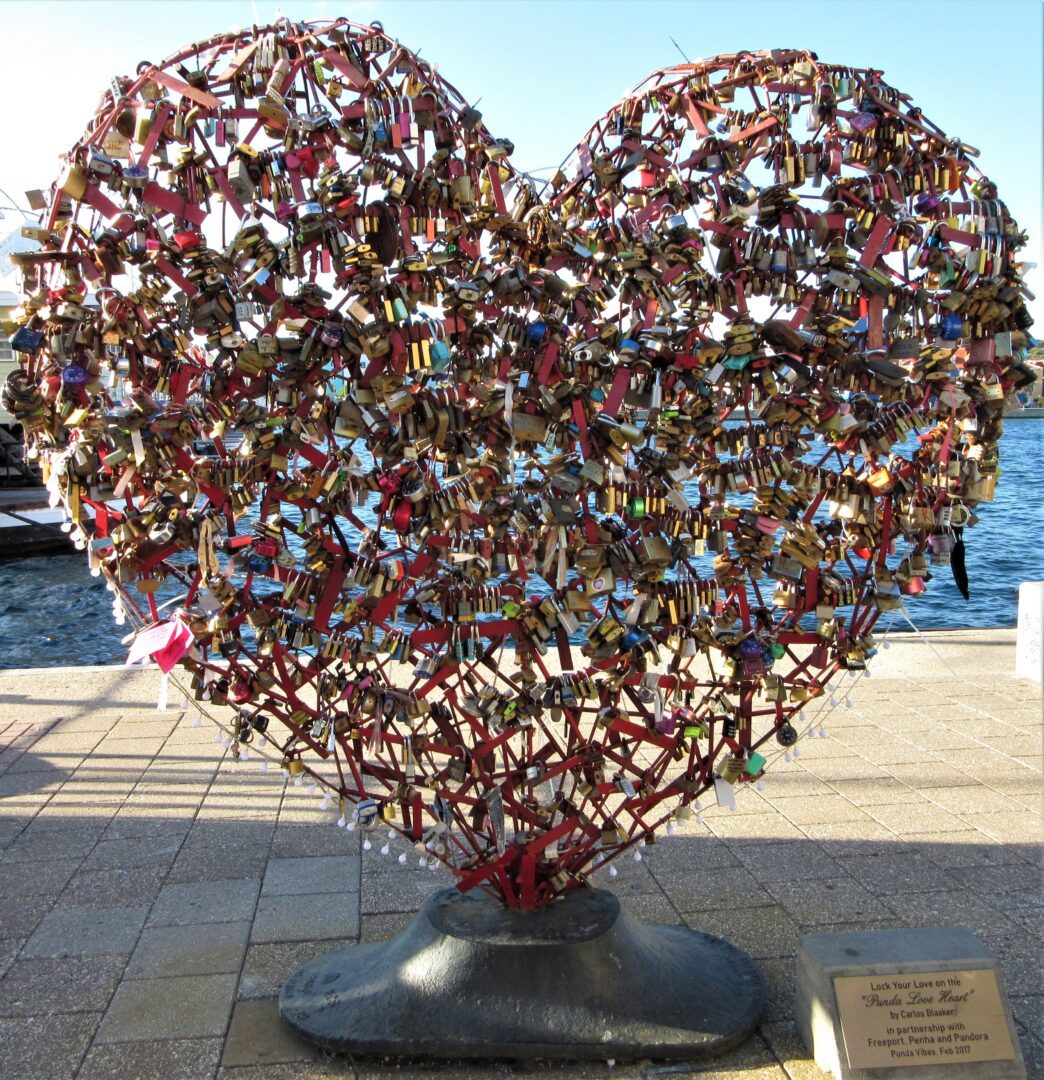 ©Joy Dunlap  https://joydunlap.com
Love locks dangle from bridges and sculptures in many cities around the world.  Couples pledge their love to each other forever, fasten the padlock and throw away the key.  Thousands of locks stand as a symbol of the commitment of lovers who put them there. 
Not surprisingly, companies have sprung up to take advantage of this trend – engraving names on padlocks and offering lovers different colors, sizes and shapes.  Cities wrestle with embracing the activity for tourism purposes or labeling the action as vandalism, especially when thousands of locks are latched on to historic bridges. Some communities have created options like metal trees on a bridge in Moscow or a giant heart sculpture such as the one I spotted last year in Curacao.  To discourage lock-latchers from using the historic bridge in Curacao and still promote romance, community leaders commissioned a metal heart sculpture called "Punda Love Heart" by Carlos Blaaker next to the bridge for lovers to pledge everlasting love with their padlocks.
Locking-in-love symbolism has garnered attention in books, TV shows and movies. Fans of the TV show Parks and Recreation may remember two characters placing a lock on the famous Paris bridge Pont des Arts.  Hallmark Movies jumped in with Love Locks staring Rebecca Romijn and Jerry O'Connell.  
The permanence of love is something sought by those in love the world over.  Locks that lovers leave send a message of their desire to make it last.   Unfortunately, the combination of the weight of those locks has affected the structural integrity of some structures.  A railing section on the Pont des Arts in Paris actually collapsed under the weight.  One lock may not weigh a lot, but when thousands are piled on together – well, that's a different story.  
Whether married, in a relationship or even single with super close friends or family members, click into these lock 'n' love thoughts. 
Don't let love for each other lock others out. 
Even if we have a spouse or special loved one, it's important to build and keep a community of friends.  Otherwise, the expectations and "weight" on one person in our lives can be overwhelming to them, disappointing to us and destructive to the relationship in general.
Set aside times to be with others and for some contemplation too.  Examine the expectations for the one who is closest to you.  Be intentional about connecting with others; replace "We should get together…." with "Let's plan that for Tuesday," or make a phone call or send an email to someone this week. 
Living life in community gives us opportunities to help others and to share God's love.
Do nothing out of selfish ambition or vain conceit. Rather, in humility value others above yourselves, not looking to your own interests but each of you to the interests of the other.  In your relationships with one another, have the same mindset as Christ Jesus.  Philippians 2:3-5 NIV
Don't let the weight of the world take a toll on your love.
Responsibilities, trials and difficulties can make us feel as if there is nothing left to give at home – no energy and no enthusiasm.  Like the locks that weighed down the bridge, the cumulative weight of challenges in career, community, family, activities, finances, politics, illness and even current affairs can burden us in a way that presses the joy out of marriage causing it to groan and bend and sometimes collapse under pressure.   
Avoid piling on responsibilities.  Make a list of what activities you have and determine which ones you can "cut loose" to reduce the overload.  Let others know how they can help.  Take time for a spiritual refresh through prayer, reading Scripture and listening to gospel-based music. 
Jesus reminds us…
"Come to Me, all who are weary and heavy-laden, and I will give you rest. Take My yoke upon you and learn from Me, for I am gentle and humble in heart, and you will find rest for your souls."  Matthew 11:28-29 NASB
Don't let public displays take the place of every day appreciation and actions.
Of course, we enjoy special events – and flowers and chocolates!  Vow renewal ceremonies, lock-in-love bridge walks, anniversary dinners and Valentine's outings can all be memorable and meaningful experiences, but what matters most is what happens in between. 
Is there… laughter?  Communication?  Compromise? Thank yous?  Is there… spontaneity? Support?  Shared values? Sacrifice? 
Day-to-day courtesies, listening and fun amidst the routine can be building blocks to a stronger and lasting relationship while special occasions add celebration! 
So, how did the locks on bridges trend begin? 
While different explanations exist for the start of locks on bridges, a commonly shared one is that during World War I, women in the Serbian town of Vrnjačka Banja began latching locks on a local bridge in the hope for their loved one to stay true. The practice supposedly started after one woman's betrothed left for the war, found another love, and broke their bond.  That melancholy tale seems a sad start to what's become a romantic tradition. 
We may suffer wounded hearts by ones we love – be they friends, family or spouses.  We may miss what we yearned for, but never had. We may grieve for what once was. 
But, oh, how fortunate we are that God's love is locked in for us. His faithfulness is what we can count on. 
Are you locked in with Him? 
My flesh and my heart may fail, but God is the strength of my heart and my portion forever. Psalm 73:26
What symbolic action or tradition have you participated in while on vacation? 
What common actions do you do for your spouse to remind them you care?  For a friend?
How does confidence in God's love affect how you live? 
Remember…Life Is Better When It's Full – Joy-full, Thank-full, Purpose-full and Friend-full! ™