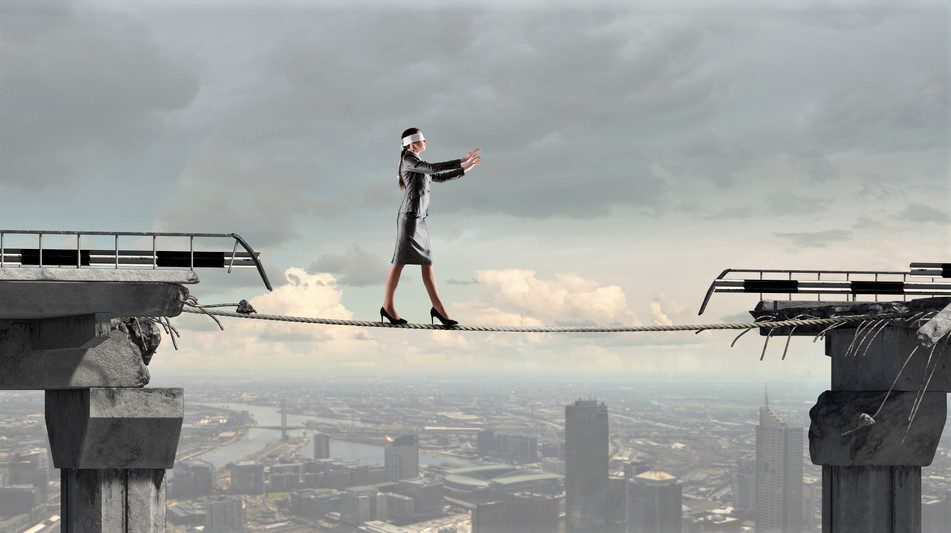 ©Joy Dunlap  https://joydunlap.com
In a recent episode of the reality show "Survivor," contestants had to navigate an obstacle course while blindfolded. A caller who sat up high could see the entire course that participants had to get through in order to guide them to where they needed to finish.
One person attempted to convince others to let her become the caller after being told she would personally gain an advantage if she called the game. Wisely, her teammates instead chose someone they trusted to instruct them as they wove their way through various obstacles.
In an effort to avoid obstacles and deal with difficulties along the path, the players listened intently to the guide's instructions. To do so effectively, they had to tune out the opposing team's caller and other distractions.
Since they couldn't see the path ahead, they had to trust the guide, listen to his instruction, and follow it.   
Choose the Right Caller
As we navigate life's obstacle course with its many trials and temptations, we decide each day whose voice we will listen to in the midst of the chaos as well as the calm.  We choose who we want as our guide.
Are we trying to be the master caller ourselves?  Do we do it our way (or the world's way) in a misguided attempt to gain control or because someone told us that would give us an advantage?  Is the clamoring of competing ideas and ideals drowning out God's voice in our daily lives?
Or do we instead choose to let the only One with the full picture – the complete view of our life course – guide us?  Do we decide each day to let God direct us, listening intently for His guidance along the way?
A voice came from the cloud, saying, "This is my Son, whom I have chosen; listen to him."  Luke 9:25-26a NIV
The Puzzle Pieces Fit
The final part of that reality show challenge involved one blindfolded player putting together a round puzzle on the caller's instructions. The guide came down from the perch to stand close by the puzzle-solver's side.  
The woman couldn't see how the pieces and their pattern fit together. Only the master caller could.
With his guidance and calm instruction, she was able to fit the pieces together in the way they were designed. 
The pieces (sometimes baggage) we pick up on life's journey can, at times, appear ill-fitting, almost as if they should belong in someone else's life, not ours. What ends up in our lives and hands (and hearts) may even seem broken or out of alignment.
Only through the watchful eyes and guiding voice of our Heavenly Father do the sections of our lives fit together to create the beautiful picture He intends our lives to portray.
Are we listening?
Whoever gives heed to instruction prospers, and blessed is the one who trusts in the Lord.  Proverbs 16:20 NIV
What challenges are you facing on life's obstacle course right now?  Are you listening intently for God's guidance?
How do you tune God's voice out? In?
What voices in the world that impact your life choices do you sometimes (often?) choose to listen to more than God's?
What picture do you think God wants to create with your life?
For God did not call us to be impure, but to live a holy life. Therefore, anyone who rejects this instruction does not reject a human being but God, the very God who gives you his Holy Spirit.  Now about your love for one another we do not need to write to you, for you yourselves have been taught by God to love each other. 1 Thessalonians 4:7-9 NIV
Remember…
Life is Better When It's Full – Joy-full, Thank-full, Purpose-full and Friend-full! ™