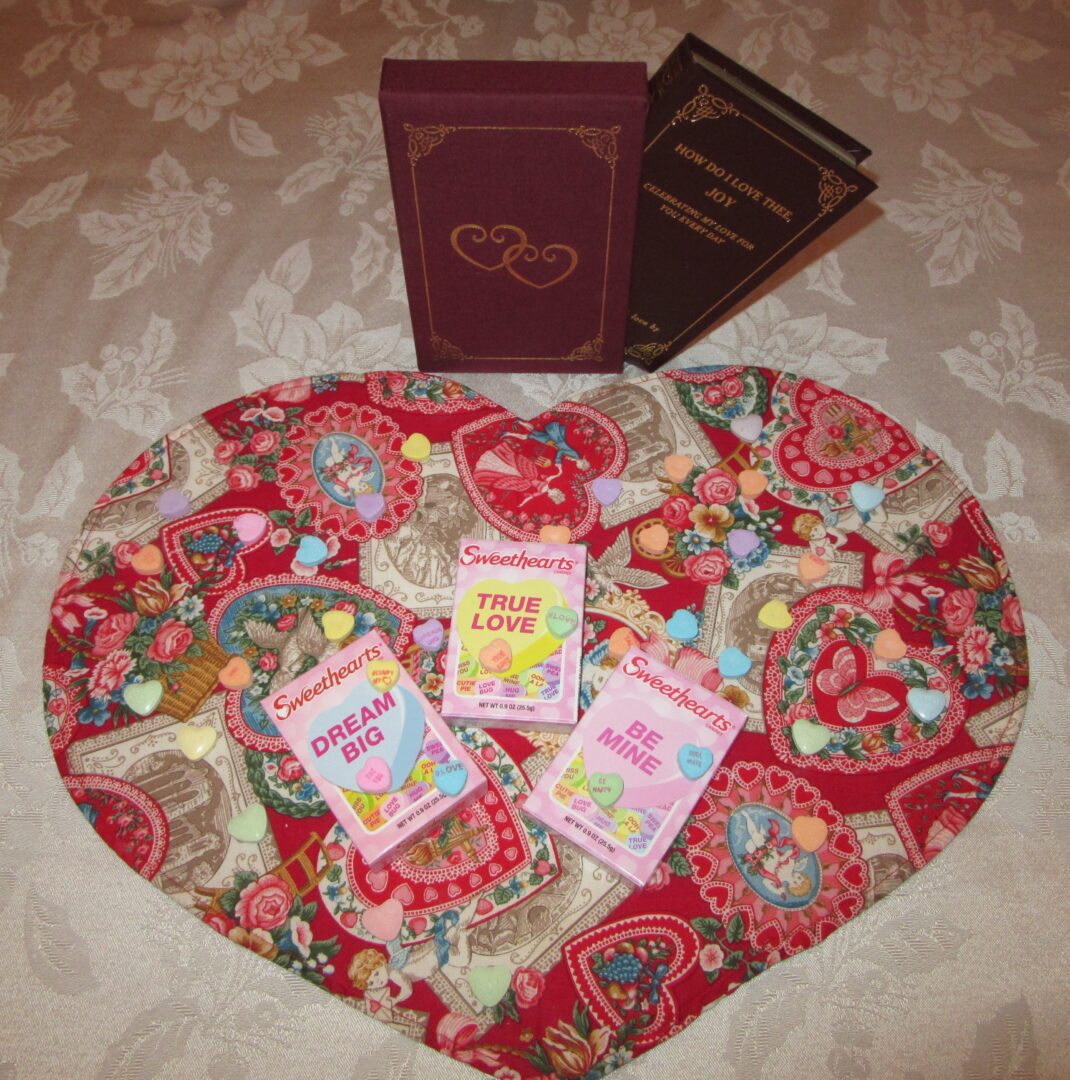 ©Joy Dunlap https://joydunlap.com
Remember when we were young and used to exchange Valentines with our classmates? Sometimes we even shared those little boxes of heart-shaped sweetness that carried stamped messages on them. Today, around 8 billion, multi-colored candy Sweethearts® are sold early each year – most before Valentine's Day. That's an incredible amount of love thoughts.
A small specialty book of love quotations, its cover personalized with my name, is now on a table at my house.  This past Christmas, my husband surprised me with it. What a treat it is to be able to open it and discover special sayings about love  — and to know that he gave it to me!
God gave us His own book of love sayings.  More than 680 verses in the Bible actually have the word "love" in them. Even verses without the word "love" show us God's heart.
Here are a few special conversation hearts from the Bible – God's own love letter – to us:
Love You
But God demonstrates his own love for us in this: While we were still sinners, Christ died for us. Romans 5:8 NIV
For God so loved the world that he gave his one and only Son, that whoever believes in him shall not perish but have eternal life. John 3:16 NIV
God's love is deep and sacrificial. His love is real and not artificial.
Love Me?
Again Jesus said, "Simon son of John, do you love me?" He answered, "Yes, Lord, you know that I love you." Jesus said, "Take care of my sheep." John 21:16 NIV
Whoever has my commands and keeps them is the one who loves me. The one who loves me will be loved by my Father, and I too will love them and show myself to them. John 14:21 NIV
When we have love for someone – a friend, family member or special sweetheart, people sense it; they see it. "You can tell they are in love," you've heard said about a glowing couple. When we love God and trust Him, others will know it because our actions will show it.
Call Me
…Everyone who calls on the name of the Lord will be saved. Romans 10:13 NIV
Come to me, all you who are weary and burdened, and I will give you rest. Matthew 11:28 NIV
Our God is ready to have a relationship with those who call out to Him. Love means communicating and sharing. God is listening.
LOL
Our mouths were filled with laughter, our tongues with songs of joy. Then it was said among the nations, "The LORD has done great things for them." Psalm 126:2 NIV
A cheerful heart is good medicine, but a crushed spirit dries up the bones. Proverbs 17:22 NIV
Ever see a couple laughing aloud while sitting in a booth dining? How about a couple of girlfriends laughing while hanging out? Or a mom and dad smiling as their child giggles while soaring on a swing high in the air? You know they're enjoying spending time together. If you've never laughed or gotten a big grin over something God has done, or you've never personally seen something that struck you with wonder or amazement, look for it. Expect it.
4Ever Love
Give thanks to the LORD, for he is good; his love endures forever. 1 Chronicles 16:34
Very truly I tell you, the one who believes has eternal life. John 6:47
Surely your goodness and love will follow me all the days of my life, and I will dwell in the house of the LORD forever. Psalm 23:6
God's love is eternal. Forever. He promises that those who trust in Him will experience eternal life.
What does God's love mean to you?
Are you communicating often with God or just giving him the equivalent of a conversation heart once a year on a holiday?
If you were writing a Valentine sentence to God, what would it say?
Remember,
Life is Better When It's Full – Joy-full, Thank-full, Purpose-full and Friend-full! ™
https://joydunlap.com