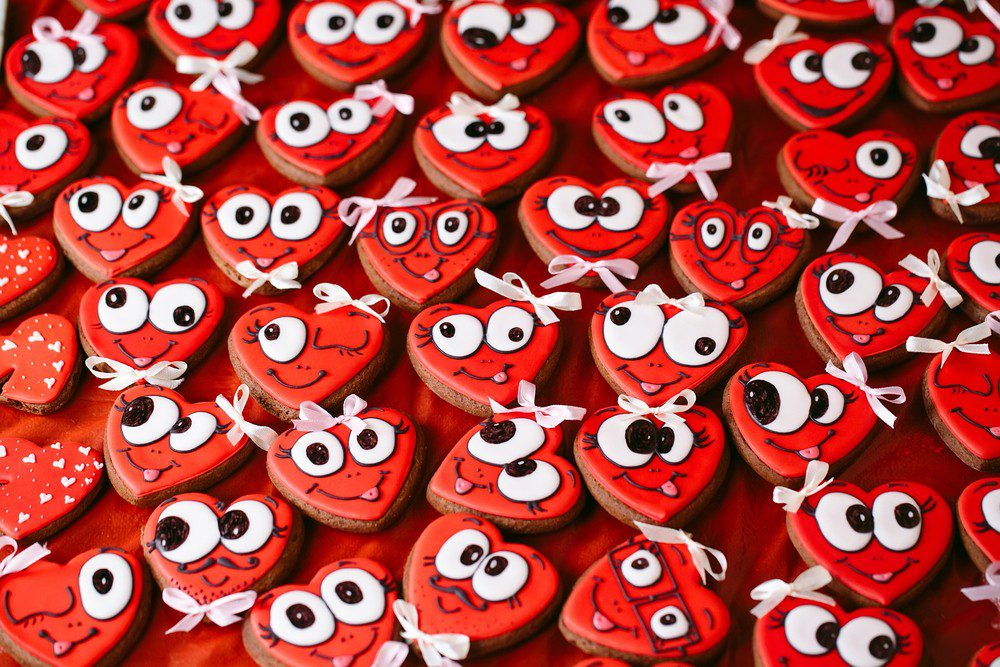 ©Joy Dunlap  https://joydunlap.com
Heart shapes are everywhere – both on shelves and online!  Doughnut shops hawk crème-filled hearts. While traditional boxes of chocolates are plentiful, heart-shaped bagels, brownies, cheesecakes, cookies and lollipops are also available for Valentine gift-giving.  Even Chick-Fil-A is promoting Chick-n-Minis or nuggets in heart-shaped containers.     
Lovers gift heart-shaped balloons, necklace dangles and bracelet charms. Friends give friends tasty treats in heart shapes.  Pet owners give their dogs heart-shaped biscuits or collar tags. 
As a pre-teen, I made a heart-shaped pillow for someone.  I'm not a seamstress and I'm craft-challenged so it wasn't a work of art, but with careful cutting, lots of appropriate stuffing and shaping (and help) it took the form of a heart.
God shapes our hearts too.  He knows what should be in them and what shouldn't in order for us to live a peaceful and joyful life. He's not keeping that a secret either. The Bible is packed with heart-builders!  The word "heart" or "hearts" is mentioned an incredible 725 times in the New International Version of the Bible; 576 times in Old Testament; 149 in the New Testament. 
Check out these six heart-shapers:   
A cheerful heart is good medicine, but a crushed spirit dries up the bones.  Proverbs 17:22 NIV
Negativity, complaining and moping can drain life out of us both mentally and physically.  The confidence, joy and peace we have in the Lord strengthens us and encourages others when projected outwards.      
As water reflects the face, so one's life reflects the heart.  Proverbs 27:19 NIV
Our lives reflect our emotions, our genuineness and our character.  Do others see God reflected in our lives?  If not, is He really foremost in our heart?
But whoever has the world's goods, and sees his brother in need and closes his heart against him, how does the love of God abide in him? Little children, let us not love with word or with tongue, but in deed and truth. 1 John 3:17-19 NASB
The lack of compassion is a good indicator of a closed heart.   When we respond to others whose needs are great, the love of God shines through us. If we have the most wonderful gift in the world – love, mercy and redemption through Christ – wouldn't we want to share?   
Your love has given me great joy and encouragement, because you, brother, have refreshed the hearts of the Lord's people. Philemon 1:7 NIV
Whose lives are you refreshing through your love, caring and hospitality?  When we live for Him, those in our paths will be refreshed as well as others who see our kindnesses and rejoice in them. 
Be anxious for nothing, but in everything by prayer and supplication with thanksgiving let your requests be made known to God. And the peace of God, which surpasses all comprehension, will guard your hearts and your minds in Christ Jesus.  Philippians 4:6-7 NIV
When we fully trust God, turn to Him and thank Him, we can find a peace that is beyond understanding. 
So, as those who have been chosen of God, holy and beloved, put on a heart of compassion, kindness, humility, gentleness and patience; bearing with one another, and forgiving each other, whoever has a complaint against anyone; just as the Lord forgave you, so also should you. Beyond all these things put on love, which is the perfect bond of unity.  Colossians 3:12-14 NASB
Think about what a heart shaped with those character traits would look like in action every day.  In order to have those "heartwarming" attributes inside, consider what has to come out! Can anger and bitterness nestle next to forgiveness? Can pride reside with humility? Can bullying, name-calling and cruelty rest comfortably next to kindness? 
While creating that heart-shaped pillow years ago, I learned the work started on the inside, then it was flipped and filled with what made it soft, pliable, even huggable. Then, and only then, it became attractive to those who saw it. 
How has God shaped your heart since last Valentine's Day?
What people and events have helped contribute to your heart's growth?
What heart-shaped item have you made or gifted to someone? 
What characteristics most shape your heart? 
May the Lord direct your hearts into the love of God and into the steadfastness of Christ.  2 Thessalonians 3:5 NASB
 Remember…Life Is Better When It's Full – Joy-full, Thank-full, Purpose-full and Friend-full! ™