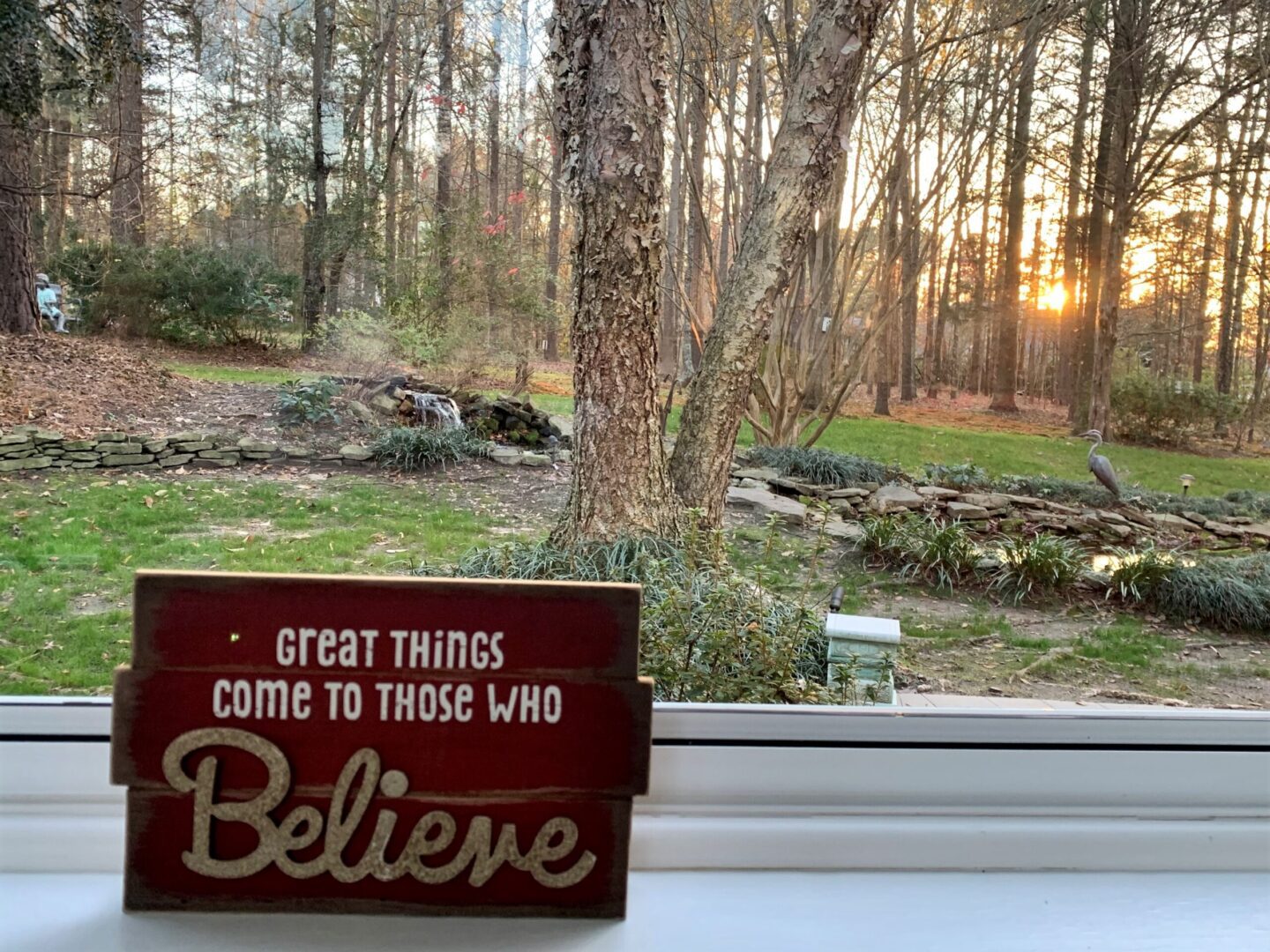 ©Joy Dunlap https://joydunlap.com
"Great things come to those who believe."
Yes, they do!  But not in the way the world would have us see "great things" such as fame or fortune; finding the "perfect" job, spouse or house; or enjoying the ultimate vacation or holiday.
In today's competitive world, those words can almost be seen as a sort of "Believe you can achieve it and you will" mantra.
To me, the statement board set up in our sunroom for the holidays is a different kind of reminder.
Incredible things do come to those who believe – in the One who has the Power.
The power to forgive.  The power to restore.  The power to heal.
The power to create, to comfort, to change hearts and lives.
Amid months of human "power" struggles, pandemics and personal challenges, it's reassuring to believe and trust in an all-powerful, all-knowing, always present God.
The 9th chapter of the biblical book of Mark tells of a father who brought his son to Jesus for healing from a demonic spirit.  Describing his son's life-disrupting and endangering behaviors, he appealed to Jesus.
"But if you can do anything, take pity on us and help us."
"If you can?" said Jesus. "Everything is possible for one who believes."
Immediately the boy's father exclaimed, "I do believe; help me overcome my unbelief!"
My brother Terry says people struggling with addiction will sometimes say they believe in a higher power, but unfortunately it's one they want to design or direct. He tells those with whom he comes in contact, "When you're desperate, you want to know you're praying to the one who has the power to answer your prayers."
Interestingly, the word "believe" or a form of it is found 289 times in the Bible, notably 263 of which are in the New Testament.
Our belief in Christ plugs us into the ultimate power source.
What then are those great "things" that come to those who believe?
Eternal Life
For God so loved the world that he gave his one and only Son, that whoever believes in him shall not perish but have eternal life.  John 3:16 NIV
Acceptance into God's Family
Yet to all who did receive him, to those who believed in his name, he gave the right to become children of God – children born not of natural descent, nor of human decision or a husband's will, but born of God.  John 1:12-13 NIV
Renewed Strength
He gives strength to the weary and increases the power of the weak. Even youths grow tired and weary, and young men stumble and fall; but those who hope in the Lord will renew their strength. They will soar on wings like eagles; they will run and not grow weary, they will walk and not be faint.  Isaiah 40:29-31 NIV
Holy Spirit in Us
Whoever believes in me, as Scripture has said, rivers of living water will flow from within them." By this he meant the Spirit, whom those who believed in him were later to receive. Up to that time the Spirit had not been given, since Jesus had not yet been glorified.  John 7:38-39 NIV
Opportunity for Life Enhancements
But the fruit of the Spirit is love, joy, peace, forbearance, kindness, goodness, faithfulness, gentleness and self-control. Against such things there is no law.  Galatians 5:22-23 NIV
Undeserved Mercy
For God did not send his Son into the world to condemn the world, but to save the world through him. Whoever believes in him is not condemned, but whoever does not believe stands condemned already because they have not believed in the name of God's one and only Son.  John 3:17-18 NIV
Peace
Do you now believe?" Jesus replied. "A time is coming and in fact has come when you will be scattered, each to your own home. You will leave me all alone. Yet I am not alone, for my Father is with me."
"I have told you these things, so that in me you may have peace. In this world you will have trouble. But take heart! I have overcome the world."  John 16:31-33 NIV
Do we truly believe…?
God is powerful enough to…
Heal us from the hurts of our heart?
Comfort us in our loss and sorrow?
Save us from our sins?
Do we truly believe…?
God is powerful enough to…
Provide peace amidst turmoil and chaos?
Give hope in our weariness?
Build bridges in fractured relationships?
Do we truly believe?
God is powerful enough to…
Remove addictions that threaten to destroy us?
Forgive us for our past failures?
Strengthen us for daily struggles?
Do we live as if we believe? 
Jesus said to her, "I am the resurrection and the life. The one who believes in me will live, even though they die; and whoever lives by believing in me will never die. Do you believe this?"
"Yes, Lord," she replied, "I believe that you are the Messiah, the Son of God, who is to come into the world."    John 11:25-27 NIV
What would you say you believe in?
In what ways has your belief in God been affirmed this year?
Is there an area of your life you doubt God's power to change?  Ask God to help you with that.
If you declare with your mouth, "Jesus is Lord," and believe in your heart that God raised him from the dead, you will be saved. For it is with your heart that you believe and are justified, and it is with your mouth that you profess your faith and are saved. Romans 10:9-10 NIV
Life Is Better When It's Full – Joy-full, Thank-full, Purpose-full and Friend-full! ™
https://joydunlap.com