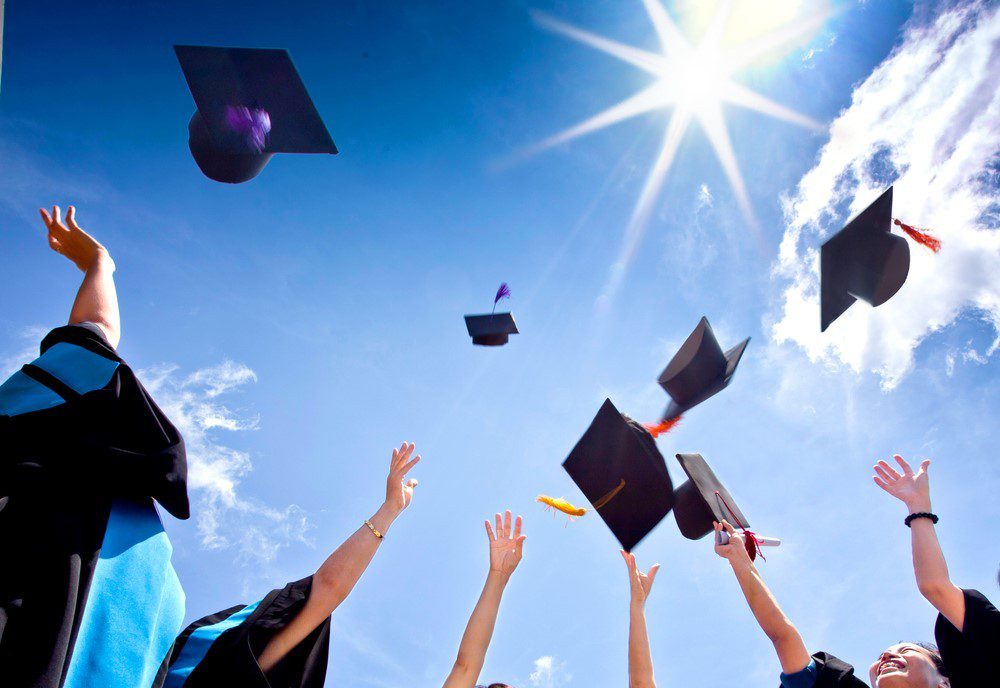 ©Joy Dunlap  https://joydunlap.com
Graduates who don the cap and gown and clutch the hard-earned diploma, deserve to celebrate their accomplishments and experience the applause of family and friends.
Yet for all the knowledge tucked away from professor lectures, books read, and information studied, the most life-changing words and guidance are found in timeless texts.  And, I'm not talking about the beeping, vibrating phone kind!
Character develops best through the Creator's design and ancient documents that still hold relevance for us today. 
Let's look at some of God's guidance that's good for graduates – and each of us – no matter what stage of life we're in.
Love God/Love Others
Jesus replied: "'Love the Lord your God with all your heart and with all your soul and with all your mind.'[c] 38 This is the first and greatest commandment. 39 And the second is like it: 'Love your neighbor as yourself.' All the Law and the Prophets hang on these two commandments." Matthew 22:37-40 NIV
When we put God first, others second, and ourselves last, our lives will be richer and better. 
Treat Others Fairly
"So in everything, do to others what you would have them do to you, for this sums up the Law and the Prophets." Matthew 8:12 NIV
How do we want to be treated? Kindly? Fairly? Respectfully? Compassionately?
"Do" is the key word here, but it begins with thinking – about others and ourselves. Then the ways we speak, respond, and serve translate love into action.   
Extend Forgiveness
Be kind and compassionate to one another, forgiving each other, just as in Christ God forgave you.  Ephesians 4:32 NIV
The mercy God offers us through Christ reminds us of the sacrifice of forgiveness as well as the importance of it.  To offer forgiveness to another is to emulate what we have been graciously given. 
Encourage Others
Therefore encourage one another and build each other up, just as in fact you are doing.  1 Thessalonians 5:11 NIV
In helping others become stronger, we grow in unselfishness and love. Words given in affirmation, and working alongside others in support, build our character as much as it helps them.  
Act as if Someone's Watching
Be very careful, then, how you live – not as unwise, but wise, making the most of every opportunity, because the days are evil.  Therefore, do not be foolish, but understand what the Lord's will is.  Ephesians 5:15-17 NIV
Do others see God reflected in the choices we make and the actions we take? When we use opportunities wisely and follow the Lord's will for our lives, we become bright lights for God and His family.
Guard against Despair, Distractions and Poor Decisions
"Be careful, or your hearts will be weighted down with dissipation, drunkenness and the anxieties of life, and that day will close on you unexpectedly, like a trap." Luke 21:34 NIV
Poor choices can drive us to despair, and absorption in worldly affairs can distract and discourage us if we don't stay watchful and in God's Word. 
Trade Worry for Prayer and Thankfulness
Do not be anxious about anything, but in everything by prayer and supplication with thanksgiving let your requests be made known to God. And the peace of God, which surpasses all understanding, will guard your hearts and your minds in Christ Jesus. Philippians 4:6-7 NIV
The chaos of the mind and the turmoil of the heart can be calmed by the peace of God as we pray and give thanks.   
Enjoy the Wonders
The whole earth is filled with awe at your wonders; where morning dawns, where evening fades, you call forth songs of joy. Psalm 65:8 NIV
As we pause to experience the wonders, whether a vibrant sunset spreading color across the sky, the arc of a rainbow, a blossoming flower, or a newborn baby, we experience delight in God's gifts. Through them we are reminded of the power and presence of God. 
Fight against Fear                                                   
For the Spirit God gave us does not make us timid, but gives us power, love and self-discipline.  2 Timothy 1:7 NIV
Fear is not from God, but freedom from it is found through Him. 
Beware of Where You Seek Truth and Who and What You Believe
"Watch out for false prophets. They come to you in sheep's clothing, but inwardly they are ferocious wolves." Matthew 7:15 NIV
Sanctify them by the truth; your word is truth.  John 17:17 NIV
In a time when the world can make it challenging to see truth, seek the Truth continually in God's Word. 
Whether your next life adventure involves packing up your dorm room, apartment, or house; loading your car or moving truck; or just stepping out your door today, carry these essentials along for success:
Truthfulness, kindness, and thankfulness
Loyalty, humility, and tranquility
Passion, purpose, and persistence
Make sure to take along faith, hope and love, for if those aren't with us, anything learned or achieved is without heart or merit.  
Live to leave a meaningful legacy that lasts. 
Command those who are rich in this present world not to be arrogant nor to put their hope in wealth, which is so uncertain, but to put their hope in God, who richly provides us with everything for our enjoyment.
Command them to do good, to be rich in good deeds, and to be generous and willing to share. In this way they will lay up treasure for themselves as a firm foundation for the coming age, so that they may take hold of the life that is truly life. 1 Timothy 6:17-19 NIV
If you could only give one sentence of advice to graduates (or future graduates) today, what would it be?
What is one thing you wish you had known earlier about the meaning of success?
Which graduates do you most stay connected to? Any graduates you'd like to reconnect with?
In what area listed here have you grown the most since your last graduation?
Which one of these verses/concepts do you want to employ more in your life?
For this very reason, make every effort to add to your faith goodness; and to goodness, knowledge; and to knowledge, self-control; and to self-control, perseverance; and to perseverance, godliness; and to godliness, mutual affection; and to mutual affection, love. For if you possess these qualities in increasing measure, they will keep you from being ineffective and unproductive in your knowledge of our Lord Jesus Christ.  2 Peter 1:5-8 NIV
Remember…
Life is Better When It's Full – Joy-full, Thank-full, Purpose-full and Friend-full! ™