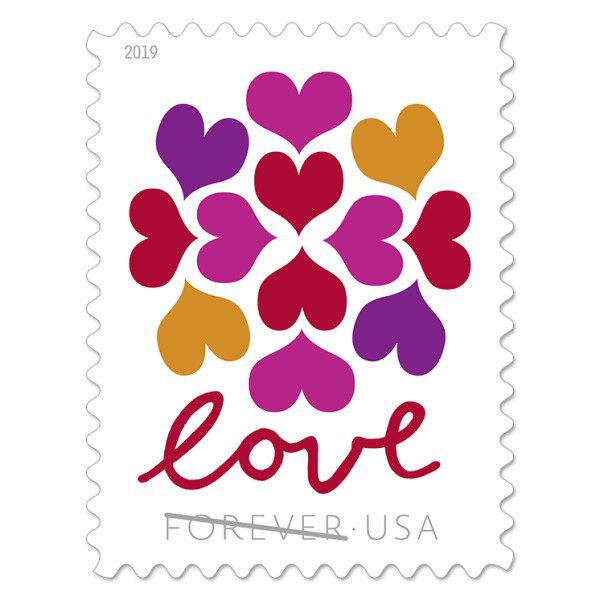 ©Joy Dunlap  https://joydunlap.com
The cost of "Forever" is rising – or at least the stamps are. "Forever" U.S. postal stamps currently at 50 cents will jump to 55 cents on Sunday, January 27.  Let's put that in perspective.  In 1991, the price of a first-class stamp jumped from 25 cents to 29 cents. 
A "Forever" stamp to send U.S. mail lasts…well, forever.  We buy them now and we can use them whenever we choose to communicate by mail. Next month. Next year. Five years from now.
Current "Forever" stamps include images from John Lennon to Scooby Doo; Flowers from the Garden to Birds in Winter; Hearts Blossom to Madonna and Child by Bachiacca; and a U.S. Flag and a Patriotic Spiral.  The faces of Elvis Presley, John F. Kennedy, Sally Ride and others adorn the front of other selections.  Neon Celebrate just shouts fun!      
Those stamps – regardless of when they were purchased – allow us to send a heartfelt "Thank You," "Happy Birthday," or "Congratulations" card as well as other types of letters via the postal service. 
What if someone paid for a "stamp" for us that lasted forever? A seal that allowed us to communicate  whenever we wanted? 
God's Forever mark– available freely to us – bears the image of Christ's sacrifice on the cross signifying His unconditional love.  Those of us who've accepted Christ as our Savior have that Forever imprint in our hearts and minds that allows us to connect with Him for life.  And, eternity. 
Even so, we can choose not to communicate with God. 
It's interesting how different people view "Forever" postal stamps. 
Some people get them just to keep them around in case they need them. 
Others think they're antiquated, no longer relevant or needed.
A growing group believe other ways to connect and communicate fit better in today's lifestyle. 
Others use them frequently to encourage others with a card or letter.  
Likewise, how do we view – and use – the life God offers us?  And, what truly lasts forever?  
God's Love
Give thanks to the Lord, for he is good; his love endures forever.  Psalm 118:29
God's Righteousness
Lift up your eyes to the heavens, look at the earth underneath; the heavens will vanish like smoke, the earth will wear out like a garment and its inhabitants die like flies.  But my salvation will last forever, my righteousness will never fail.  Isaiah 51:6 NIV
God's Faithfulness
For great is his love toward us, and the faithfulness of the Lord endures forever. Praise the Lord.  Psalm 117:2 NIV
God's Covenant
He provides food for those who fear him; he remembers his covenant forever. Psalm 111:5 NIV
God's Word
The grass withers and the flowers fall, but the word of our God endures forever. Isaiah 40:8 NIV
Our Redemption through Christ 
And by that will, we have been made holy through the sacrifice of the body of Jesus Christ once for all…For by one sacrifice he has made perfect forever those who are being made holy. Hebrews 10:10,14 NIV
So, in the future, whenever you see or use a "Forever" postage stamp, think about God's forever promises and how we can count on His character and love to last.  
How often do you mail a letter or package to someone to communicate in a special way?  Who is someone you might encourage with a postal letter or card this week? 
How does knowing that God's love and faithfulness are forever impact your daily life? 
In what ways do you communicate with God? 
If you were writing a note to God today, what existing "Forever" postal stamp image would you pick to mail it?  Why? (Look at the ones mentioned earlier for some options)
Trust in the Lord forever, for the Lord, the Lord himself, is the Rock eternal.  Isaiah 26:4 NIV
Remember…Life Is Better When It's Full – Joy-full, Thank-full, Purpose-full and Friend-full! ™