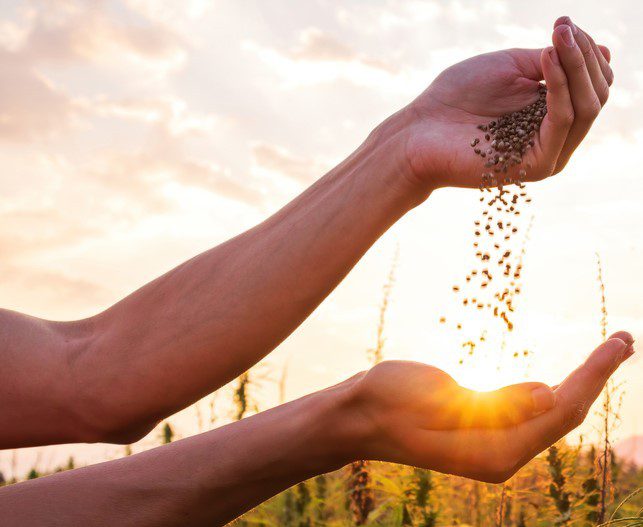 ©Joy Dunlap  https://joydunlap.com
The seeds situation reveals another reason I wouldn't be comfortable as a criminal.  My heart was pounding.  I could feel the heat racing to my face as my blood pressure escalated.
I realized my mistake shortly before I reached the Customs officer — or maybe I realized it before but just didn't decide what to do about it.
Already my mind was terrorizing me with the large fine I'd have to pay, being put on a no-fly list, and worse yet negatively impacting the environment in some way.
Turns out those cards I purchased in Germany with their whimsical art of people with vegetable bodies weren't just cards.  In the bottom of each card's plastic protector lay numerous seeds.
Seeds prohibited from being brought into the country without proper review and approval. 
They were just vegetable seeds…weren't they? 
Oh, no…what if they weren't?  I didn't really know, did I?
At any rate, I could try to rationalize but it was clear from all the signs around the airport, seeds shouldn't be in my possession crossing borders.
And, even though I didn't INTEND to buy seeds or bring them into the country, I unwittingly had them in my possession.
Confession is good, right?  So, I explained to the customs people about my mistake, and my desire to declare the seeds and turn them in.
I pulled out the card packets with the seeds (very visible now, of course)!  Immediately I was taken into a backroom with people in uniforms speaking a language I didn't know.  My husband Charlie wasn't allowed to come with me.
Would I still be able to travel with him?  Would he miss our connecting flight because of me? 
The "escort" turned me over to a gentleman with kind eyes and a gentle voice who asked me about the seeds and how I came to have them in my possession. He now held all five of my cards and those seeds still in their protective coverings. Heart pounding, I explained how I'd found the cards in a shop and thought them so unusual and cleverly drawn that I got them as souvenirs for friends.
In my haste to purchase the cards, and not delay other travelers in our group, I hadn't realized there were seeds in them.
Then when I pulled one out to write a note on it for a friend, I noticed the seeds.
I thought about trying to let it slide. Even if they weren't good seeds, how much damage could those seeds do? 
But letting something slide usually involves attempting to hide.  Adam and Eve tried that, and it didn't work, and disrupted their relationship with God.  Yet somehow all these years later we're still tempted into thinking it might be all right – and work.
Then I envisioned the trouble I might cause my husband if I got caught.  How it might affect our future travels.
Worse yet, could I live without guilt knowing something I had done could potentially cause lasting damage in some way? 
They were just seeds, you may be thinking.
But seeds grow, and then they bloom, and in many cases they spread causing problems.
What is planted matters. 
Yes, they kept the seeds.  (In reality, I voluntarily gave them up).
Initially, they also wanted to keep those cute, pricey cards, but I asked to have them back – and that kindly man overruled the other agent who wanted to take them all.
So I got to carry the beautiful cards home.
But, of course, this story isn't really about those cards or that airport experience.
It's about the seeds we spread. 
It's about how the seeds we carry and distribute (intentionally or not) might impact the world – the people – around us.   
What potential damage might we do with words spoken in anger or in judgment?
But now you must also rid yourselves of all such things as these: anger, rage, malice, slander, and filthy language from your lips. Colossians 3:8
In what ways might we disrupt the stability of our root system – and the roots and growth of others – with gossip or lies or the spreading of fear?
They have an unhealthy interest in controversies and quarrels about words that result in envy, strife, malicious talk, evil suspicions. 1 Timothy 6:4b
Are the seeds we're carrying – the seeds we're planting – for a crop of goodness and mercy and love? 
But the fruit of the Spirit is love, joy, peace, forbearance, kindness, goodness, faithfulness, gentleness and self-control. Against such things there is no law. Galatians 5:22-23
I never intended to bring prohibited seeds along, or put them in the lives of others, or potentially cause damage.  But they could have.
Once I discovered, confessed, and declared my desire to release them, I'm grateful for the kind, merciful one in charge who understood and let me go free – without penalty.
But because of his great love for us, God, who is rich in mercy, made us alive with Christ even when we were dead in transgressions—it is by grace you have been saved. Ephesians 2:4-5
In what way have you unintentionally broken (or almost broken) the law?  What were the consequences?
What is something memorable that happened to you in an airport? 
Which element of the fruit of the Spirit would you (or your friends or family) (Galatians 5:22-23 verse above) be most likely to say is your weakest?  Strongest? 
In searching your heart, is there some undeclared sin you've let slide, or attempted to hide, that you haven't confessed and asked for forgiveness for?  Will you pray about that today – trusting God that He is merciful and just, as you accept that Jesus paid the debt so we can be free, in relationship with God, and able to cross "the border" to heaven. 
By their fruit you will recognize them. Do people pick grapes from thornbushes, or figs from thistles? Likewise, every good tree bears good fruit, but a bad tree bears bad fruit. A good tree cannot bear bad fruit, and a bad tree cannot bear good fruit. Every tree that does not bear good fruit is cut down and thrown into the fire. Thus, by their fruit you will recognize them. Matthew 7:16-20
Remember…
Life is Better When It's Full – Joy-full, Thank-full, Purpose-full and Friend-full! ™
*Scripture references are from New International Version (NIV)