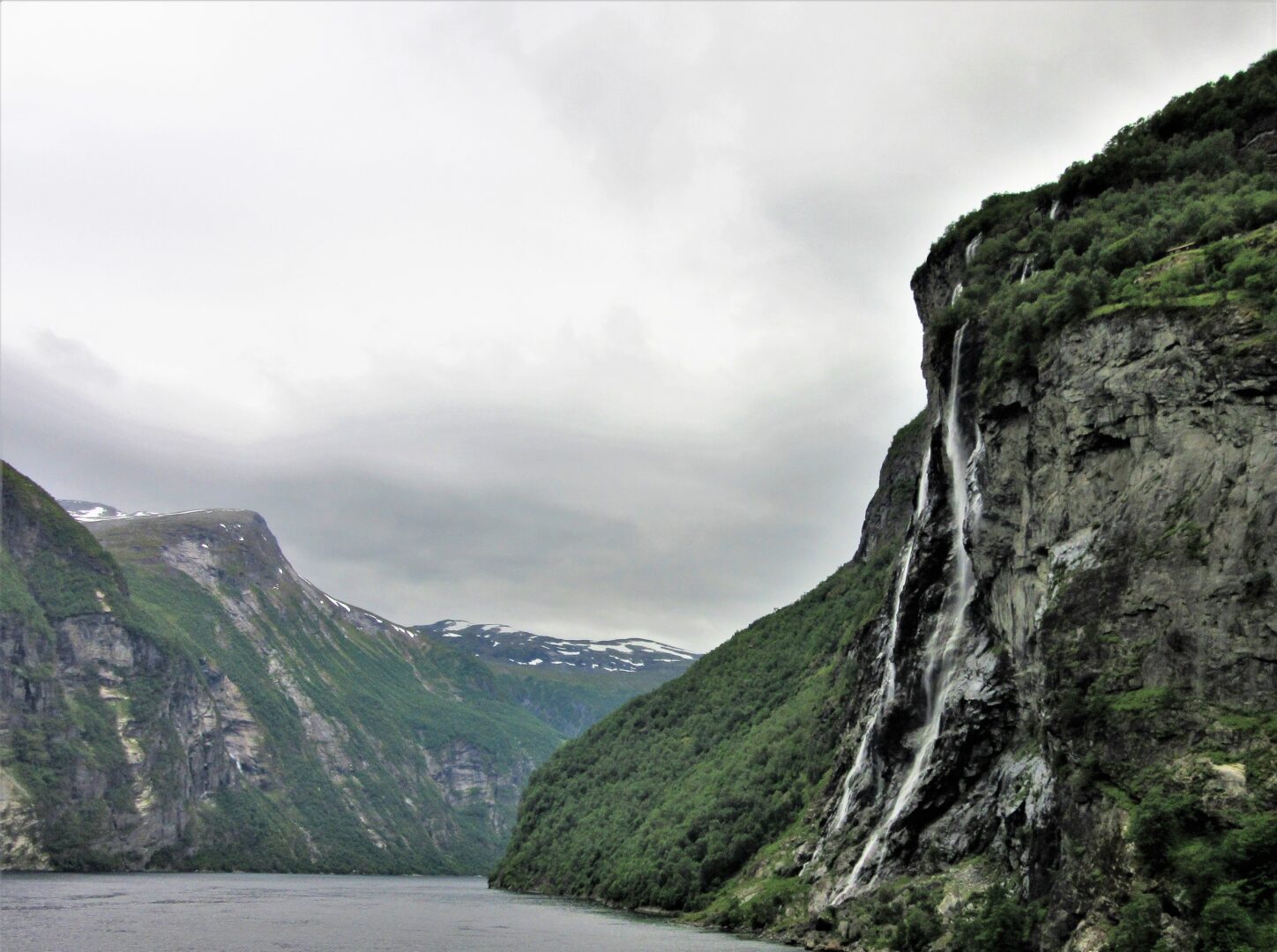 ©Joy Dunlap  https://joydunlap.com
While cruising the fjords of Norway this summer, I was awestruck by the grandeur of the surrounding mountains. Peaks jutting up from the long, narrow inlets dominate the landscape and beckon eyes to behold them.  Each mountain presents its own unique "face" of clefts, crevices and rocky surfaces.  Faces carved by nature and events over the years.
Like the topography of the mountainsides, the lines in our faces and those etched in our hearts tell a story of years and experiences.  As ridges in the rocks display the ravages of time and weather on their surface, over time our faces also reveal "laugh lines" as well as furrows from grimaces, pain and worry.  Some cracks are beneath the surface, invisible for a time.
On the cliffs, waterfalls may come in torrents and flow down forcefully or as gentle trickles.  Deep sobs and sleepless nights leave their imprint in circles under our eyes and wrinkles in our brow.
Unexpected life avalanches and earthquakes of catastrophic proportions can shake and reshape the landscape of our lives forever.  The death of a loved one.  A prolonged illness.  A child born with challenges.  A job loss.  An addiction.  A broken marriage.  Unrealized dreams.  Fractured friendships.
They can cause erosion, cracks and gaps in our lives that carve deeply into our very existence.  But just as we spot ledges along the mountainside and as climbers find footholds along the rockface, God provides places and ways for us to find refuge and to keep climbing.
Green vegetation grows in some areas while others are starkly bare.  So, too, do our lives flourish at certain times and places, yet other days, months and even years appear barren. Snow-covered mountain tops and scattered ice patches remaining in mid-July provide imagery of layers of icy coldness that can build up and linger in relationships preventing the flow of refreshment in our lives.
I lift up my eyes to the mountains – where does my help come from?  My help comes from the Lord, the Maker of heaven and earth.  He will not let your foot slip – he who watches over you will not slumber.  Psalm 121:1-3 NIV
When the landslides come, who better to turn to than the One who made the mountains, the One who created the stunning vistas and the fresh water?  He will steady our feet and provide toeholds to the top.
"Though the mountains be shaken and the hills be removed, yet my unfailing love for you will not be shaken nor my covenant of peace be removed," says the Lord, who has compassion on you.  Isaiah 54:10 NIV
Fissures or faith?  Which do others see most prominently in our facial expressions, reactions and lives?
Wind, rock slides and ice chisel their marks into a mountainside and change its appearance but its majestic splendor still captivates.  Circumstances alter our lives, but despite their impact we can reflect God's glory through the beauty and peace He has put within us.  What we endure can be used to help others on the path beside and behind us.  We can be confident that God's love is never changing and ever present no matter the damage done by the storms we encounter.
Who has measured the waters in the hollow of his hand, or with the breadth of his hand marked off the heavens?  Who has held the dust of the earth in a basket, or weighed the mountains on the scales and the hills in a balance?  Who can fathom the Spirit of the Lord, or instruct the Lord as his counselor?  Isaiah 40:12-13 NIV
Which rockfalls have left their marks in your life?    
What safe ledges, foot and handholds do you remember God providing in those times? 
In what ways have you become stronger because of a past avalanche of difficulties or life erosion you faced? 
You answer us with awesome and righteous deeds, God our Savior, the hope of all the ends of the earth and of the farthest seas, who formed the mountains by your power, having armed yourself with strength, who stilled the roaring of the seas, the roaring of their waves, and the turmoil of the nations.  Psalm 65:5-7 NIV
Remember…Life Is Better When It's Full – Joy-full, Thank-full, Purpose-full and Friend-full! ™