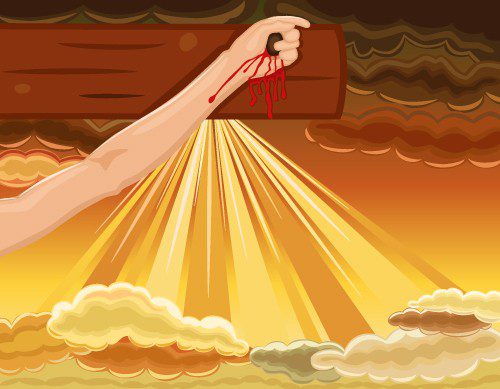 ©Joy Dunlap  https://joydunlap.com
G.I. Joe action figures launched in February 1964 with a soldier, sailor, pilot and marine. The developer, Hasbro, wisely copyrighted a scar on the right cheek and imprinted a trademark on the right buttock of the figures.  Those distinguishing marks put in place 55 years ago differentiated the action figure from imitators and equipped Hasbro to pursue infringement action against imposters.
Marked Identity
What distinguishes you?  Is it a birthmark?  Your hair or your height?  Your smile or your eyes?  Your voice or your laugh?
You were born with unique features in your fingerprints, your retina and your DNA, but you may also have distinguishing marks that identify you because of an experience you've had.  What unique marks do you retain that resulted from episodes in your life?  A broken bone? A tattoo? Pulled teeth?
Do you carry scars from an injury or accident?  Are they visible or hidden?
The most powerful and real-life "action" figure of all time is Jesus. His actions provided the path to peace for us. Thousands of years before the crucifixion of Jesus, prophets foretold the piercing and violent death Christ would endure that would identify Him.    
The Piercing
But he was pierced for our transgressions, he was crushed for our iniquities; the punishment that brought us peace was on him, and by his wounds we are healed, says Isaiah 53:5 NIV
That Old Testament Scripture and others serve as a foreshadowing of the Savior's suffering in our place. 
Our peace is possible because of his pain.  Inner peace. Heavenly peace.  Perfect peace. 
"He himself bore our sins" in his body on the cross, so that we might die to sins and live for righteousness; "by his wounds you have been healed." 1 Peter 2:24 NIV
His piercing – with its release of cleansing blood and living water flowing together – remind us of the sacrificial atonement and purification found in Christ that covers our sins.    
"Instead, one of the soldiers pierced Jesus' side with a spear, bringing a sudden flow of blood and water."  John 19:34 NIV  
The Nail Marks
In the Old Testament, we are told God "engraved you on the palms of his hands." Indeed, He did.  The nails that held Jesus' arms outstretched on the cross covered the sins of each of us, bearing the weight of our bad choices, destructive pursuits and separation from God.  
As Christ hung on the cross, the thorns of a taunting crown digging into His head, He felt our sins puncture and rip his hands and heart.  He could have saved himself, but instead he chose to be the sacrifice for our transgressions so we could fully experience God's mercy, love and forgiveness for now and into eternity.       
Now Thomas (also known as Didymus), one of the Twelve, was not with the disciples when Jesus came. So the other disciples told him, "We have seen the Lord!"
But he said to them, "Unless I see the nail marks in his hands and put my finger where the nails were, and put my hand into his side, I will not believe."  John 20:24-25 NIV
Then he said to Thomas, "Put your finger here; see my hands. Reach out your hand and put it into my side. Stop doubting and believe."
Thomas said to him, "My Lord and my God!" 
Then Jesus told him, "Because you have seen me, you have believed; blessed are those who have not seen and yet have believed." John 20:27-29 NIV
Messed Up Marks
A thumbnail on the underside of G.I. Joe's thumb became another (albeit unintended!) distinguishing mark on the iconic figures. It was a mistake. A mess-up.  Ultimately though, the identifying characteristic helped protect the authenticity of the moveable figure.  It ended up being used for good.   
When we make decisions and lifestyle choices that take us away from the original design and will of God, we end up carrying marks on the inside.  Marks of regret, guilt and fear; scars of grief, suffering and shame.  God can still use those for good and for His glory – if we trust and choose to walk with Him.  When we believe in the sacrifice and resurrection of our Savior, and pursue life with Him, those painful remnants can be replaced with the distinguishing marks of a life anew in Christ. 
But the fruit of the Spirit is love, joy, peace, forbearance, kindness, goodness, faithfulness, gentleness and self-control. Against such things there is no law. Those who belong to Christ Jesus have crucified the flesh with its passions and desires. Galatians 5:22-24 NIV
Those "marks" – ever growing in our hearts, yet visible to others through our actions and attitudes – identify us with our Creator, Designer and Developer. 
He forgave us all our sins, having canceled the charge of our legal indebtedness, which stood against us and condemned us, he has taken it away, nailing it to the cross.  Colossians 2:13b-14 NIV
What childhood "action" figure or doll was your favorite? 
Which scar do you carry inside that sometimes "itches" or "hurts" so that you return to God for His healing touch?  (Ask Him today to give you peace in this area).
What attributes in your life clearly identify you as a Christian to others? (review Galatians 5:22-24 NIV above)    
Remember…Life Is Better When It's Full – Joy-full, Thank-full, Purpose-full and Friend-full! ™