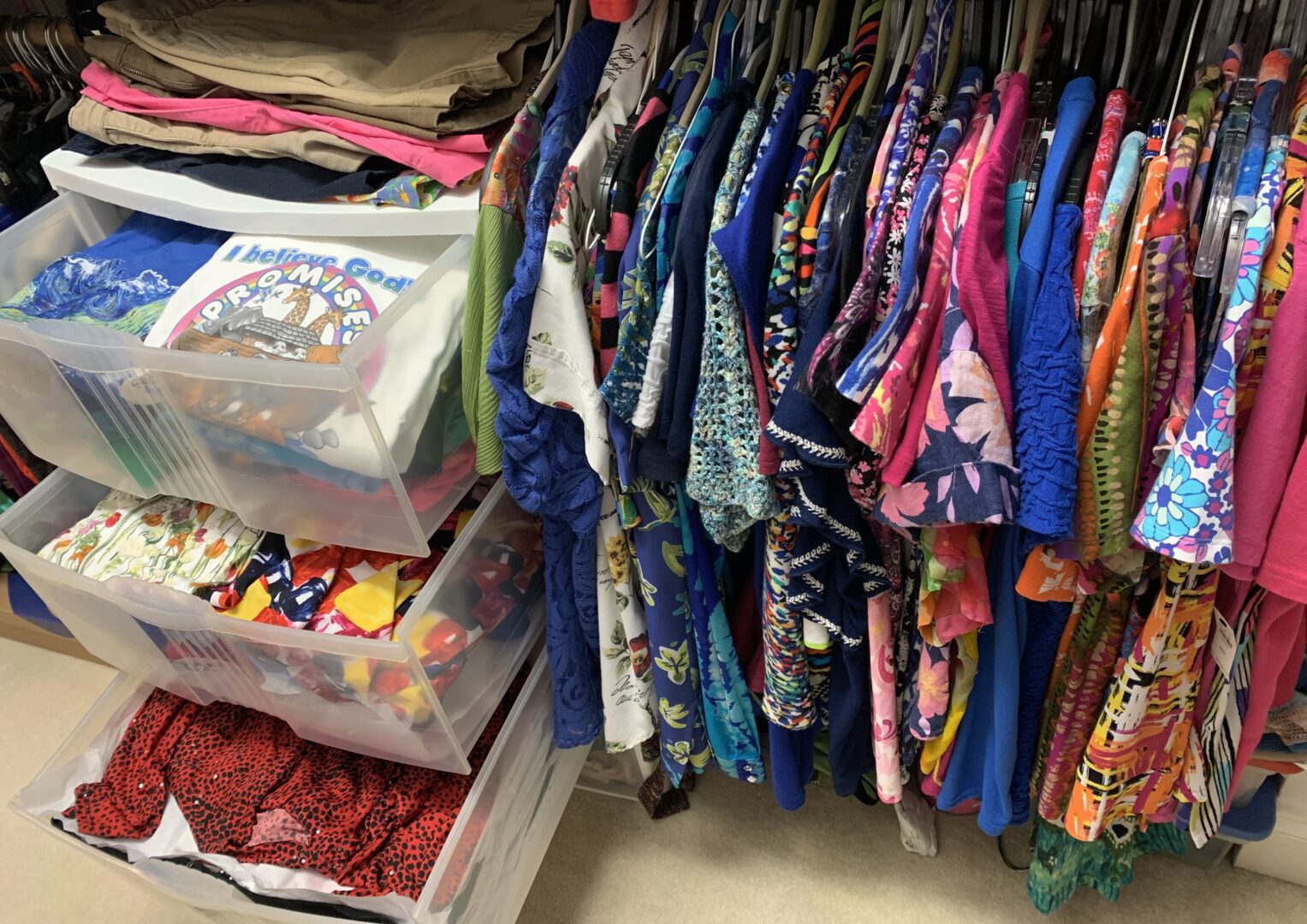 ©Joy Dunlap  https://joydunlap.com
Have you ever gone through your closet and discovered something amazing you forgot you had?  This past weekend, I reorganized some drawers and hanging items in my closet that had become disarrayed between my packing and traveling.
Buried deep in one of the four drawers, I discovered a striking dressy sweater with beads and sequins that I bought on sale a year or two ago at a boutique going out of business.
But full disclosure here…I also discovered some things that were worn or needed repair.  And some no longer fit. (Surely they must have shrunk in there!)
Some items I'm giving away.  Some I'm throwing away.
And, others that bring delight (and fit) I'm putting places so I'll use them more often.
Digging into the closet of our mind and heart also helps us see what to keep, what to toss, and what to cherish more.
Remove the dross from the silver, and a silversmith can produce a vessel. Proverbs 25:4
What like dross is impure or rubbish that we're holding on to?
To see what I had – and what needed to get out of my closet – I had to pull out the drawers and examine what they held.
How about a heart and mind closet reorganization?
When we take a deep dive into our thoughts and our hearts, it becomes more evident what we're storing there.
Is the good stuff hidden beneath the piles of ordinary?  Do the stained and worn hold the foremost spots?
You used to walk in these ways, in the life you once lived. But now you must also rid yourselves of all such things as these: anger, rage, malice, slander, and filthy language from your lips.  Colossians 3:7-8
These four steps can help the reorganization of our heart and mind closet be more effective:
1) Ask God to reveal what we're holding onto and what we need to eliminate. 
Search me, God, and know my heart; test me and know my anxious thoughts. See if there is any offensive way in me, and lead me in the way everlasting.  Psalm 139:23-24
2) Identify specifics that are tucked away and need to be tossed.  Then tell a trusted prayer warrior about it! 
Therefore, rid yourselves of all malice and all deceit, hypocrisy, envy, and slander of every kind. 1 Peter 2:1
3) Ask that person to pray with you for purging.  
I urge you, brothers and sisters, by our Lord Jesus Christ and by the love of the Spirit, to join me in my struggle by praying to God for me.  Romans 15:30
4) Identify godly character traits and wear them more frequently. 
Therefore, as God's chosen people, holy and dearly loved, clothe yourselves with compassion, kindness, humility, gentleness and patience. Colossians 3:12
As long as we're in sharing mode, I'll let you know I also found expired toothpaste and bug repellent sheets in our travel prep drawers, along with a locked combination padlock (not a travel lock!) that no combination we know works on.
I also discovered stains on a couple of patterned tops. How could I have missed those and put them back in with the clean stuff?
That's a good question.
Get rid of the old yeast, so that you may be a new unleavened batch—as you really are. For Christ, our Passover lamb, has been sacrificed. Therefore let us keep the Festival, not with the old bread leavened with malice and wickedness, but with the unleavened bread of sincerity and truth.1 Corinthians 5:7-8
What have you found when going through your clothes closet that you knew you needed to toss (or give away)?
Which unexpected discovery delighted you?
If you really look deep in your heart closet, do any of the 1 Peter 2:1 (above) or in Colossians 3:7-8 (above) references show up?
We enjoy hearing what looks good on us.  Which character trait in Colossians 3:12 (above) would your friends say you wear the most and the best?  Which one would you most like to embrace more?
P.S.  The thing about closets (or is it just mine?) –  there's always more that can be done.
And this is my prayer: that your love may abound more and more in knowledge and depth of insight, so that you may be able to discern what is best and may be pure and blameless for the day of Christ, Philippians 1:9-10
 Remember…
Life is Better When It's Full – Joy-full, Thank-full, Purpose-full and Friend-full! ™
*Scripture references are from New International Version (NIV)