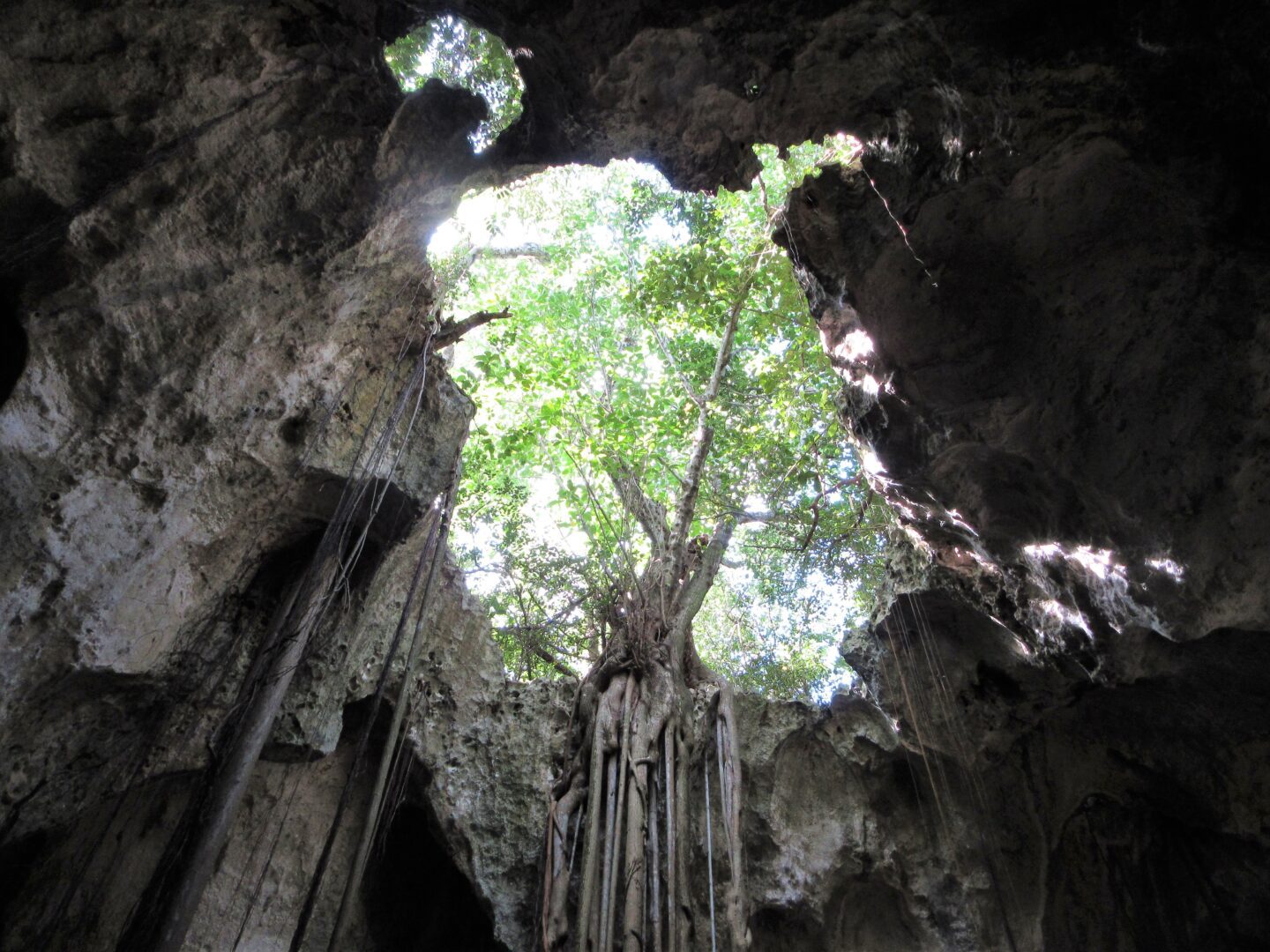 ©Joy Dunlap  https://joydunlap.com
Instead of relaxing on a beach in the Caribbean, I was in a cave.  Others were splashing in the ocean, standing tall and upright on paddleboards, or pedaling furiously on water bicycles, and I was descending down into a cavern of rock.  Not far away, sun-lovers frolicked in the bright rays and crystal-clear water while I moved deeper into the cave.
Times in life can be like that. Everyone else appears to be celebrating and reveling in good times, and yet we are in a darker place. 
My cave trip this time was actually a fun exploration in the Bahamas, but I couldn't help but see the parallels in life. 
Here I was walking away from the light into the darkness where bats lived and water was stale, while others were experiencing life joyfully in the sun. 
Sometimes we choose to go into a cave. To retreat.  To hide.  To explore or even to test out a darker environment.
Sometimes we end up there.  Our thoughts and emotions seek dark places and even actions, and before we know it, we've gone so deep in a cavern that it seems difficult to find the path back. 
Sometimes we are dragged or thrown in.  Circumstances change.  People disappoint. Illness and death sadden. 
If you're in a cave right now, surrounded by darkness, look for the light.  It's there.  God is there. 
We can choose whether or not to stay in the cave.  We can seek out the Light of the Lord and through His power find our way back to the surface. 
As I gingerly navigated the uneven surfaces leading into Cathedral Cave in Eleuthera, Bahamas, I kept my eyes downward.  Gaining more confidence with the terrain, I looked forward and viewed the cave's depth.  Ahead, light streamed through.  My gaze moved upwards. I gasped. 
A hole opened to the sky like a spotlight.  In it, a flourishing green tree stood in contrast to the boulders blocking me from the thriving world.  The tree's roots cascaded over the side as if offering a way to climb out to the living tree. 
Are we in a cave because of choice or circumstance?  We may be there because of either, but how long we stay is up to us – and whether we turn to the Light of the Lord to lead us out. 
Have you ever toured a cave?  Physically explored a dark, unfamiliar area?   
What do you remember about an emotional "cave" experience you've had when the world outside seemed bright and yours seemed dark?
Is His Light shining bright where you are right now? 
The light shines in the darkness, and the darkness has not overcome it.  John 1:5 NIV
He reveals the deep things of darkness and brings utter darkness into the light.  Job 12:22 NIV
Remember…Life Is Better When It's Full – Joy-full, Thank-full, Purpose-full and Friend-full! ™