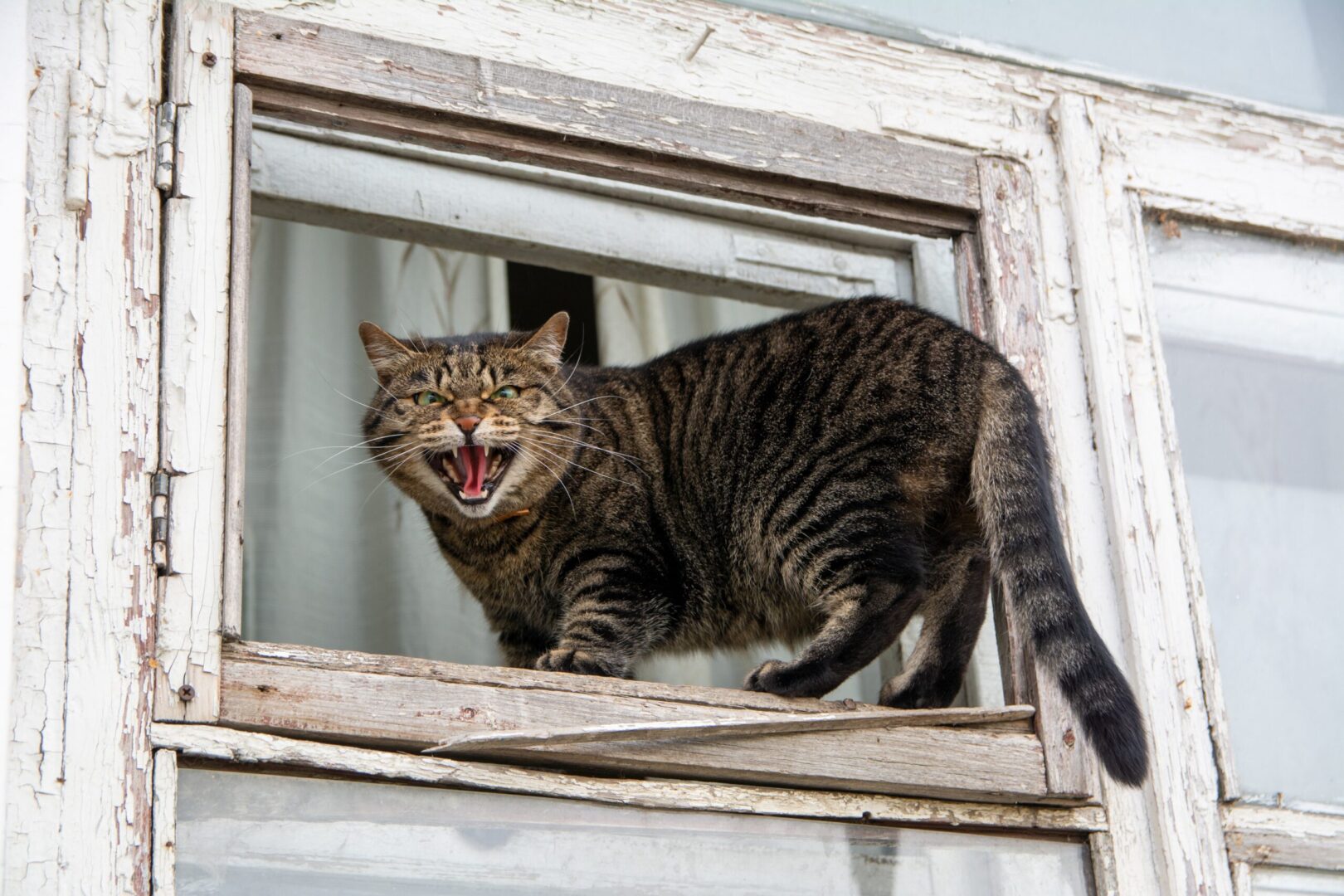 ©Joy Dunlap  https://joydunlap.com
We've all experienced attacks – some physical, some mental, some emotional, some spiritual.  And some – well, they end up fitting every category.  They start in one area and end up affecting us in various ways.
Word assaults can batter us.  Loss of a loved one can shatter us.  Betrayal or a life-changing diagnosis can dagger us.
Fear, dismay, and discouragement rip the fabric of contentment and peacefulness in our lives.
But thankfully we have hope. And the promise of peace.  
Attacks can Come from Anywhere, Anytime.
As I walked onto a friend's screened porch on a warm, sunny afternoon, a vicious snarl came almost simultaneously as sharp fangs sank in. The black and white cat had apparently darted past its owner and launched itself with a guttural cry of the wild into the back of my leg.
Its sharp bite cut through my jeggings. 
Attacks threaten to leave our lives wounded and wearied by something that leaps into our lives and latches on.
What cuts through our calmness?
Word bombs. Upsetting diagnosis. Tragic loss.
A topsy-turvy world.   Persecution for our Christian faith.
No matter what assails us, God can give us strength as we move through trials, and He can provide peace in the passage.
But the Lord stood at my side and gave me strength, so that through me the message might be fully proclaimed and all the Gentiles might hear it. And I was delivered from the lion's mouth. The Lord will rescue me from every evil attack and will bring me safely to his heavenly kingdom. To him be glory for ever and ever. Amen.  2 Timothy 4:17-18 NIV
Protection Reduces the Impact of the Blow
Thankfully I was wearing jeggings and not shorts as the bite pierced through the material and punctured my leg in four places.  Imagine what it would have been like if my leg was fully exposed without any protection. 
As we face trials and difficulties in life, having a barrier in place to cushion the impact is vital. God's Word, the prayers of others, and constant communication with the Lord can help us find comfort in pain and courage in fear.
Therefore put on the full armor of God, so that when the day of evil comes, you may be able to stand your ground, and after you have done everything, to stand.
Stand firm then, with the belt of truth buckled around your waist, with the breastplate of righteousness in place, and with your feet fitted with the readiness that comes from the gospel of peace.
In addition to all this, take up the shield of faith, with which you can extinguish all the flaming arrows of the evil one. Take the helmet of salvation and the sword of the Spirit, which is the word of God. 
And pray in the Spirit on all occasions with all kinds of prayers and requests. With this in mind, be alert and always keep on praying for all the Lord's people. Ephesians 6: 13-18 NIV
Wounds may be more Pervasive, Harmful and Long-lasting without Treatment
After cleansing, icing and applying medicine and band aids, we turned our attention away from the bite and onto other conversation.
Hours later though, throbbing pain signaled lingering effects from the bite.  A look at my leg showed it had swelled significantly.  When I took the band aids off, I was surprised to find the wound had bled more.
Perhaps you relate … a heart wound you thought had healed flares up at unexpected times.  Or a current life attack is swelling fear, sorrow and even anger.
The triage nurse I contacted advised me to be seen within four hours.  By that time of night, the emergency room was the only option. 
"I have to tell you, it will be at least five hours and probably longer before you can be seen," the ER clerk said when I arrived. 
Thankfully God is always ready and available to care for us and support us in emergencies, but the response we seek, hope and pray for may not be in our timetable.
After waiting an hour and realizing I would literally be there all night, (and calculating that other health care options would be opening about that same time), I chose to remove myself from that illness-filled environment.  
Wounds of the heart may entice us to stay in sorrow and forego the rest and spiritual revitalization we need. Being on guard and asking for God's wisdom helps us make wise choices as we seek to heal.
Meanwhile I learned the attack cat had current rabies and FVRCP shots. Knowing the owners of the house cat also gave me some peace of mind. 
We too know the owner, the Creator of the universe, and through Him we can find peace despite the attacks we encounter. 
"In this world you will have trouble.  But take heart.  I have overcome this world."  John 16:33b
Pain and swelling stayed with me, but rest seemed as important as anything.
The next day, doctors prescribed antibiotics to ensure the infection didn't spread. 
Experts say even if a cat is current on its shots, saliva transferred with the puncture wounds can cause concerning health issues.
Tragedies, traumas and injurious talk can penetrate our minds and affect our "heart" flow long after an attack incident shatters our serenity. During those times, the prescribed treatment of prayer and God's Word as well as comfort and encouragement from supportive friends (and sometimes experts) can battle the "infection" from the wound.
As long-lasting as a wound's effects may be, God's love is even deeper and wider and eternal.  If we hold fast to remembering how God helped us through previous hurdles, we can find renewed strength and healing. 
He understands all about wounds, attacks, and pain. Christ experienced them all on the cross – for us.  That's how much He loves us.  How much He loves you.
But he was pierced for our transgressions, he was crushed for our iniquities; the punishment that brought us peace was on him, and by his wounds we are healed.  Isaiah 53:5 NIV
Which "heart" wound of yours causes recurring pain?
What about previous traumas in your life surprises you?
What part of the "armor of God" is the most/least comfortable fit for you?
In what way have you experienced God's presence and loving care in connection with a life attack?
What wound do you want to ask God to treat and heal today?
He heals the brokenhearted and binds up their wounds. Psalm 147:3 NIV
Remember…Life Is Better When It's Full – Joy-full, Thank-full, Purpose-full and Friend-full! ™