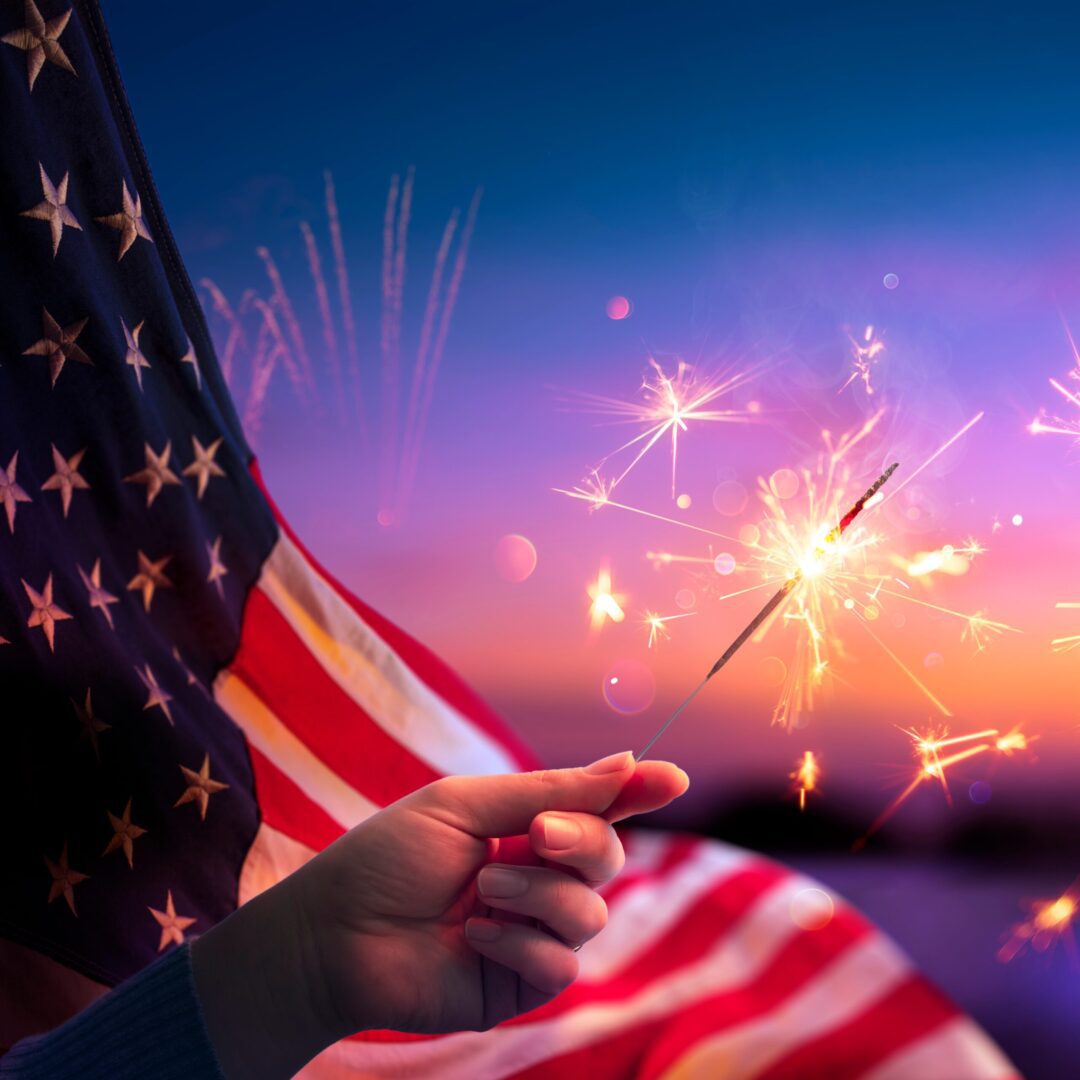 ©Joy Dunlap  https://joydunlap.com
We don't have to limit our celebration to the Fourth of July!  Celebrate freedom the entire weekend – and forever!
Lest we think differing opinions are new to our nation, it is interesting to note that our nation's Founding Fathers even disagreed — over when to celebrate.
July 2 was the date the Continental Congress voted to separate from Great Britain, but July 4 is when they agreed to the final text of the Declaration of Independence.  And, that renowned document wasn't signed until August!
John Adams maintained July 2 should be the day for celebration; but, as we all know, July 4 took the honor.  Thankfully it's possible to celebrate freedom every day although we may put some extra fun and fireworks into the 4th!  My hometown's "Thunder on the Mountain" is sited near the world's largest iron ore statue.
No fireworks near you?  Watch or stream them.
To add to your Fourth of July celebration try these activities: solve this crossword puzzle; color some patriotic artwork; and take this Declaration of Independence quiz. 
Psst…here's a quick refresher on a few facts about the Fourth of July that rarely, if ever, enter our backyard cookout conversations:
A printer named John Dunlap made around 200 poster-sized copies of the Declaration of Independence for distribution. Those Dunlap Broadsides are extremely valuable; one sold this century for more than $8 million. (Unfortunately, Joy and Charlie Dunlap do not have a copy!)
Thomas Jefferson and John Adams both died in 1826 on the 50th anniversary of the Continental Congress approving the Declaration of Independence.
Massachusetts was the first state to make July 4 a holiday.
The first known use of fireworks to celebrate Independence Day was at the 1777 celebration in Philadelphia.
A 13-gun salute from a ship in Philadelphia's harbor paid tribute to the 13 colonies and the nation's independence at that 1777 event.
Congress did not make the Fourth of July a federal holiday until 1870.
For the 41st time in history, a musical tribute will air to celebrate Independence Day. Catch A Capitol Fourth on Sunday, July 4 at 8 p.m. ET.  Gladys Knight, Alan Jackson and the U.S. Army Herald Trumpets are among those in the entertainment lineup.
The willow, the peony, the chrysanthemum, and the palm are not only flower and tree names. They are also distinct pyrotechnic displays you've probably seen in 4th of July fireworks.
The Declaration of Independence was not actually signed until August 2, 1776.
56 men who represented the 13 colonies ultimately signed the Declaration of Independence. Of them, 25 were lawyers.
The oldest signer of the Declaration was Benjamin Franklin at age 70. Edward Rutledge, a 26-year-old attorney from South Carolina, was the youngest to affix his signature.
Eight of the 56 signers were born in either England, Scotland, Wales or Ireland instead of one of the 13 colonies.
The well-known phrase from the Declaration "that they are endowed by their Creator with certain unalienable Rights, that among these are Life, Liberty, and the Pursuit of Happiness" is thought by some scholars to have been inspired by Virginia's Declaration of Rights.
For sure, the Declaration of Independence isn't the only document that talks about life, liberty and happiness.  God's Word, the Bible, tells of the true personal path of freedom that's available to each of us. 
Life
In the book of John, Jesus reminds us that life – full and rewarding life on earth as well as eternal life – is available through Him.
I am the gate; whoever enters through me will be saved. They will come in and go out, and find pasture. The thief comes only to steal and kill and destroy; I have come that they may have life, and have it to the full. John 10:9-10 NIV
Liberty
In society, the term liberty is thought of as being free without restrictions imposed by authority, and the ability to enjoy rights and privileges.  Through Christ, we find liberty that is far beyond anything government, societies, courts or individuals can grant.
Therefore, there is now no condemnation for those who are in Christ Jesus, because through Christ Jesus the law of the Spirit who gives life has set you free from the law of sin and death. For what the law was powerless to do because it was weakened by the flesh, God did by sending his own Son in the likeness of sinful flesh to be a sin offering. And so he condemned sin in the flesh, in order that the righteous requirement of the law might be fully met in us, who do not live according to the flesh but according to the Spirit. Romans 8:1-4 NIV
Pursuit of Happiness
Trust in the Lord and do good; dwell in the land and enjoy safe pasture. Take delight in the Lord, and he will give you the desires of your heart. Psalm 37:3-4 NIV
God's Word shows us what is best to pursue.
Flee the evil desires of youth and pursue righteousness, faith, love and peace, along with those who call on the Lord out of a pure heart. 2 Timothy 2:22 NIV
What is your favorite Fourth of July tradition?
Which food do you absolutely want on the Fourth of July table?
Why does your most memorable Fourth of July stand out?
What has God set you free from?  Is anything still binding or blocking you from experiencing the peace and joy that can be found through the freedom of heart, mind and soul that God offers?
If it's been a while since our last look at the Declaration of Independence, perhaps it's time for a peek.  And, while we're reading valuable documents, let's open up the Bible to reread the story behind the greatest freedom we can ever have! 
 I will walk about in freedom, for I have sought out your precepts. I will speak of your statutes before kings and will not be put to shame, for I delight in your commands because I love them. Psalm 119:45-47 NIV
Remember…
Life is Better When It's Full – Joy-full, Thank-full, Purpose-full and Friend-full! ™