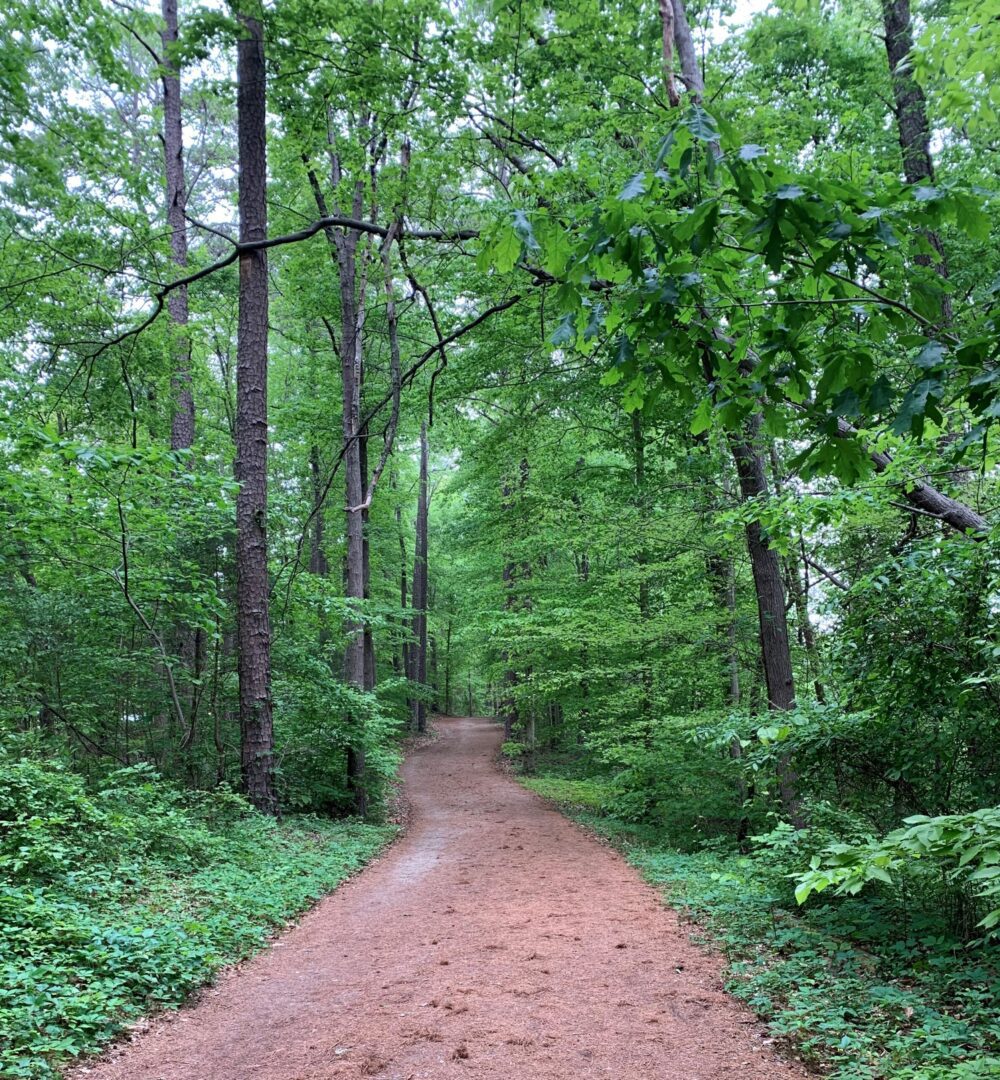 ©Joy Dunlap  https://joydunlap.com
Like a sandy brown ribbon, the path disappears into the woods of green.  An invitation to come in and explore.  A step on the path is only the beginning. To learn what riches and resources are ahead, it's necessary to walk deeper and deeper.
In the depths we find the hidden treasures.
For years, I never saw the stream where large turtles swam and sunbathed near a bridge overlook on the trail close to my home.  No one told me about it. My walks in the woods never went that long. I didn't venture far enough to find that delight but was thrilled when I finally did.  During last year's COVID lockdown, I spent more time observing and enjoying God's creation, walking new paths, going further and deeper into the woods.
Into discovery.
Lots of people did.
Whether journeying on a path relative to a specific project, goal or our faith walk, progressing on the journey requires key elements:
Purpose
Defining why we're walking a path makes us more likely to reach a destination.
When purpose drives us, distraction is less likely to divert us.
Not all purpose is positive though – and checking our motives is a good place to start any journey.
What is the overarching purpose?  What are my motives? 
Prayer
Asking for guidance when we're unsure of the path has always been vital.  Compasses, maps and GPS systems aid travelers.  But the best guide for life-enhancing, goal-achieving path walking is always God.
Centuries before "Siri" or GPS, God gave – and still gives – directions for a life journey that leads us to joy, peace and fulfillment.
How often are we checking in with God for guidance in these matters?  As often as we check our social media?  Daily? Weekly? Monthly?    
Plan
Charting our course with specific goals on the journey allows us to celebrate progress and gain momentum for a strong finish.
A plan keeps us from straying to side roads that can send us in circles or in a different direction if we're not careful.
How are we marking our progress?  Do we have short-term and long-term goals?
Practice
Like a popular slogan says, "Just Do it."  Set a schedule – daily or weekly – to put the plan in practice.
Lots of good intentions and great ideas evaporate because they never make it to the practice field. 
Show up. Set goals.  Surpass them.
Go… further… faster…longer.
Achievers keep learning, growing and giving.
What has been done lately to progress towards goals and spiritual depth? Is a daily routine involved?
Passion
Soaking in the scenery and ambling along is pleasing at times, but if we begin to delay or drift from our purpose and plan, it's time to reexamine our goals and commitment.
Our passion fuels on the enjoyment of what we are doing or the desire we have to improve something.  If enthusiasm isn't present – and evident – in what we're doing, we'll ultimately stop doing it or do it less, or we won't do it as well.
Is your passion meter soaring for current goals?  What would friends identify as a passion of yours?
Protection
When trail-walking or hiking, we know it's best to let others know where we're heading, take a cell phone with us to call for emergency help, and to travel with someone.
Likewise, when we're on a journey of purpose, others can help us stay focused and keep watch for what might threaten our goals. 
Who do you have encouraging you on your spiritual journey and life goals? 
Perseverance
Endurance is a key factor in getting where we're going.
The buildup of our stamina and strength is crucial so that when we face challenging climbs and near the end we will continue to function strongly.   
The Christian walk offers many hidden treasures as we journey deeper and deeper with God.  A letter in Revelation to the people of Ephesus warns against having one of these traits and not the other.
I know your deeds, your hard work and your perseverance. I know that you cannot tolerate wicked people, that you have tested those who claim to be apostles but are not, and have found them false. You have persevered and have endured hardships for my name, and have not grown weary. 
Yet I hold this against you: You have forsaken the love you had at first.  Revelation 2:2-4 NIV
Perseverance without passion is like a plate without a meal.  Routine and ritual without enjoyment. Void of nourishment.  Empty.
A couple who hits their 50-year, golden anniversary may have stayed together through the years, but if their marriage is without laughter, support, and love, their home is more empty than full.
Reigniting passion in our spiritual walk, in our dreams, and in our goals requires not only being on the path but also relishing the walk and delighting in Who we are walking alongside.     
Whatever you do, work at it with all your heart, as working for the Lord, not for human masters, since you know that you will receive an inheritance from the Lord as a reward. It is the Lord Christ you are serving. Colossians 3:23-24 NIV
What is your favorite memory of a walk in the woods?
In your current projects and goals, which one of these seven aspects is the most troublesome (or absent)?
Is there something you have passion for that does not yet have a plan?  Step onto the path.
Does your relationship with Christ have the same passion it once did?  Move forward today.  Find a friend to pray with you.  Practice the walk by reading His Word.  Seek an accountability partner.
My goal is that they may be encouraged in heart and united in love, so that they may have the full riches of complete understanding, in order that they may know the mystery of God, namely, Christ, in whom are hidden all the treasures of wisdom and knowledge.  I tell you this so that no one may deceive you by fine-sounding arguments. Colossians 2:2-4 NIV
Remember…
Life is Better When It's Full – Joy-full, Thank-full, Purpose-full and Friend-full! ™